Christmas Lunch (Holly Menu)

Christmas is a time to catch up with family and friends or get together socially with work colleagues. If you're already starting to think about Christmas 2020 then we are almost set and ready to help you plan that get-together. Our comfortable surroundings, hearty festive menus and welcoming team create the perfect setting for a quiet, relaxing drink or a Christmas celebration with loved ones.
Our festive Christmas lunch (Holly Menu) provides a plentiful festive meal with all the trimmings in the run-up to Christmas and is most suited to those dining at lunchtime. Should you require evening Christmas dining, our Mistletoe Menu would be more suitable. Christmas lunch can be served in our Library, Dining Room and Restaurant or in the spacious Ballroom if you are arranging a larger Christmas gathering. We are closed on Christmas Day and Boxing Day to allow our team to spend quality time with family after a very busy few weeks leading up to Christmas.
Festive Afternoon Tea an alternative option but this is only offered on set days in the lead up to Christmas. Both our Festive Tea and Family Lunch include plenty of seasonal entertainment to keep you occupied while you enjoy our sumptuous array of lovingly prepared dishes or sweet delights. We will have another full Christmas Calendar for 2020 and hope to see you at one (or more) of our carefully selected dining experiences or evenings of Christmas Party entertainment.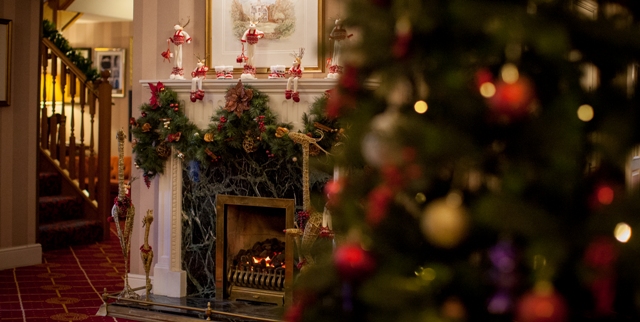 Dining in Clarkes Restaurant - Holly Menu
For lunch-time dining, we offer our Holly Christmas Menu throughout the festive period. This is offered in our Clarkes restaurant for smaller parties or in our Library for private parties up to 20 guests. We close Clarkes Restaurant on Christmas Day and Boxing Day.

Christmas Festive Family Lunch

This is the perfect opportunity to get the family together for a pre-Christmas lunch with a difference. As well as Christmas lunch, we have arranged a magician and school choir to entertain. There will also be a visit from Santa with a gift for the children. Our photographer will also be on hand to capture the day with a family print.
Dates for our 2020 Festive Family lunch to be published shortly
This event takes place on the same day as Usk Reindeer Parade so feel free to leave your cars here after the event and stroll across to town to see the annual reindeer parade. One of our most popular Christmas events, our Festive Afternoon Tea is a real treat. Held in our festively decorated Ballroom, as well as some fantastic savouries and sweet treats, you will be entertained with magic and be able to sing-along with songs from a local Primary School Choir. You will also be able to take away a photograph of the occasion when you leave.
Dates for our 2020 Festive Afternoon Tea to be published shortly