Two years membership for £25!
Should you wish to purchase membership as a gift for a relative or friend we have designed some special vouchers for this purpose which can be personalised with a message of your own.
The current membership period will be the 1st June 2017 – 31st May 2019.

Benefits of membership are:-
Exclusive invitations to the wide range of themed events staged throughout the year from Luxury Theatre Coach Trips and Film Screenings to Gourmet Food and Wine Tasting

10 % Discount on evening meals taken in Clarkes at the Glen-Yr-Afon a la carte Restaurant Monday-Friday and we will continue to include Saturday nights. 10 % Discount on evening meals taken in The Three Salmons a la carte Restaurant Monday-Sunday including Sunday Lunch.

20 % Discount on our traditional five course Sunday Lunch in Clarkes Restaurant at the Glen-Yr-Afon.

Sunday Night Breaks; Dinner in Clarkes at the Glen-Yr-Afon, Bed and Breakfast @£120.00 per double / twin bedroom

Your Dining Club Card number will serve as a guarantee of any booking that is made in Clarkes Restaurant at the Glen-Yr-Afon.

Any Dining Club members bookings afternoon teas during June or July will receive a glass of Champagne per guest with our compliments. This offer excludes Saturdays and can be booked multiple times by any Dining Club member.

All Dining Club Members will receive a special gift for their birthday which can be redeemed during the month of their birthday
If you would like to join our Dining Club please contact reception on 01291 672302
Complimentary glass of fizz with our new afternoon tea menu
To mark the launch of our new afternoon tea menu from June 2018 we would like to offer all Dining Club Members the following offer:
A complimentary glass of fizz per guest for parties making reservations for the new afternoon tea menu (detailed below) during the month of July! Afternoon tea reservations can be made Monday – Sunday between 2.30pm and 5.00pm.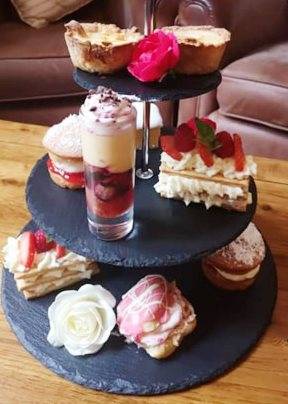 Menu
Selection of savoury sandwiches
Mini quiches
Mini coronation chicken brioche

Scones served with jam and clotted cream
Lemon tart
Vanilla mille-feuille
Mini trifle
Peach and raspberry éclair
Victoria sponge
Double chocolate and caramel brownie
Ice slice

Freshly brewed tea/coffee

£23.50 per head
To make a booking for this special treat please contact reservations on 01291 672302 and quote 'JULY FIZZ' at time of booking along with your Dining Club Membership number.
We look forward to seeing you very soon!
Only Fools The (cushty) Dining Experience
Following the success of our Faulty Towers events we are pleased to invite you to their newest show – ONLY FOOLS THE (CUSHTY) DINING EXPERIENCE on Saturday 29th September 2018! The show is brought to you by the people behind the worldwide smash hit, Faulty Towers The Dining Experience.
This fully immersive show transports audiences to The Nags Head to meet the pride of Peckham in a night of wheeling, dealing and eating. The fun starts from the moment you join the Trotters and their friends for a knees-up. Meanwhile, they try to drum up some cash and make a cheeky saving on the side. But why is the pub closed on the busiest night of the week? There's money to be made and debts to be paid!

A t'riffic night out with some cushty pub grub, this is a night you won't forget – and you'd be a plonker to miss it!
Brilliantly funny, Only Fools The (cushty) Dining Experience is a wholly original immersive theatre show created in loving tribute to the BBC's Only Fools & Horses TV series. All tickets include a 3-course meal.

Guests are requested to arrive at 7.30 p.m. and will be seated at 8.00 p.m. The bars will be open from 7.00 p.m.

For those you wishing to join us for this evening bookings will be taken upon receipt of this letter at a cost of £46.00 per person. Please note that due the format of the event any parties booking for less than 10 guests will be seated with other parties. As usual credit card details together with payment and your Dining Club Membership Number e.g. DC600 - - - will be required at the time of reservation.

Should you wish to enjoy an overnight stay with us, accommodation is available at a rate of £100.00 per room inclusive of VAT and a full Welsh breakfast.

Wicked

On Thursday 22nd November 2018 we will be taking a coach from the Glen-Y-Afon House Hotel, Usk to the Cardiff Millennium Centre to see a Matinee performance of 'Wicked'.
Wicked tells the incredible untold story of an unlikely but profound friendship between two young women who first meet as sorcery students.
Their extraordinary adventures in Oz will ultimately see them fulfil their destinies as Glinda The Good and the Wicked Witch of the West.
The cost per person will be £99 and will include: coach travel, a premium ticket for the Matinee performance of Wicked and Dinner at the Glen-Yr-Afon House Hotel on return.
For those travelling to the area to see the show, we can also offer accommodation here in one of our 28 en-suite rooms, with the very best of Welsh breakfasts to look forward to the following morning!
Contact Reception to make your booking 01291 672302
Bletchley Park

On Thursday 13th September 2018 we will be taking a coach trip to Bletchley Park, once the top secret home of the World War Two Codebreakers!
Step back in time to experience the stories of the extraordinary achievements of the men and women who worked there. Highlights include the restored Codebreaking huts with their WW2 ambience faithfully recreated, plus a stunning new visitor centre with an introductory exhibition and hands-on displays. Explore the beautiful grounds and historic buildings with an interactive multimedia guide and enjoy the atmospheric soundscapes, galleries and exhibitions. Bletchley Park and its tremendous story have featured regularly in film and television over the past few years. Form the BBC's Antiques' Roadshow to Operation Mincemeat, the Timewatch Special, Codebreakers: Bletchley Park's Lost Heroes and the Oscar-nominated film The Imitation Game starring Benedict Cumberbatch and Keira Knightley, all filmed on location at Bletchley Park.
Bletchley Park won the Best Attraction for Groups in the 2015, 2016 and 2017 Group Travel Awards and has seen a growth in public interest enormously with over 250,000 visitors in 2016.
Your tickets on the day will allow you to explore Bletchley Park at your leisure with all guests having an annual season ticket included, so you are welcome to return as many times as you wish within a year of your first visit!
There are a variety of food options available on-site which include: Hut 4 Café (formerly a WW2 Naval Intelligence Codebreaking hut), visitor centre coffee shop, seasonal snack kiosk and tea room in the Mansion. There are also picnic benches located around the site if guests would prefer to bring their own food.
The cost is £50.00 per person and would include the following: breakfast at the Glen-Yr- Afon House Hotel, coach travel, season ticket to explore Bletchley Park valid for 12 months and return to the hotel. Bookings to be made with Reception on 01291 672302.

Highclere Castle

On Thursday 29th August 2019 we will be giving you the opportunity to explore what it is really like behind the scenes of "The Real Downton Abbey".

The success of Downton Abbey took everyone by surprise from the first nervous apprehension whether anyone would like the first episode or stay with it for the second or third… the series has become a phenomenon with appreciative viewers all around the world. Tickets would include access to Highclere's beautiful castle and grounds which are visited by many thousands of visitors every year. There may also be the opportunity on the day for individuals to upgrade to the Egyptian Exhibition on the day if they wish at an additional cost.

The Tearooms will be available throughout the visit for tea/coffee with hot light lunches from 12noon until 2.00pm for those of you wanting to relax during the visit. You will also have the opportunity to visit the Castle Gift Shop which stocks a wide selection of gifts. Please note that should any guests wish to join us who use a motorised wheelchair they would be unable to gain access to the castle but would have full use of the grounds.
The cost per person will be £50.00 and will include: breakfast at the Glen-Yr-Afon, coach travel, ticket giving access to Highclere's beautiful castle and grounds and return back to the hotel. Bookings to be made with Reception on 01291 672302.