Friday 14th June 2019
Will there be a murder at dinner?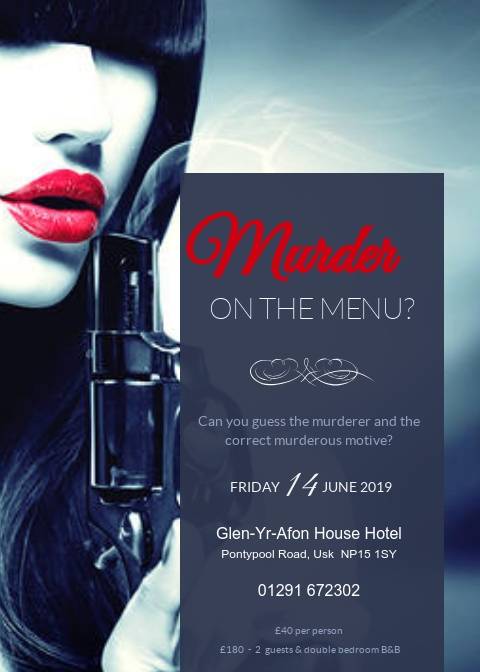 Join us for an exciting evening of mystery and intrigue! We hope you have a fantastic evening and look forward to your company.
Please note that due the format of the event any parties booking for less than 10 guests will be seated with other parties.
The Plot - A Darker Shade of Murder

You are welcomed here tonight for the official launch of JH Enterprises, headed by the wife of Brendan Hawthorne. Hawthorne Industries, previously owned and managed by Brendan, ceased trading a few months ago and is now under investigation. With pension pots running dry, investors money swallowed up, and a marriage on the rocks, will investors seek revenge, will relationships become full of suspicion, has a well know face returned to the scene? And will there be Murder tonight?
£40 per guest
£180 - 2 guests & bedroom (B&B)
Your dress code for this event is: Standard Party Wear
Itinery
7.30pm Guests arrive
8.00pm Dinner is served
10.00pm approx. Event finishes
What to Expect from your Evening:
All character roles in our murder mysteries are played by a cast of professional actors.
Your role during the event is to act as an investigator - questioning the suspects, watching the incidents, and, perhaps, discovering bodies! Guests are not required to act nor to be put into teams.
The action will unfold around you and you will have the opportunity to interrogate all the suspects. You are also encouraged to freely roam the restaurant and to talk to characters as often as you wish.
The event will be continuous throughout. Be careful you don't miss anything!
Evidence will be displayed for you to study.
Please note that you may find yourself seated with guests from other parties and there will almost certainly be a character from the cast on your table.
Large groups may be required to be split amongst two tables and a character involved in the cast may be required to sit with you.
How to Participate:
Bring a note pad and a pen with you to jot down everything you hear.
Interrogate the suspects. They may have something to hide.
Listen carefully to what the suspects are saying to each other.
Read the evidence that is displayed.
Watch for any hidden facial expression that may give away a guilty secret.
Be suspicious and trust your instincts.
Above all, stay alert and keep your eyes and ears open. Trust no one. The person sitting next to you may be a murderer.
Please do not change the seating arrangements. The characters do not carry evidence on their person or in their pockets or handbags. The actors are here to provide the best possible entertainment and cannot do so if there is excessive heckling or noise. Please be considerate to other guests.
We reserve the right to cancel the event if insufficient interest is received in which case a full refund will be given.