Basil, Sybil and Manuel serve a 3-course meal.
This globetrotting show is truly quite legendary, selling out in places like Edinburgh Fringe and Sydney Opera House. It returns to Glen Yr Afon House Hotel on Friday 31st May 2019, but be warned: it will sell out here too, so early booking is essential. Basil, Sybil and Manuel serve a 3-course meal along with plenty of laughs and audience participation in this 5-star immersive show –a show that's never the same twice, because it's 70% improvised.

It's great for comedy fans, theatre fans, or anyone who just fancies going out for an unforgettable meal and a good time. This true blend of ingenious comedy and unique theatrical script is a multi-sensory treat where chaos reigns right from the start.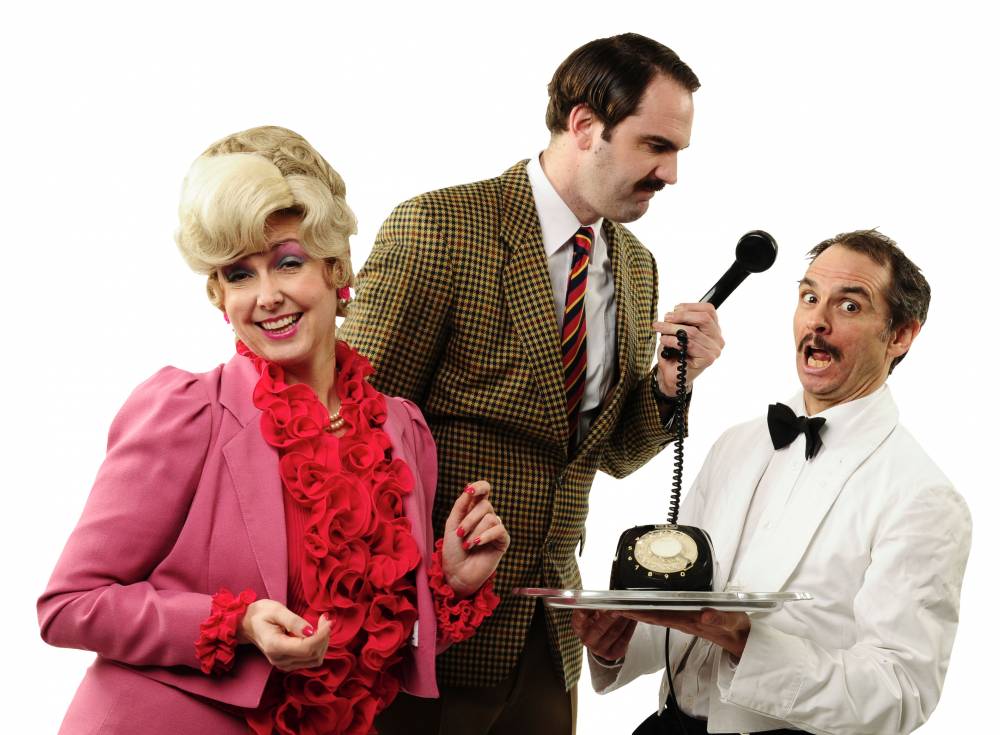 Born in Brisbane in April 1997, Faulty Towers The Dining Experience is a worldwide hit, appearing in around 20 countries a year. Highlights of 2018 include a string of return visits to Fringe Festivals in Perth, Adelaide, Melbourne and Edinburgh, and tours in Europe, Scandinavia, Asia, Australia and the Caribbean. With an ongoing residency, too, in the heart of London's theatre land, it's clear that Faulty Towers The Dining Experience is the most successful interactive comedy show of its kind. Ten teams of cast now tour the world virtually non-stop.

(Confirmation required: Full payment of £51.00 per person)
Please note that due the format of the event any parties booking for less than 10 guests will be seated with other parties.
---
Homemade butternut squash, sweet potato soup (V)
~
Turkey, leek pie (D, G)
Vegetable pie (V, D, G)
Served with
Mashed potato
Mixed beans
~
Double chocolate brownie, caramel sauce (V, D, G)
D – contains dairy, G – contains gluten, SF – contains shellfish, N – contains nuts, V – suitable for vegetarians, VG – suitable for vegans & vegetarians
£51.00 per person
---
Contact Reception to make your booking 01291 672302