Offering a choice of options for your wedding, you can hold your wedding ceremony in our Ballroom, oak-panelled dining room, library or even outside in our grounds (weather permitting on the day of course!). There are several set-ups you can have if you decide to hold your ceremony on the lawns - we can help arrange a variety of chairs and our talented florist can advice on floral delights to enhance the already beautiful setting.
Following the news on the 15th March 2022, that outdoor civil marriage and civil partnership ceremonies are becoming permanent in England and Wales, now is the perfect time to be booking your outdoor wedding ceremony!
Anyone holding a civil ceremony in a licensed venue can now be married outdoors. The permanent change to the law will allow for all venues licensed to hold civil marriage and partnership ceremonies to hold these ceremonies outside. Previously, couples needed to be under a permanent structure that was licensed for the ceremony to be legally binding.
This was originally a temporary measure in England and Wales to allow for larger guest numbers and reduced risk of transmission during the pandemic. It was due to be in place from July 2021 – April 2022. This permanent change will come in from 6th April 2022 and provide greater flexibility and choice for couples and for businesses in the wedding sector.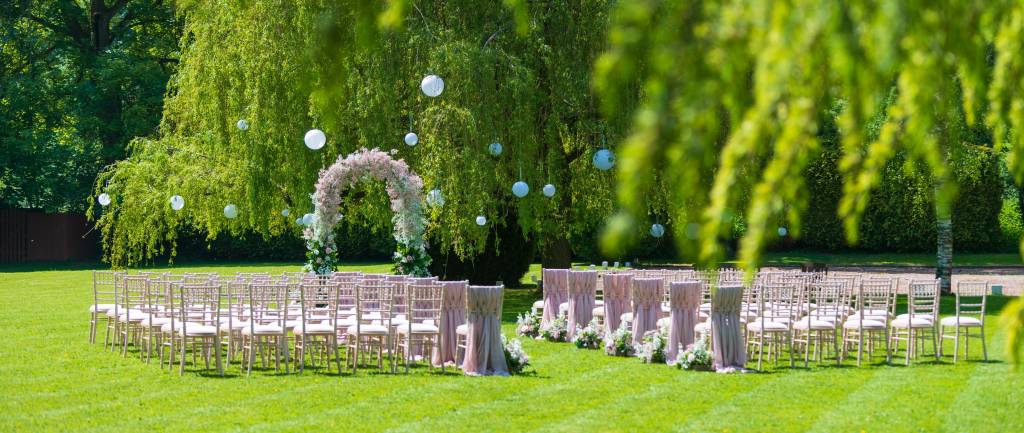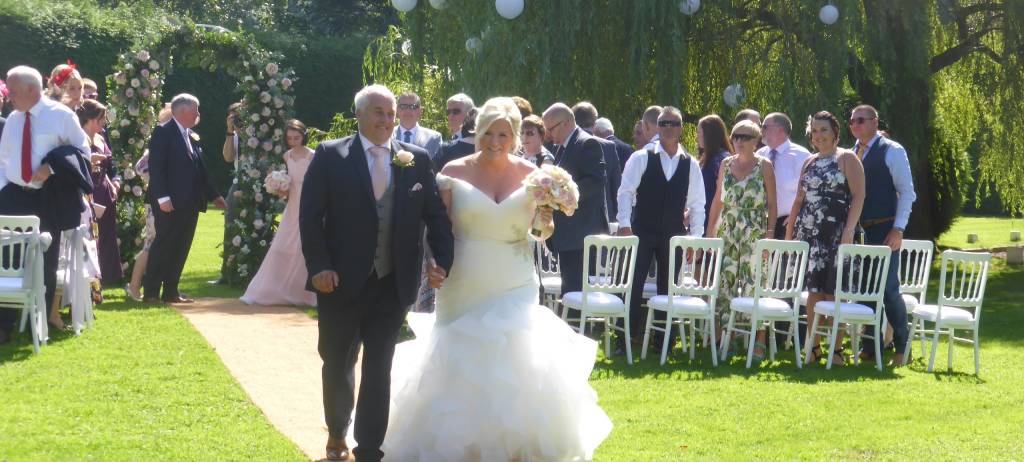 Weather
A decision will be made in conjunction with yourselves and the Superintendent Registrar by checking weather forecasts 24 hours prior to the ceremony, as to whether or not the ceremony can go ahead outdoors. This will also include taking into account the condition of the grounds which may have been affected by rain in the preceding days. Should it not be possible to proceed outdoors, we will continue with plans for your ceremony to take place in the most suitable licensed room inside the hotel. This will be the Ballroom, Restaurant or Library (depending on your numbers).
Additional costs for outside wedding ceremonies
Please ask for details. Please note these costs are not refundable if ceremony cannot take place in the grounds.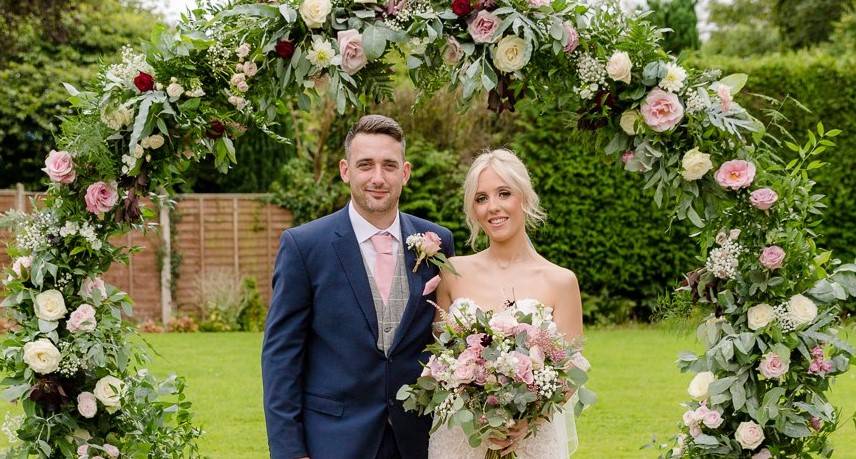 Photo: Double Take Photography
Our family-run wedding venue aims to delight and inspire - we want your wedding day to be everything you hoped for and more! You can be assured that our highly experienced and dedicated team will ensure that your special day will be planned to perfection and delivered to your requirements. We offer facilities to get married at the hotel as well as wedding receptions in a choice of rooms.
Our experienced Wedding Coordinator, will be on hand to help you plan your big day. We offer a selection of wedding packages which are a popular choice for weddings of all sizes. Choosing a wedding package ensures that we take care of every detail for you. We are taking wedding bookings up to five years in advance of the day and and we have set our 2020 Wedding Packages and 2021 Wedding Packages.
We offer a flexible approach to your wedding planning as we appreciate that each couple are unique and have differing requirements. We are therefore happy to develop a package to include any additions that you may wish to make.
If a wedding package does not meet your requirements, we would be happy to provide bespoke arrangements for your big day. Should this be your preference, we offer a very simple pricing structure with everything priced individually and no hidden costs.
With a bespoke plan you will need to consider:
Venue Room Hire
Drinks Package
Wedding Breakfast
Evening Entertainment
Evening Refreshments
Bridal Suite
Finishing touches i.e. flowers, chaircovers etc
Our Wedding Coordinator will be happy to assist you in selecting arrangements that suit your budget. To assist you in planning your day, we will be happy to hold a date provisionally for a period of two weeks, after which time a deposit will be required to confirm the booking.
We offer a choice of four licensed rooms for civil wedding ceremonies, allowing us to cater for weddings from the small and intimate to much larger groups. We are able to host ceremonies on any day (except Christmas Day and Boxing Day). It is your responsibility to make a booking with the Superintendent Registrar. (Ceremony fees are payable separately to the Registrar). Ceremonies are held from 12:00 noon (Monday-Saturday) and from 2:00pm on Sunday.
We guarantee that yours will be the only wedding here on the day. Please note that minimum guest numbers apply on certain days (or equivalent wedding package).
For 2019/2020 we are including complimentary Exclusive Use of the hotel for your wedding day in our Platinum wedding package. For all other packages, whilst we have only one wedding on any particular day, the Restaurant, Lounge and Library areas may be used for private dinner parties etc.
We can arrange a wide selection of drinks for your guests on arrival, as a celebration drink after your ceremony and during the wedding breakfast. We have a number of different selections available or if you prefer, we can tailor a selection to suit your requirements. As the perfect accompaniment to your arrival / post-ceremony drinks we are pleased to offer a selection of canapés that can be served to your guests on the lawns whilst the photographs and formalities of the day are taking place.
Offering your guests a choice of starters and desserts on the day!
Wedding breakfasts are prepared from the finest local produce and every care is taken to offer special dishes for those of your guests who are vegetarian or require a special diet. From planning your menu through to the perfectly timed and elegant service of your dishes on the big day, you can count on our team to guide and inspire you.
Our Wedding Coordinator will be happy to assist in providing a list of options for your evening celebration including 80's themed disco, starlit dancefloor, uplit backdrop, room uplighting, fireworks, live bands, casino tables, magicians, photobooths, chocolate and beverage fountains etc.
Most of our wedding packages include a budget for fresh flowers to dress the Hotel on your wedding day. Working with the talented team at Love Lily, we offer you total flexibility with the type of centrepieces and choice of flowers you can have. The budget allocation varies depending on the wedding package chosen.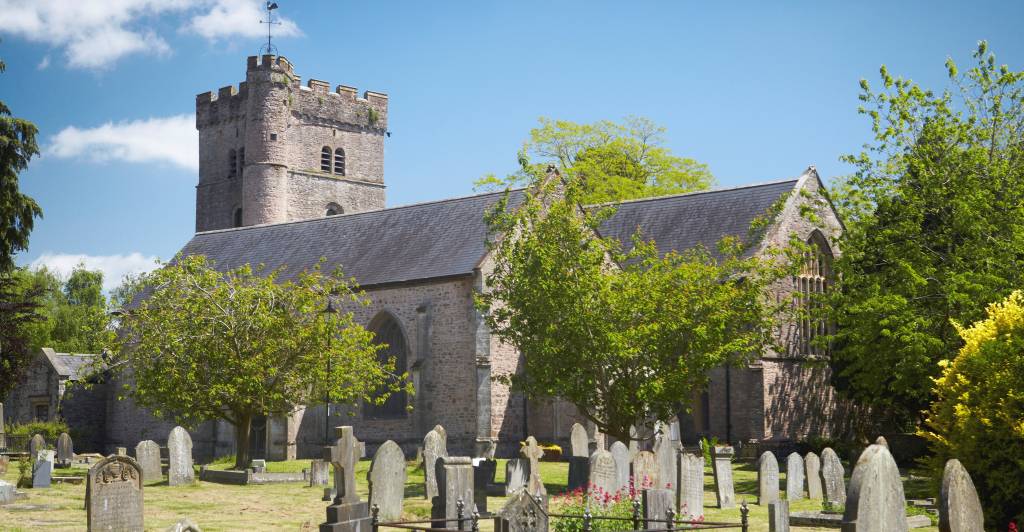 St Mary's Priory Church, Usk