What is a civil ceremony?
A civil wedding ceremony is simply a non-religious, legal marriage ceremony presided over by a legal official instead of a religious service.

We are a wedding venue in South Wales licensed under the Marriage Regulations Act 1995 to conduct ceremonies on the premises. In the United Kingdom, this role lies with the Registrar in the Local Authority. A civil ceremony cannot include hymns, religious readings or prayers, and the marriage must take place at a registered or licensed venue to be legally valid.
To get married here at the Glen Yr Afon, you should contact the Registrar at Monmouthshire County Council who will guide you through the process of giving notice of your intention to marry. Notice must be given in person by both parties to the marriage and will be valid for 12 months.
You must sign a legal statement at your local register office to say you intend to get married or form a civil partnership. This is known as 'giving notice'. You must give notice at least 29 days before your ceremony. For example, if you give notice on 1 May, the earliest date you can get married or form a civil partnership is 30 May. You must hold your ceremony within 12 months of 'giving notice'.
We offer a choice of three licensed rooms, each full of character and warmth, allowing us to cater for weddings from the small and intimate to much larger groups. You can also have an outdoor wedding ceremony in our fabulous grounds.
Lasting anywhere between ten and twenty-five minutes, civil wedding ceremonies can include non-religious readings, musical interludes, vows and more (depending on your preferences) but must include both 'Marriage Declarations' and 'Contracting Words' in order for the marriage to be legal.
Couples will also need to consider choices of non-religious music for the ceremony - we suggest several pieces as guests are being seated, one piece for the entrance of the Bride, two for the signing of the marriage register and one as the happy couple exit.
Coronovirus update on civil wedding ceremonies in Monmouthshire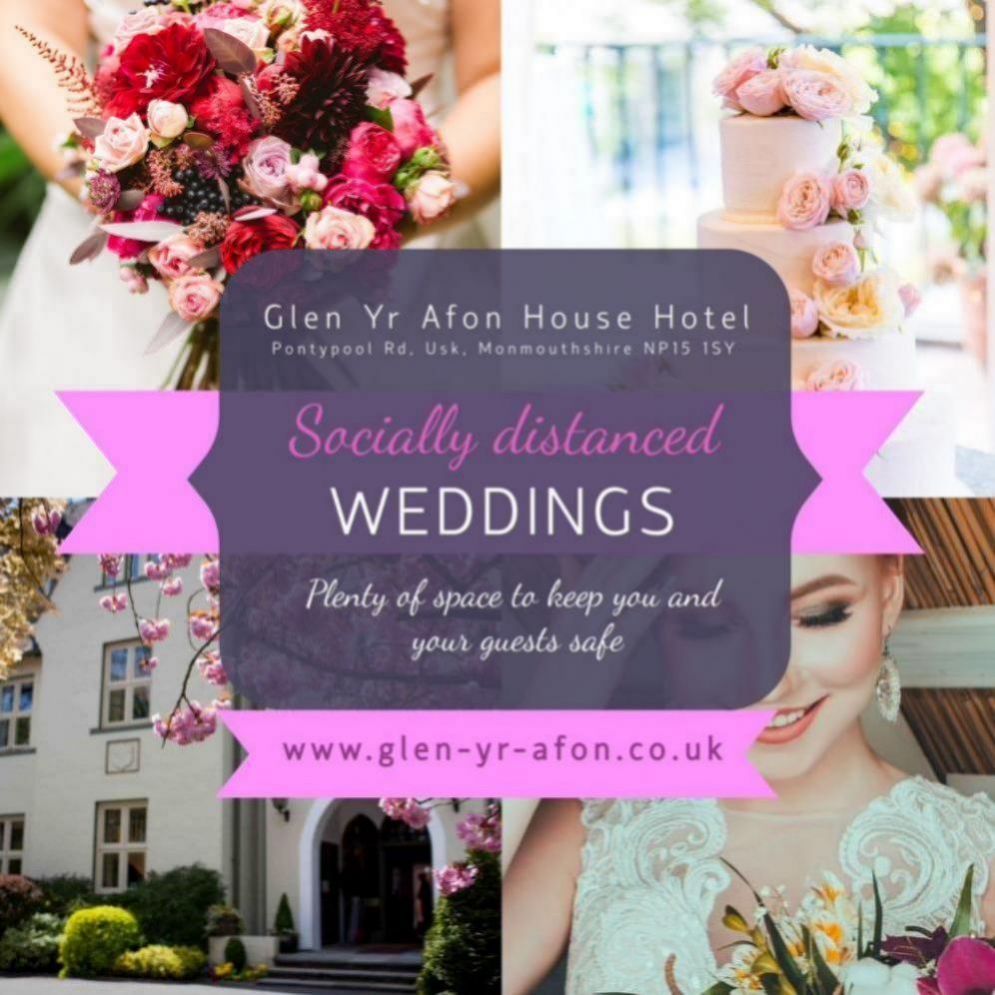 The maximum number of guests for a wedding ceremony in Wales is still an individual calculation based on the size of the licensed room and a venue's ability to ensure that the guests are able to follow Public Health Wales guidelines safely throughout the venue, however it is a maximum of 15 guests for any wedding reception which must take place on the same day as the ceremony although it can be a different location.

Wedding ceremonies are not affected by the general restriction on gatherings of above four people. To ensure that the maximum number that can attend is observed attendance must be by invitation only.

Face coverings are now mandatory in Wales, and it does apply to wedding ceremonies with all parties expected to wear a face covering. The couple can remove their face coverings during the ceremony to say their vows (and the Registrar will ask them to do this) as can the Registrar in order to call their vows, for a kiss and for 'first dance', however guests must wear them and stay 2m away from the couple at all times.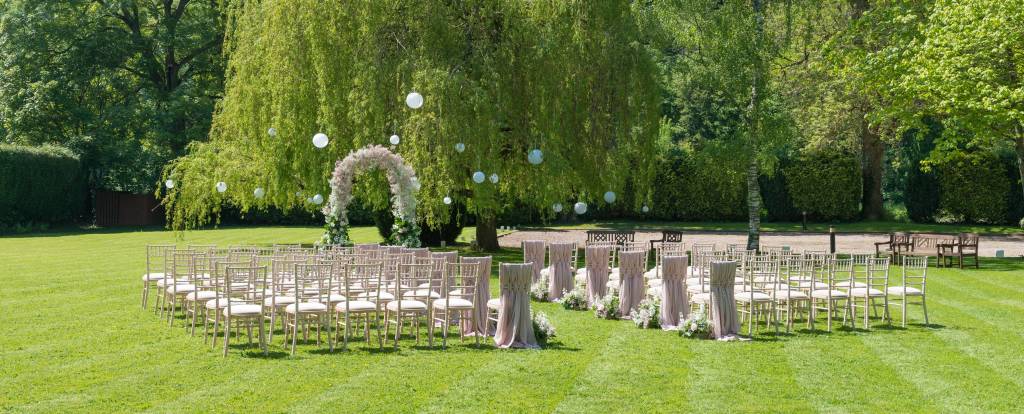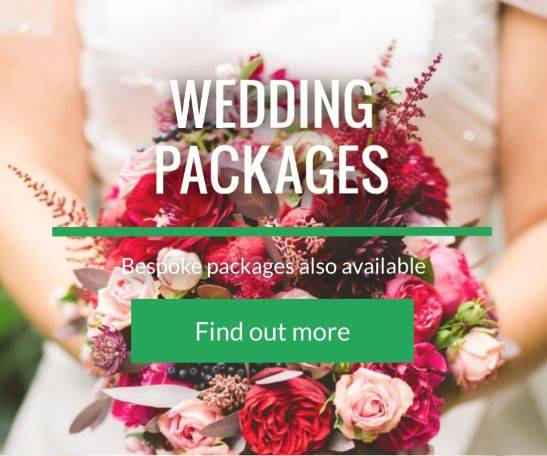 Our wedding packages include use of a ceremony room for those choosing to marry here. A popular alternative to registry office ceremonies, particularly for secular marriages, same-sex marriages, second marriages and renewal of vows, we are able to host civil wedding ceremonies on any day of the week except Christmas Day and Boxing Day.
As well as each party to the marriage signing the register, signatures of two witnesses are also required. We recommend that you invite guests to arrive at least 15 minutes before the ceremony and it's important not to be late as the Registrar often has another wedding to go on to - especially in the busy season!
Prior to the ceremony, the Registrar will need to see the couple to be married seperately to check that the details to be entered into the marriage register are correct. They will also take this opportunity to run through the ceremony and what to expect.


Here at the Glen Yr Afon, we make sure that the necessary rooms are available for these interviews to take place privately prior to the commencement of the wedding ceremony.

Please note it is your responsibility to contact the Registrar to arrange the ceremony. Ceremony fees are payable directly to the Registrar.
The Ballroom
Enhanced by a red carpet, aisle pedestals with the option of floral arrangements and chaircovers, this beautiful room provides a perfect location for your civil wedding ceremony.
Our resident harpist can entertain your guests as they wait for the Bride's arrival. Please ask our Wedding Coordinator for details.
We would be delighted to help you plan this very special day to reflect your individual personalities.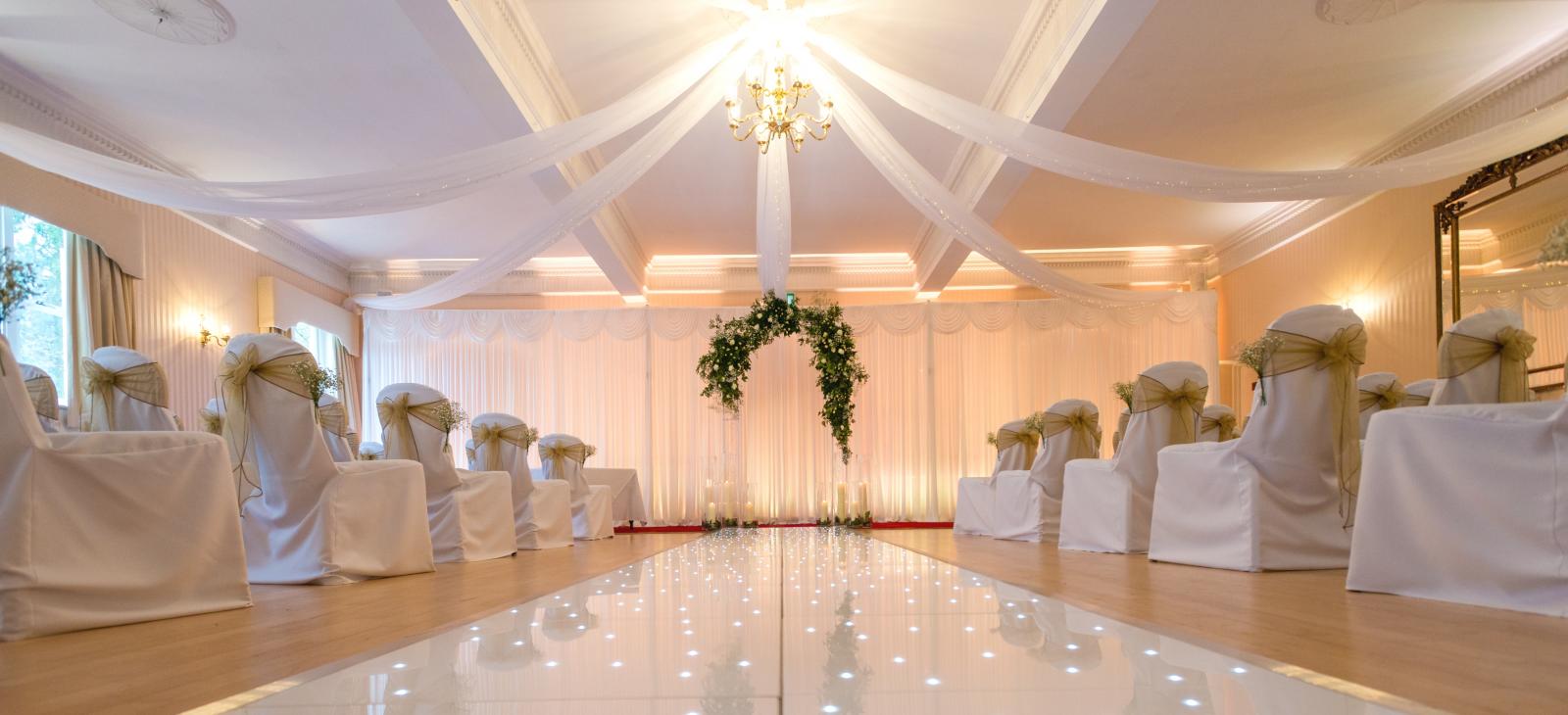 The Library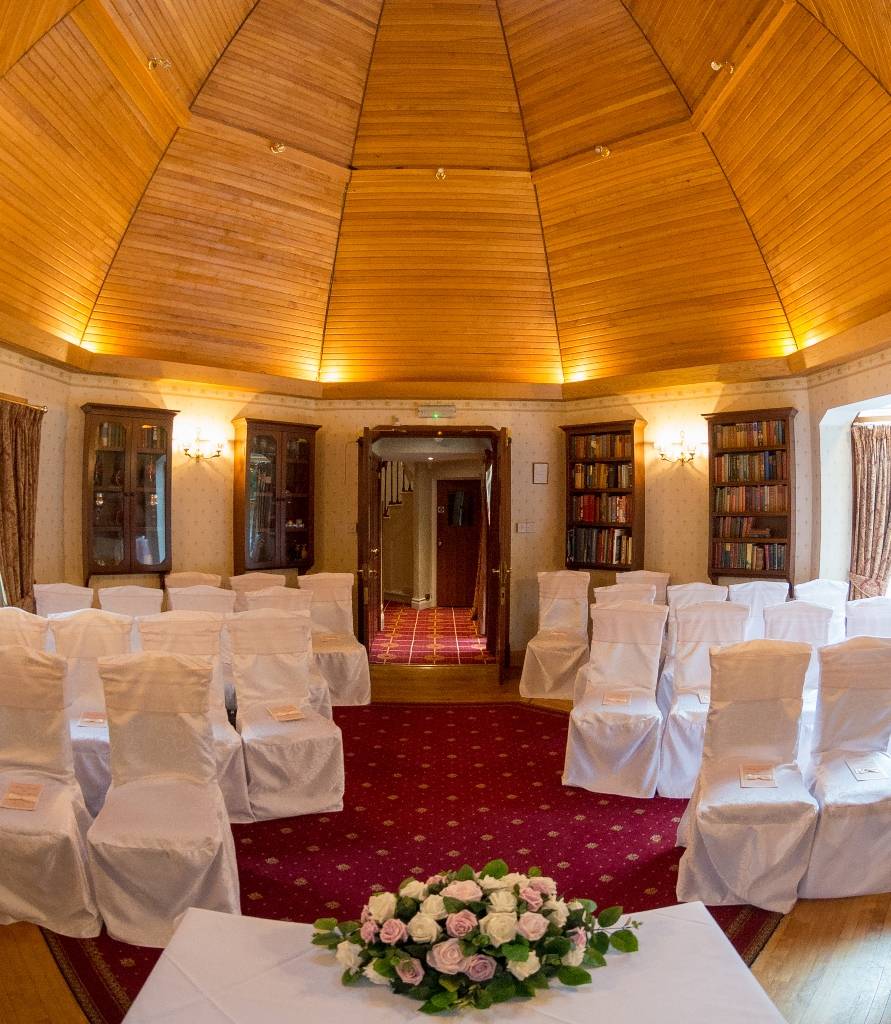 An intimate room with its unusual conical shaped ceiling and beautiful mahogany table that can be oval or circular, this room is ideal for the smaller wedding. It is licensed for up to 30 guests attending a ceremony and comfortably seats up to 20 guests at a reception.
Please note that it is your responsibility to make a booking with the Superintendent Registrar. The office for Monmouthshire is located at Monmouthshire County Council Headquarters, Rhadyr, Usk NP15 1GA Telephone: (01873 735435).

For the convenience of all, ceremonies on a Sunday are held from 2.00 p.m onwards.
"Even though we chose a very small wedding, we were made to feel as important at a 150+ guest wedding. Our day was just what we wanted - the attention to detail was fantastic! Thank - you!"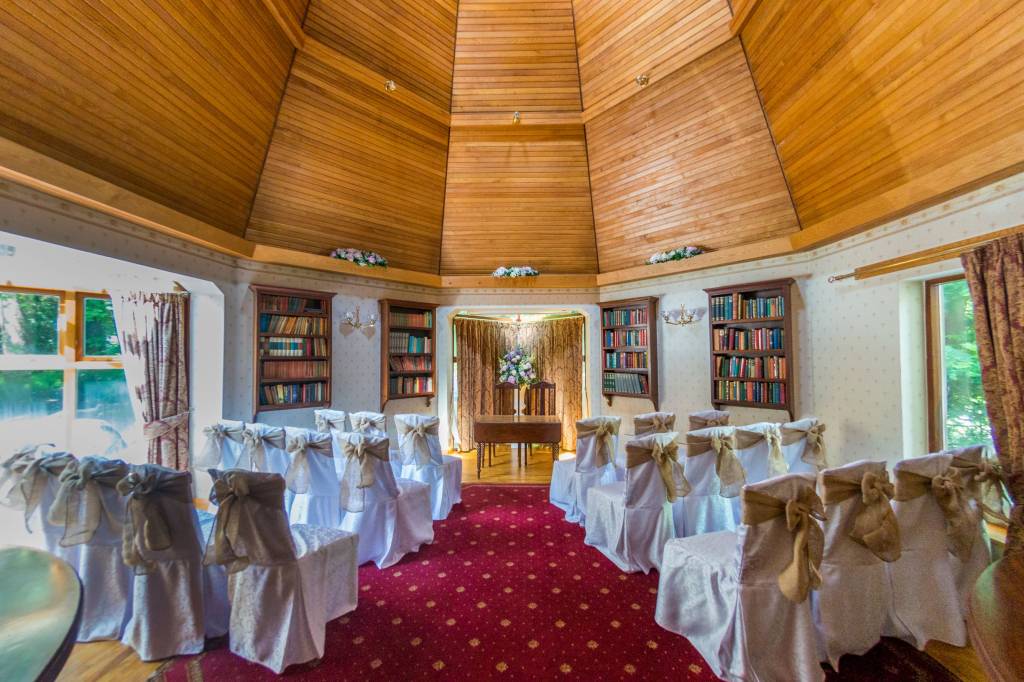 Oak-panelled Dining Room
Our oak-panelled Dining Room is licensed for marriage ceremonies up to 50 guests. This room is larger than our library but more intimate than our Ballroom.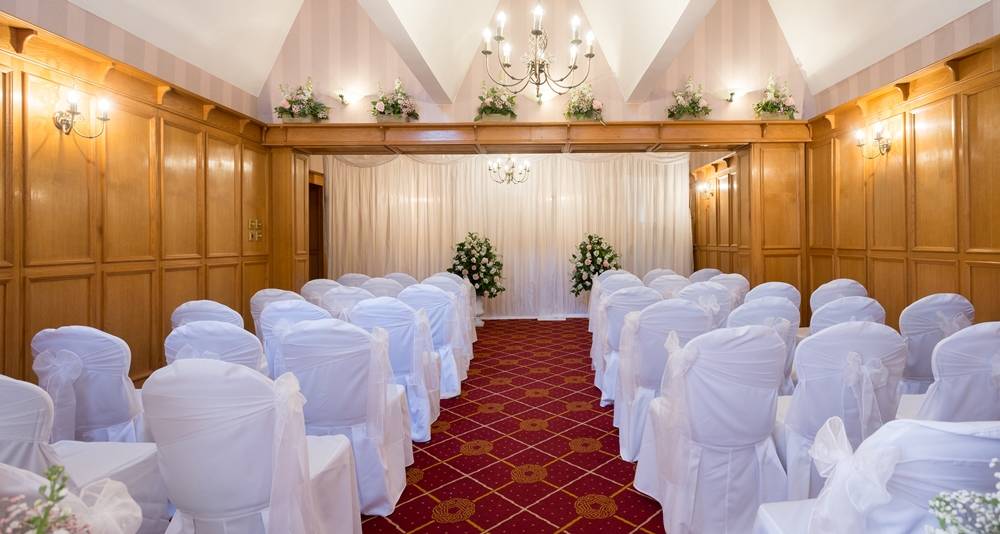 Same-sex marriages and civil partnerships
The Marriage (Same Sex Couples) Act was passed in 2013 and implemented in 2014. The first same-sex marriages took place on 29th March 2014. Any premises licenced for civil marriages and civil partnerships were automically licensed to hold marriages for same-sex couples from that date.

Couples having already booked civil partnerships, may choose to go through a marriage instead. We welcome gay couples and same sex marriages and offer a unique and flexible approach to planning your special day ensuring that each civil partnership celebration benefits from our many years of experience.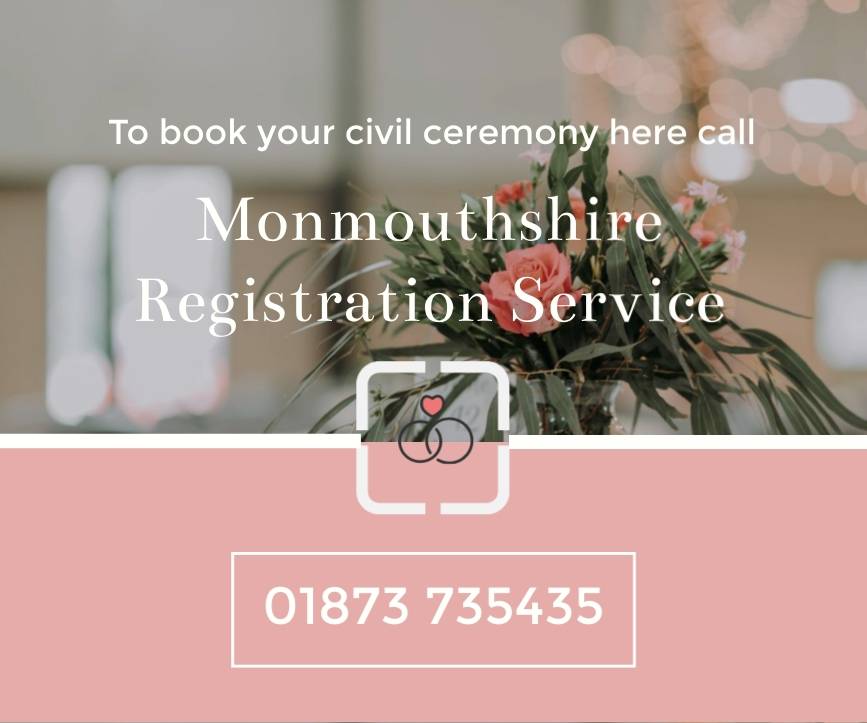 A civil partnership is formed once both individuals have signed the civil partnership document in the presence of a registrar and two witnesses. Before registration, each party will have to give notice to the appropriate authority.
From 31st December 2019, civil partnerships have been made available to opposite sex couples. We are licensed to host these ceremonies as well as same sex civil partnerships.
So you ask.. what is the difference between a marriage and a civil partnership?
This is our understanding - you should always check with the relevant authority to help you decide which is best for you.

The ceremony - there is a difference for those in a civil partnership. A marriage is formed when a couple exchange spoken words, whereas a civil partnership is when the second civil partner signs the relevant document. Marriage is often taken in the form of a religious or civil ceremony. However a civil partnership is entirely a civil process and there is no requirement for a ceremony to take place. However, to mark this important celebration with your family and friends, you can do so here in one of our beautiful ceremony rooms or in our grounds.
Ending a relationship - If married, a couple who are living together can separate informally and there is no need for intervention of the court. However, if you're in a civil partnership, you will need to go to court because although you can separate informally, you need officials to dissolve the partnership. Even then, you must have lasted for a year before you can apply. The only other way is to get the partnership annulled, or obtain a separation order - you don't have a time scale on that.

Marriage is a historic institution that is recognised around the world as being legally binding, something that is quite different compared to civil partnerships. Despite being legally recognised in a number of countries, there are some destinations where a civil partnership is not. This can cause issues if you're attempting to emigrate, or in the case of an emergency.

In England, Wales and Scotland, both opposite sex and same-sex couples can marry in a civil or religious marriage ceremony. All couples may marry if they are above 16. They must also be free to marry, ie single, widowed or divorced. Meanwhile, a civil partnership is defined as a legally-recognised union of a couple. The couple have rights that are basically identical to those of marriage.

To arrange your civil partnership or same sex marriage ceremony at the Glen Yr Afon House Hotel, you should firstly make contact with The Monmouthshire Registration Service who will guide you through the process of giving notice of your intention to form a civil partnership or same-sex mariage. They can be contacted on 01873 735435. You will then need to wait for fifteen days, the official notice period. On the day of your partnership, you will both be required to sign the registration together with your two witnesses.

After your civil partnership ceremony or same sex marriage in either the Ballroom, Oak-panelled Dining Room or Library, you can enjoy a red-carpet drinks reception served in our well-maintained gardens with the backdrop of our unique hotel framing your photographs. Your guests can then enjoy a sumptuous meal from our extensive wedding breakfast menus.
Timing your civil wedding ceremony
At the Glen-Yr-Afon House Hotel we understand that organising a wedding is a new experience for many of our happy couples and of course their families.

One of the very most important elements to planning the big day is to ensure that a sensible timetable is drawn up of what is happening and when. In a nutshell it is not just about getting to the church / hotel on time. With this in mind we have put together some guidance as to how the day is timed at Glen-Yr- Afon House Hotel, in order that your most special of days unfolds like a fairytale and is not rushed in any way.

Timings for a Wedding Ceremony on the premises followed by a reception at Glen-Yr-Afon House Hotel

Time of Ceremony :e.g. 12 Noon - in Ballroom/Library approx 20/25 minutes duration
Drinks reception and photographs whilst the ballroom is laid up for your wedding breakfast
Receiving Line (if required) at 1.40 p.m.
Seated for wedding breakfast / Bride and Groom enter the room at 2.00 p.m.
Wedding Breakfast Served- duration 2 hours - Speeches and cake-cutting ½ hour
Clear up and preparation of the ballroom for the evening ½ - ¾ hours - Provision of time for set up of disco or band tune up
Evening Reception start time 7.30 p.m.
Evening Buffet / Hog Roast served at 9.30 p.m.
Evening closes at 12.00 midnight


As you imagine, timings are very important throughout the day and will ensure that your wedding experience at the Glen-Yr-Afon House Hotel runs like clockwork.
Our Wedding Co-ordinator will confirm in writing the scheduling of your big day and these timings should be communicated to all of the relevant parties such as photographers, musicians etc.
Remember our team of chefs prepare your wedding breakfast from the finest ingredients and cook it to be at its peak at the agreed time.
Arranging your civil wedding ceremony
As soon as you have made provisional arrangements for your marriage at the Glen-Yr-Afon House Hotel, you should contact the Superintendent Registrar for Monmouthshire. They can be contacted on 01873 735435. Without the presence of the Superintendent Registrar and a Registrar, there can be no marriage and any arrangements for the use of the premises depend entirely on their availability.

If you are planning on getting married in Monmouthshire, it is essential that you make an advance booking with the Superintendent Registrar for her/his attendance at their proposed marriage as soon as a booking can be accepted. A fee for this attendance will be payable directly to the Registrar before the ceremony.
You will also have to give notice of your intention to marry to the Superintendent Registrar(s) of the district(s) in which you live. Notice must be given in person by both parties to the marriage and will be valid for 12 months.
Any arrangements made for a marriage to take place at the Glen-Yr-Afon House Hotel are dependent on:
(a) The attendance of the Superintendent Registrar and a registrar for the district in which the premises are situated; and
(b) The issue of the Authorities for marriage by the Superintendent Registrar(s) to who notice of the marriage was given.
When notice is given in a different registration district from the one where the marriage is taking place, you will have to collect the authorisations before the ceremony and ensure that they are delivered to the registrar who is to attend the ceremony. Your ceremony cannot take place without these documents.
You are advised that the only ceremony permitted by the Superintendent Registrar would be a civil, not religious one. Any music, reading words or performance that form a part of the ceremony must be secular. The content of the ceremony must be agreed in advance with the Superintendent Registrar who will be attending the ceremony.
Any rights of copyright for music, reading etc permitted at the ceremony are a matter for you and the holder of the approval.
To discuss your requirements for a wedding venue in South Wales, please contact Carol Knight on 01291 674819 (direct line) or 01291 672302 (main reception).
Please see our Frequently Asked Wedding Questions page for further information about holding your special day with us.