What is a civil ceremony?
A civil wedding ceremony is simply a non-religious, legal marriage ceremony presided over by a legal official instead of a religious service.
We are a wedding venue in South Wales licensed under the Marriage Regulations Act 1995 to conduct ceremonies on the premises. In the United Kingdom, this role lies with the Registrar in the Local Authority. A civil ceremony cannot include hymns, religious readings or prayers, and the marriage must take place at a registered or licensed venue to be legally valid.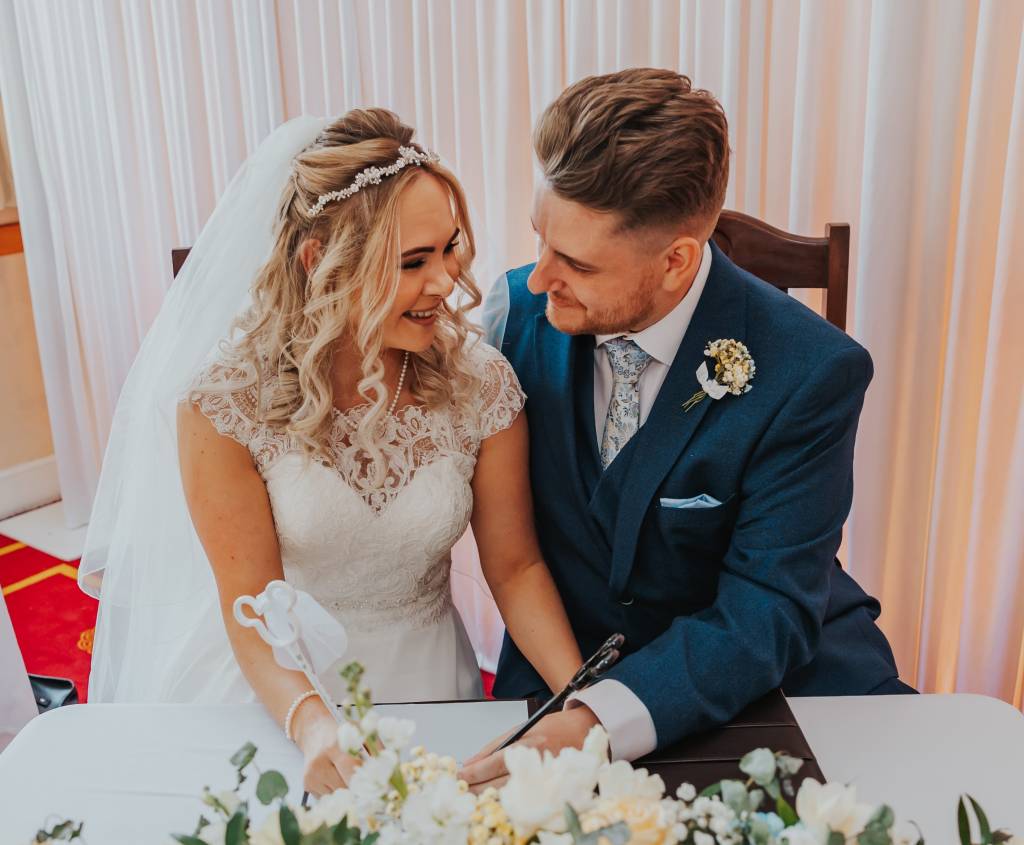 To get married here at the Glen Yr Afon, you should contact the Registrar at Monmouthshire County Council who will guide you through the process of giving notice of your intention to marry. Notice must be given in person by both parties to the marriage and will be valid for 12 months.
You must sign a legal statement at your local register office to say you intend to get married or form a civil partnership. This is known as 'giving notice'. You must give notice at least 29 days before your ceremony. For example, if you give notice on 1 May, the earliest date you can get married or form a civil partnership is 30 May. You must hold your ceremony within 12 months of 'giving notice'.

We offer a choice of four licensed rooms, each full of character and warmth, allowing us to cater for weddings from the small and intimate to much larger groups. You can also have an outdoor wedding ceremony in our fabulous grounds.
Lasting anywhere between ten and twenty-five minutes, civil wedding ceremonies can include non-religious readings, musical interludes, vows and more (depending on your preferences) but must include both 'Marriage Declarations' and 'Contracting Words' in order for the marriage to be legal.
Couples will also need to consider choices of non-religious music for the ceremony - we suggest several pieces as guests are being seated, one piece for the entrance of the Bride, two for the signing of the marriage register and one as the happy couple exit.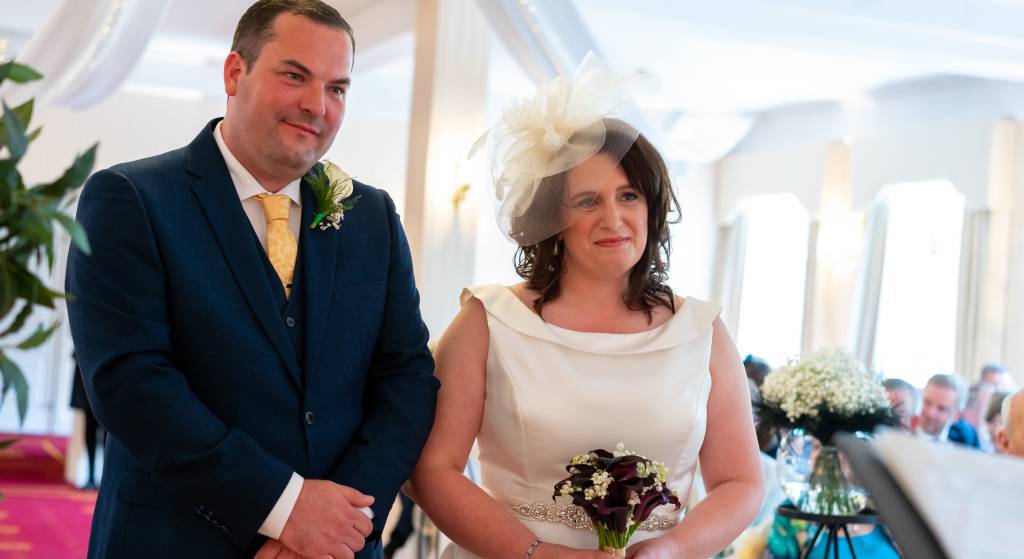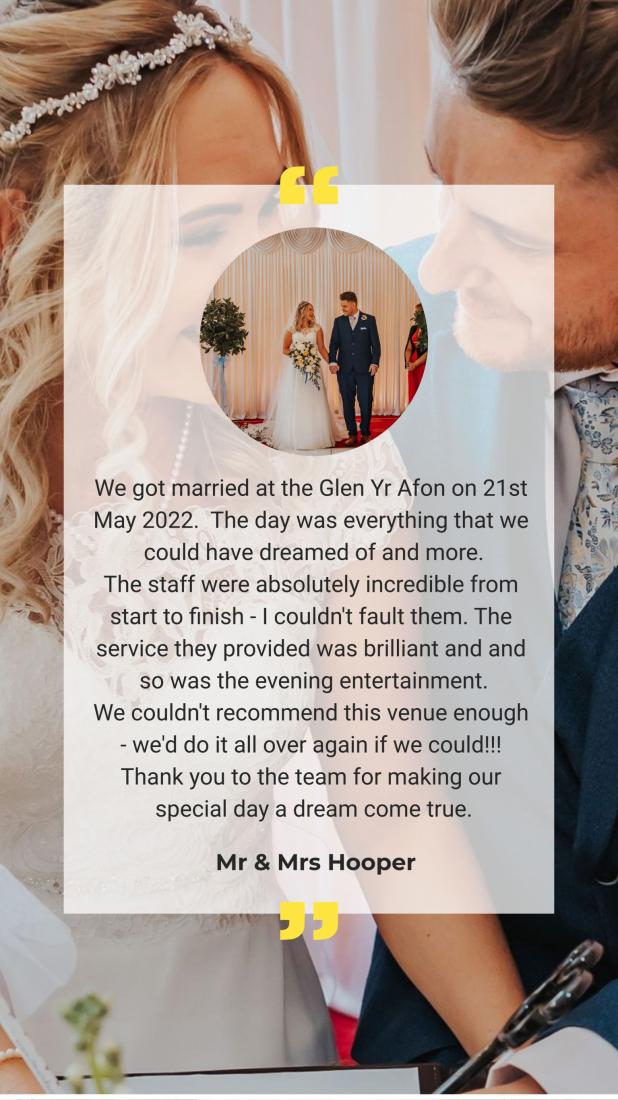 Our wedding packages include use of a ceremony room for those choosing to marry here. A popular alternative to registry office ceremonies, particularly for secular marriages, same-sex marriages, second marriages and renewal of vows, we are able to host civil wedding ceremonies on any day of the week except Christmas Day and Boxing Day.
As well as each party to the marriage signing the register, signatures of two witnesses are also required. We recommend that you invite guests to arrive at least 15 minutes before the ceremony and it's important not to be late as the Registrar often has another wedding to go on to - especially in the busy season!
Prior to the ceremony, the Registrar will need to see the couple to be married seperately to check that the details to be entered into the marriage register are correct. They will also take this opportunity to run through the ceremony and what to expect.

Here at the Glen Yr Afon, we make sure that the necessary rooms are available for these interviews to take place privately prior to the commencement of the wedding ceremony.

Please note it is your responsibility to contact the Registrar to arrange the ceremony. Ceremony fees are payable directly to the Registrar. You should make contact as soon as you have held a date with us and have a time in mind for your ceremony at this point. Our Wedding Coordinator will provide advice with regard to timing your wedding ceremony so that the day runs fluidly from one part to the next!



The Ballroom
Enhanced by a red carpet or sparkling LED catwalk, aisle pedestals with the option of floral arrangements and chaircovers, this beautiful room provides a perfect location for your civil wedding ceremony. We would be delighted to help you plan this very special day to reflect your individual personalities.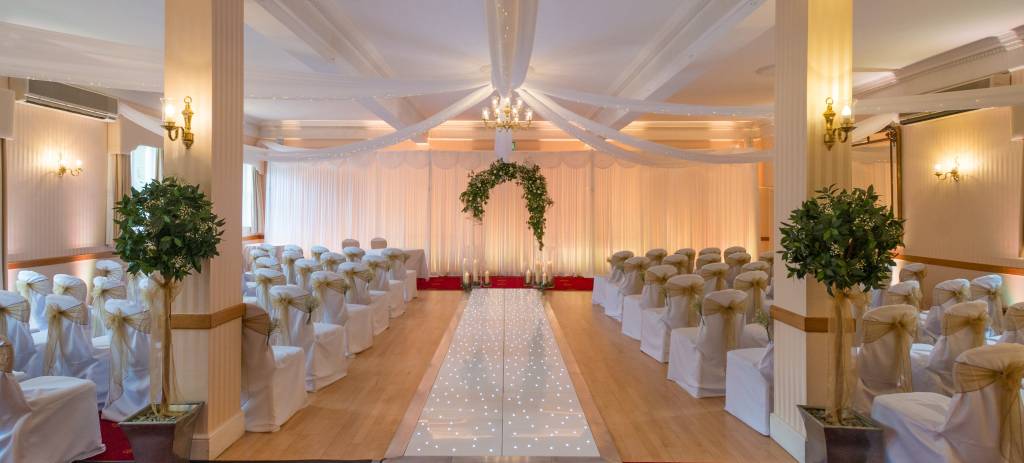 The Library
An intimate room with its unusual conical shaped ceiling and beautiful mahogany table that can be oval or circular, this room is ideal for the smaller wedding. It is licensed for up to 30 guests attending a ceremony and comfortably seats up to 20 guests at a reception. The Library is the perfect setting for our Just the 2 of Us wedding package for those wishing to marry without any guests.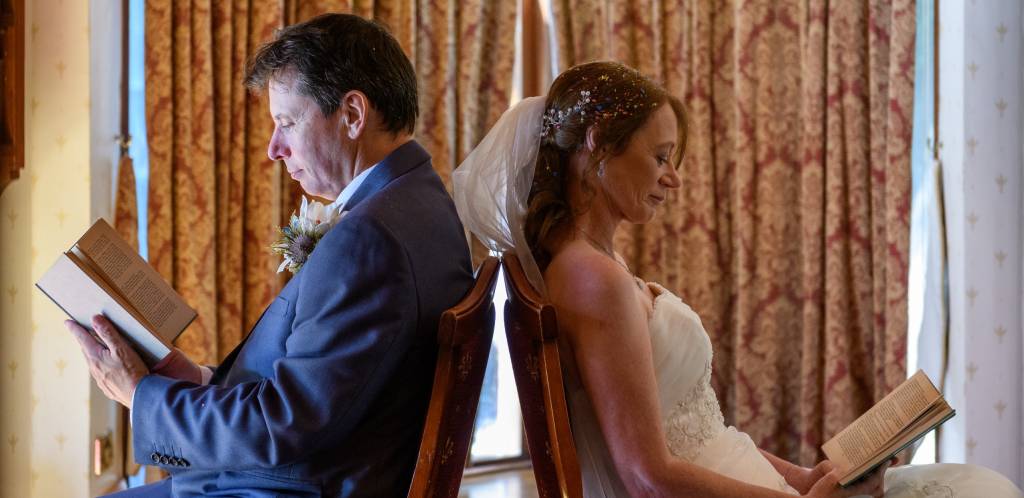 Oak Room
Our Oak Room is licensed for marriage ceremonies up to 50 guests. This room is larger than our library but more intimate than our Ballroom.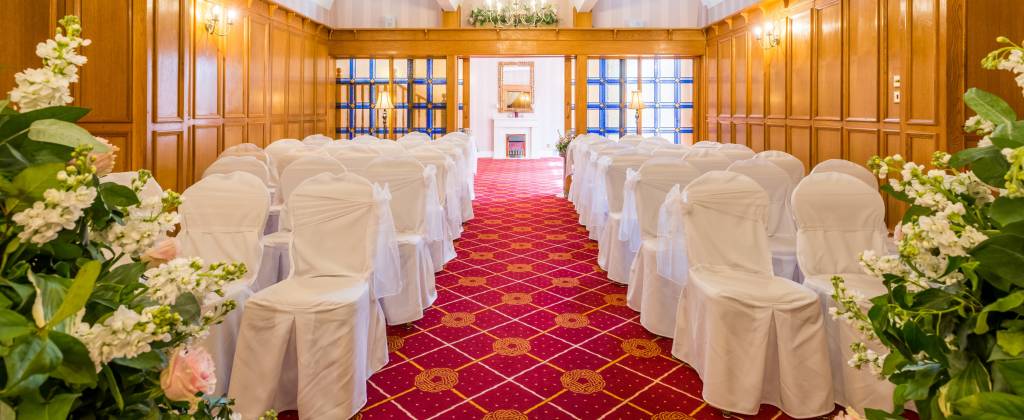 Arranging your civil wedding ceremony
As soon as you have made provisional arrangements for your marriage at the Glen-Yr-Afon House Hotel, you should contact the Superintendent Registrar for Monmouthshire. They can be contacted on 01873 735435. Without the presence of the Superintendent Registrar and a Registrar, there can be no marriage and any arrangements for the use of the premises depend entirely on their availability.

If you are planning on getting married in Monmouthshire, it is essential that you make an advance booking with the Superintendent Registrar for her/his attendance at their proposed marriage as soon as a booking can be accepted. A fee for this attendance will be payable directly to the Registrar before the ceremony.
You will also have to give notice of your intention to marry to the Superintendent Registrar(s) of the district(s) in which you live. Notice must be given in person by both parties to the marriage and will be valid for 12 months.
Any arrangements made for a marriage to take place at the Glen-Yr-Afon House Hotel are dependent on:
(a) The attendance of the Superintendent Registrar and a registrar for the district in which the premises are situated; and
(b) The issue of the Authorities for marriage by the Superintendent Registrar(s) to who notice of the marriage was given.
When notice is given in a different registration district from the one where the marriage is taking place, you will have to collect the authorisations before the ceremony and ensure that they are delivered to the registrar who is to attend the ceremony. Your ceremony cannot take place without these documents.
You are advised that the only ceremony permitted by the Superintendent Registrar would be a civil, not religious one. Any music, reading words or performance that form a part of the ceremony must be secular. The content of the ceremony must be agreed in advance with the Superintendent Registrar who will be attending the ceremony.
Any rights of copyright for music, reading etc permitted at the ceremony are a matter for you and the holder of the approval.
To discuss your requirements for a wedding venue in South Wales, please contact Carol Knight on 01291 674819 (direct line) or 01291 672302 (main reception).
Please see our Frequently Asked Wedding Questions page for further information about holding your special day with us.