From intimate to extravagant, we are dedicated to creating an unforgettable wedding day that is uniquely yours.

Choosing your wedding venue can be quite daunting but our experienced team will guide you through the process and help you plan the wedding day of your dreams. Specialising in weddings since 1974, we believe that a wedding celebration should be as individual as you are.
Regarded as one of the most prestigious wedding venues in South Wales, we hold a licence for civil wedding ceremonies in one of two beautiful ceremony rooms and we can host wedding receptions for up to 150 guests. Our very experienced Wedding Coordinator will assist in planning your wedding day to perfection.

Our popular wedding packages represent excellent value for money but we also offer the flexibility to assist you to plan your wedding celebrations to your bespoke requirements.
No wedding is considered too small so whether you're planning your civil wedding ceremony or wedding reception, we guarantee that we will only host one wedding on any particular day. We are also an exclusive use wedding venue - included in our Platinum wedding package at no extra charge!
We have well maintained gardens so your guests will be able to enjoy drinks and canapés on the lawns surrounding the hotel whilst your wedding photographs are being taken.
You must sign a legal statement at your local register office to say you intend to get married or form a civil partnership. This is known as 'giving notice'. You must give notice at least 29 days before your ceremony. For example, if you give notice on 1 May, the earliest date you can get married or form a civil partnership is 30 May. You must hold your ceremony within 12 months of 'giving notice'.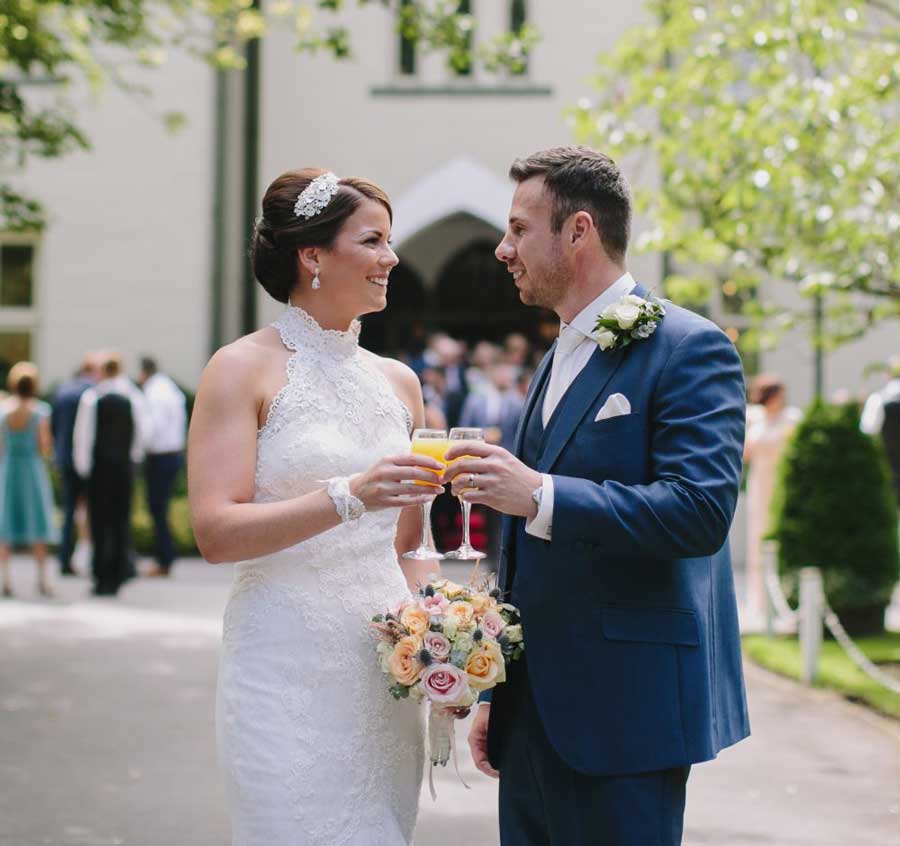 Located in the most picturesque part of Monmouthshire, South Wales, the Hotel is privately owned and lovingly cared for with all rooms being tastefully furnished whilst respecting it's long history. The lovely town of Usk is just a short walk away. A regular winner of Wales in Bloom, Usk is a delightful town and is the perfect place for your wedding guests to explore while staying with us in the lead up to the wedding. The Glen-Yr-Afon House Hotel sits on the edge of the town - just a short walk across the river bridge. The grounds are immaculately tended and offer the perfect backdrop for your wedding photographs.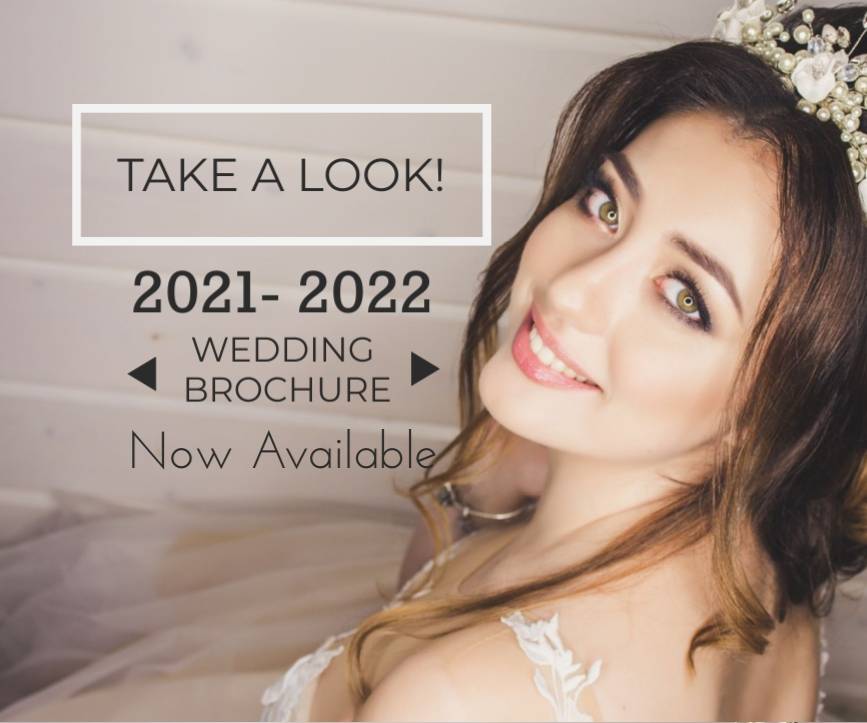 For wedding ceremonies, couples can choose to hold their wedding ceremony in one of our two licensed rooms – both being full of character and warmth. The library is the perfect choice for smaller wedding ceremonies with the light and airy Ballroom being able to accommodate ceremonies up to 150 guests.
A romantic setting with extremely high standards in customer service and attention to detail has resulted in the Glen-Yr-Afon being a well-known popular choice for those couples looking at wedding venues in South Wales.

We welcome the opportunity to discuss your wedding plans and invite you to make an appointment to meet our Wedding Coordinator and discuss your requirements in more detail. We guarantee that your wedding ceremony/reception will be the only wedding celebration at the hotel on any particular day. For couples seeking an exclusive use wedding venue, we are happy to oblige.
We are happy to help with your choice of wedding breakfast menus, drinks for your wedding guests, seating arrangements, floral decorations or any special requirements you may have, leaving you free to enjoy your special day.
We offer special offer wedding packages for late availability wedding dates - so it's often worthwhile giving us a call or visit our special offers page.
Call us to make an appointment to come and visit the hotel, have a look round and discuss your general requirements. Whilst you are welcome to call in at any time, a prior appointment will ensure that you are allocated sufficient time to get the most from your visit.
We guarantee that yours will be the only wedding here on the day. Please note that minimum guest numbers apply on certain days (or equivalent wedding package). Please see our wedding brochure for details.
Note: Evening numbers include daytime guests i.e. the Sapphire Package allows an additional 25 'evening only' guests.
Our wedding venue - your wedding reception
10 steps for your planning your wedding reception at the Glen-Yr-Afon Hotel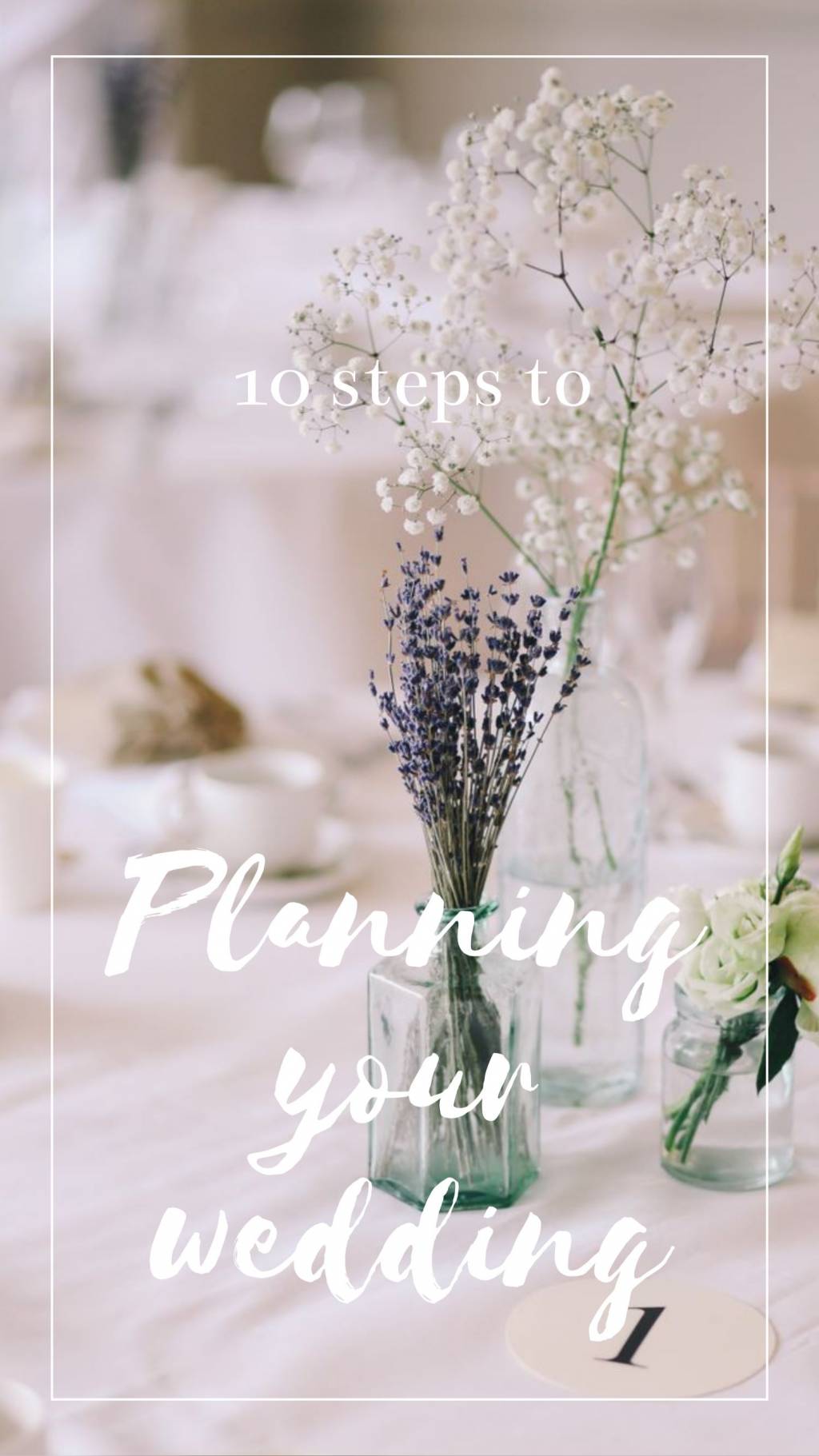 Whether you are marrying in church or at your reception venue, there are lots of things to think about in planning the wedding reception (or wedding breakfast) as it is often known. We are often asked why it is called a wedding breakfast - this is because it is the first meal you have as a married couple (like breakfast is the first meal of the day).
Here at the Glen-Yr-Afon our wedding packages take care of all of the detail needed to plan the wedding day. Our Wedding Coordinator will sit with you an chat you through the following aspects of the big day. Generally we like to meet with you six months prior to the big day to start to chat through your decisions on the aspects below. We will then write up your details and confirm any outstanding matters to be finalised at our next meeting (approximately six weeks prior to the wedding).
Once you have finalised your decisions on these key points, we will plan every last detail of the day so that you can just relax and wait for your dream wedding day to unfold.

1. Flowers - most of our wedding packages include a budget for flowers for the venue. We recommend you arrange a meeting with our florist about six months prior to the big day to discuss your requirements. The florist will chat through your day, taking into account any themes, preference and colours that you are keeping to. You are welcome to choose whatever table centres you like within your flower budget and if you go over this budget you can just settle the balance directly with the florist.

2. Table plan - once your guest numbers have been finalised, we will provide you with a suggested seating plan for your chosen wedding breakfast room. You will then provide us with a list of guests at each table, making sure you identify any guests with mobility, dietary or other needs.
3. Wedding Breakfast Menu - you will need to select you food choices for the wedding breakfast. We offer guests a choice of three starters and two desserts on the day (with most of our wedding packages) - at the table which is quite unique at wedding venues. You will not need to provide us with a pre-order. We will require your food choices at least four weeks prior to the big day. We are happy to provide a choice of main-course if required as long as you can provide a pre-order fo this course in advance of the day. Please note our Emerald wedding packages include one starter, one main course and one dessert course.
4. Evening Refreshments - we will ask you to confirm your choice of evening refreshments. This can be in the form of a finger buffet or hog roast. The number of buffet items included will depend upon the wedding package chosen.

5. Receiving Line - to help us plan a schedule for the day, we will ask you if you want to do a receiving line. For those wanting to include a receiving line, this would take place after the drinks reception, as guests are going into the wedding reception room. Some couples like the formality of the receiving line and use it as an opportunity to make sure they speak with their guests and thank them for coming. If you do want to have a receiving line, we will ask if its just the happy couple or if you want parents either side included. We can then allocate a suitable amount of time in your wedding schedule for this to happen. Others prefer not to have one. Either option is fine - its your day!

6. Wedding Drinks - we will ask your preferences of drinks for the day. If you are having a wedding package, you will be asked to select a choice of drink to be offered as guests arrive form church or after the ceremony here. The selection can be found in our Wedding Brochure. With the wedding breakfast, we offer red, white and rose house wines. These are waiter served to your guests requirements so you don't have to make any selections on this aspect.

Most packages cater for two glasses of wine per guest with the wedding breakfast (except the Emerald Package which includes one glass at this point in the day). The house wines we offer can be found in our wedding brochure. For the toast, you will need to select your preference for a sparkling wine or Champagne.

7. Colour theme - we pay a lot of attention to detail when planning your wedding day and colour themes play an important part. At the planning stage, we will ask you to provide a swatch of your chosen colour so that we can make sure every aspect we arrange on your behalf is colour-theme i.e on printed menus, table-plan etc.

8. Wedding Cake - we will ask your preferences on when you would like the wedding cake to be offered to guests. You would cut the wedding cake as part of the weding breakfast but you can choose to have it offered to the guests with the tea and coffee course or platter it with the evening refreshments. We have a cake stand and knife that you can use at no additional cost.

9. Chaircovers - if you have chosen to have chaircovers, we will use your colour swatch to match the sash. Within our wedding packages, we would order the amount of covers for the daytime guests only. If you require covers for the additional evening guests we can arrange at an additional cost for you.

10. Evening entertainment - we will need to know your choice of entertainment for your wedding party. Our packages include the services of our resident DJ. If you deceide to arrange a band we will need to know their details and see a copy of their valid Public Liability Insurance in advance of the day. Generally the evening party will commmence at 7.30pm.
Our wedding venue - your wedding ceremony
Our experienced team will help take you through the process of getting married at our venue.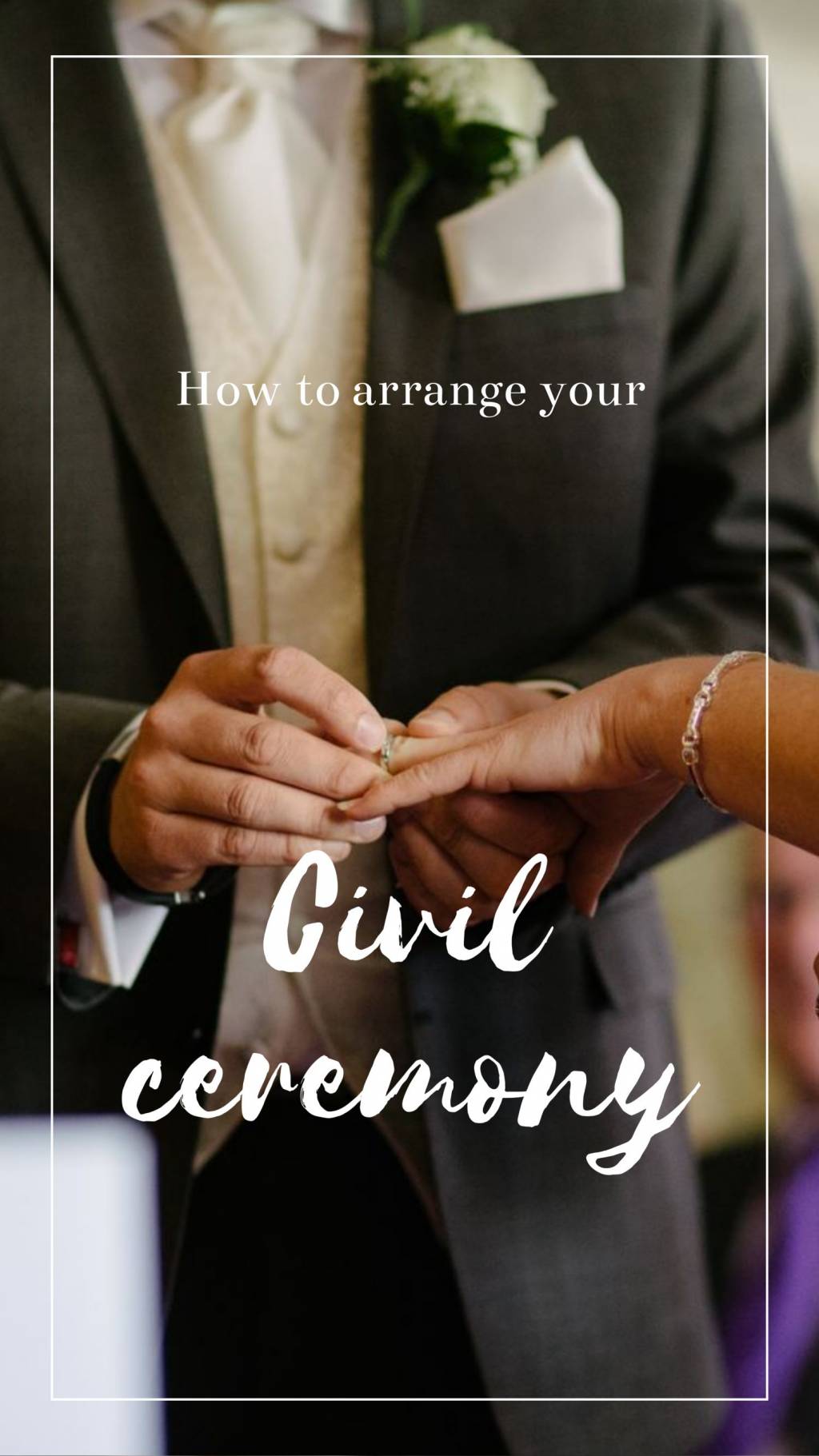 First you need to choose a wedding venue
We can help! The Glen-Yr-Afon House Hotel is an approved venue for marriages, civil partnerships and same-sex marriages in Monmouthshire. Four rooms are licensed - from the Library to the Ballroom catering for civil ceremonies from 4 - 150 guests!
Decide upon a date
Discuss dates with the Wedding Co-ordinator and make a provisional booking to avoid disappointment! The Glen-Yr-Afon House Hotel books weddings up to three years in advance so you are advised to make contact early particularly if you have a preferred date in mind! We are happy to hold provision bookings for a 14 day period after which we will require a deposit to confirm.
Contact the Superintendent Registrar (for civil wedding ceremonies) or the church
The Registrar for Monmouthsire is based at the Monmouthshire County Council Offices, Rhadyr, Usk NP15 1GA. You can contact the office on 01873 735435. You can book the Registrar for your wedding as far in advance as you like, but no less than 16 days before the marriage.
Enter your notice of marriage
The legal preliminaries to marriage need to be completed in your district of residence unless you are a foreign national subject to immigration control. An appointment is usually necessary and you will need to provide documents. You cannot do this more than 12 months in advance (and no less than 16 days).
Choose your civil wedding ceremony
For civil ceremonies, you will be sent a marriage pack with a choice of ceremonies. You now need to choose the one you prefer, and select any readings or poetry to include in the ceremony. You can also choose the music for the bride to walk in to, for the signing of the register and for the happy couple to exit to! Here at the Glen-Yr-Afon, House Hotel, we ask that you provide your music choices in advance of the day unless you prefer to use the services of our resident harpist who will be delighted to perform on your special day.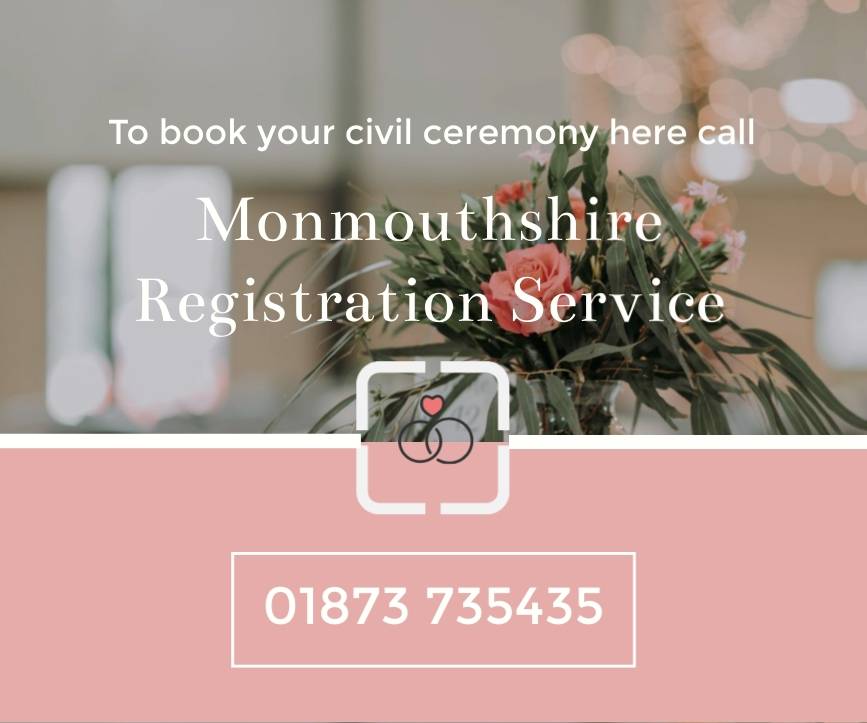 Attend for discussion
You will need to make an appointment to discuss your ceremony with one of the registration officers at Usk. They will require you to finalise the details so it is useful if, before this meeting, you have decided upon a ceremony, have copies of any readings and have your music choices ready. They Registrar will also need to have your authorities for marriage if you live outside the district, and you can pay the fee. They will tell you exactly what will happen on the day and answer any questions you have.
Get married!
On the big day, both Bride and Groom will need to be interviewed by the Registrar prior to the ceremony taking place. Generally the Groom will be seen first so it is useful if he arrives at least half an hour before the ceremony!. The Bride will then be interviewed in a private room approximately 15 minutes before the cermony commences.
Once the declaratory and contracting words have been exchanged, you will be a married couple and will need to sign the register. Your marriage certificate will be presented to you together with a copy of your ceremony.
For further information regarding holding your civil wedding ceremony in Monmouthshire e-mail:ceremonies@monmouthshire.gov.uk