Murder Mystery Dinners
We regularly hold Murder Mystery Dinners - our next one is part of our Christmas Programme 2023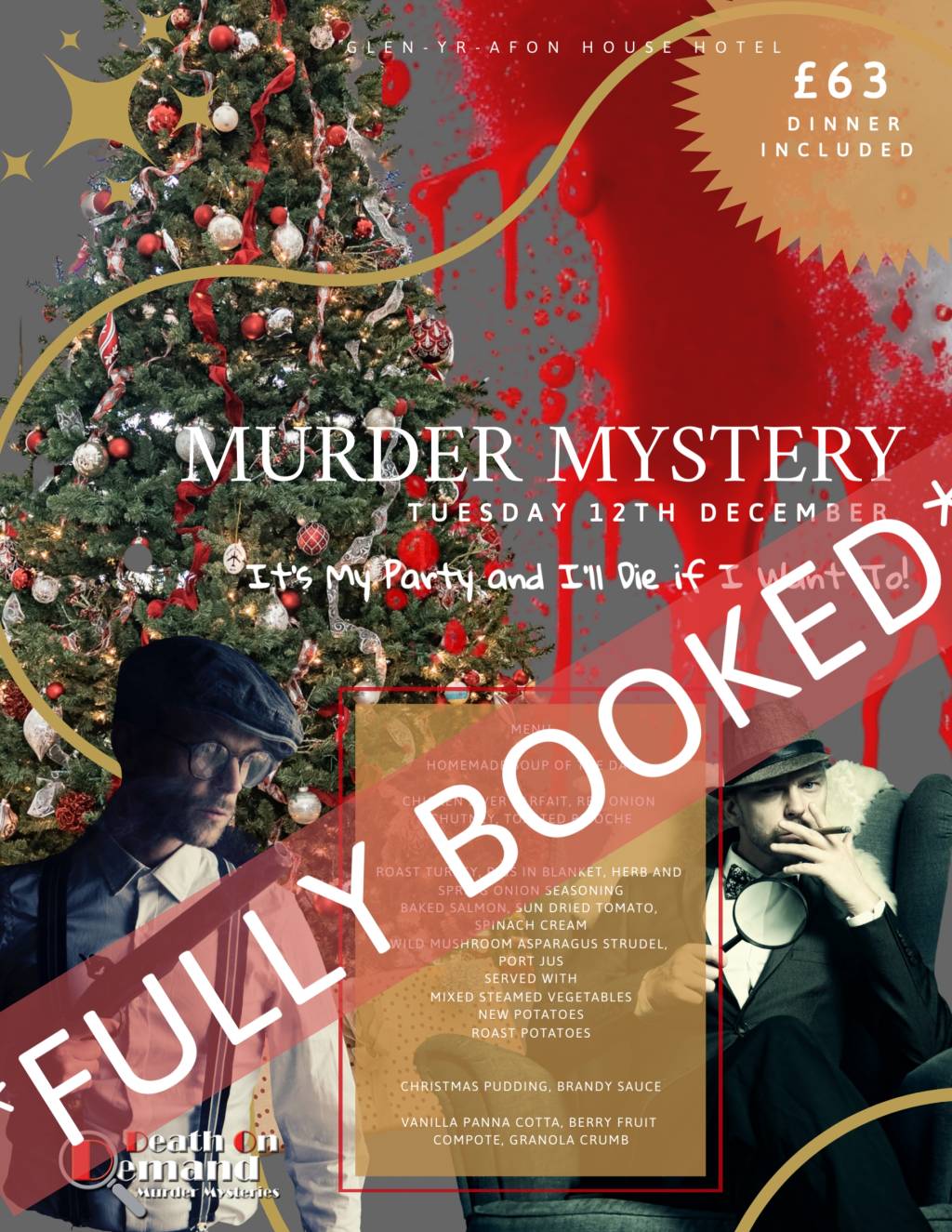 Tuesday 12th December 2023
Murder Mystery Dinner - 7.30pm

***** SORRY THIS EVENT IS NOW FULLY BOOKED*****

Its my party and I'll die if I want too!

Plot : It's the 1985 Christmas Party for the Neptune News. The last few parties have turned into drunken brawls, especially amongst the more senior reporters.

Only the diehards and the ambitious have attended. With secrets already rife between colleagues, an unexpected letter from the newspaper's owners creates even more tensions and inflames rivalries that previously only simmered beneath the surface. How far will people actually go to advance their careers?
£63 per head including dinner.
50% deposit on booking with the balance being due by 14th November.
The evening is a fully interactive, live-action immersive theatre experience. Our experienced actors will be 'in character' for the entire evening and will interact with the guests freely. There is no 'stage' – the characters are around and among the guests throughout! The intricate and detailed plot, clues and motives are revealed as the night occurs. There may even be an opportunity to rummage through the character's possessions!
What are they hiding in their pockets?!
The action begins quite often once starters are served, and will continue throughout the meal, alternating between 'scenes' performed by the suspects – full of clues and information – and opportunities for the guests to interrogate the characters directly at their own tables. The clues are there, the mystery can be solved!
Near the end of the evening, as the clues are adding up and the story develops, there is an opportunity for representatives from each table to investigate the suspect's belongings! Then it's time for the guests to put two and two together… and hopefully solve the case! Following a reveal, the winning table will then be announced.
Murder Mystery Menu
Homemade tomato and basil soup
Chicken liver parfait, red onion chutney, toasted brioche
Roast turkey, pigs in blanket, herb and spring onion seasoning
Baked salmon, sun dried tomato, spinach cream
Wild mushroom asparagus strudel, port jus
Served with
Mixed steamed vegetables
New potatoes
Roast potatoes
Christmas pudding, brandy sauce
Vanilla panna cotta, berry fruit compote, granola crumb