Micro wedding offer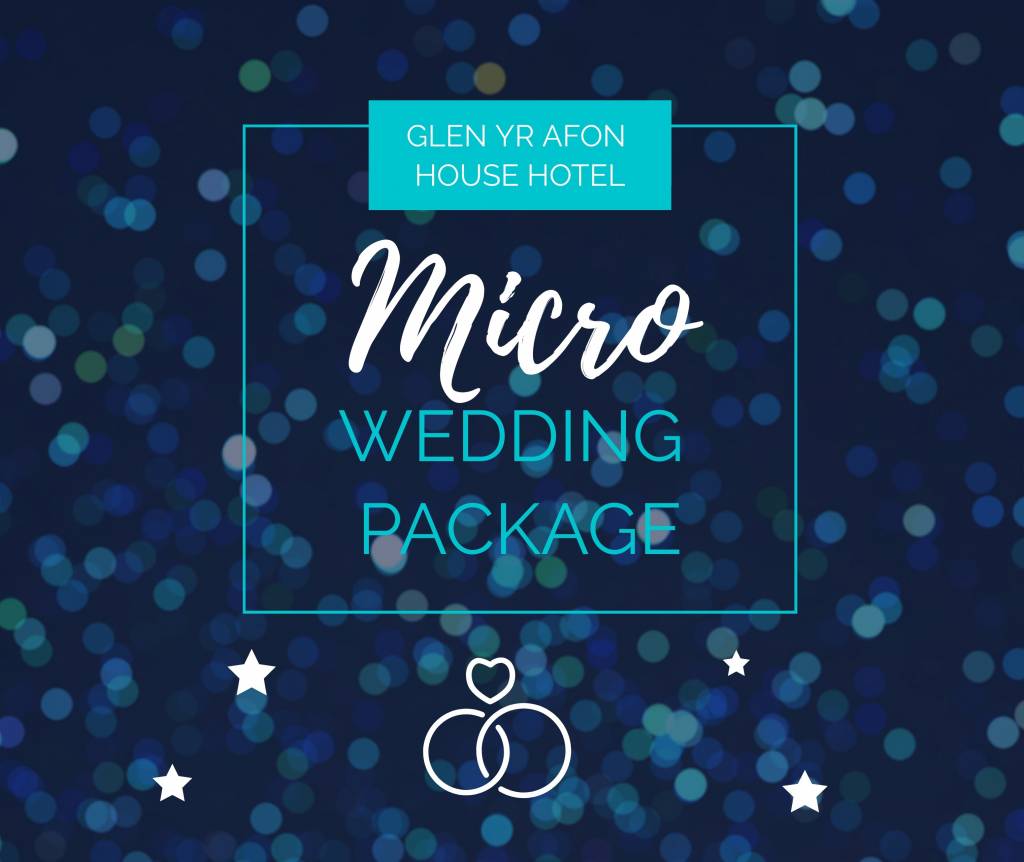 Our micro wedding package is based on 15 guests for a ceremony and wedding breakfast. Subject to Government restrictions, this package is available for new wedding bookings up until the end of November 2021.
Gatherings for the wedding ceremony itself are limited only by the capacity of the building itself. We have our large Ballroom where we can socially distance your guests and safely seat 25 guests for the wedding ceremony.
Our micro wedding package is available for new bookings on remaining dates in 2021. The Glen Yr Afon House Hotel is a 'Covid Secure' wedding venue in the heart of South Wales with guest and staff safety being our main priority .
Luxury Break - now available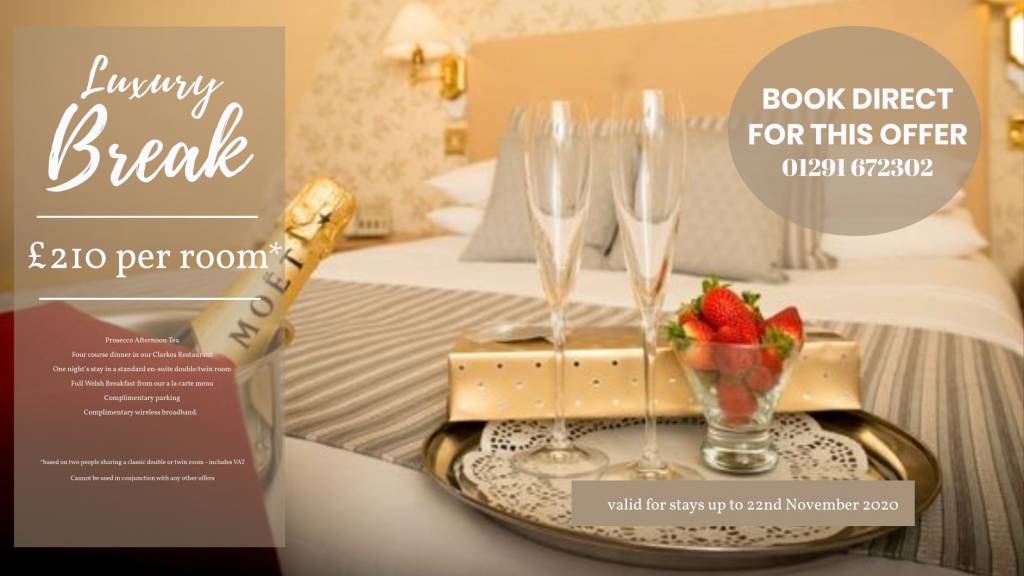 Wedding Offer
Have you had your wedding abroad cancelled due to Coronavirus?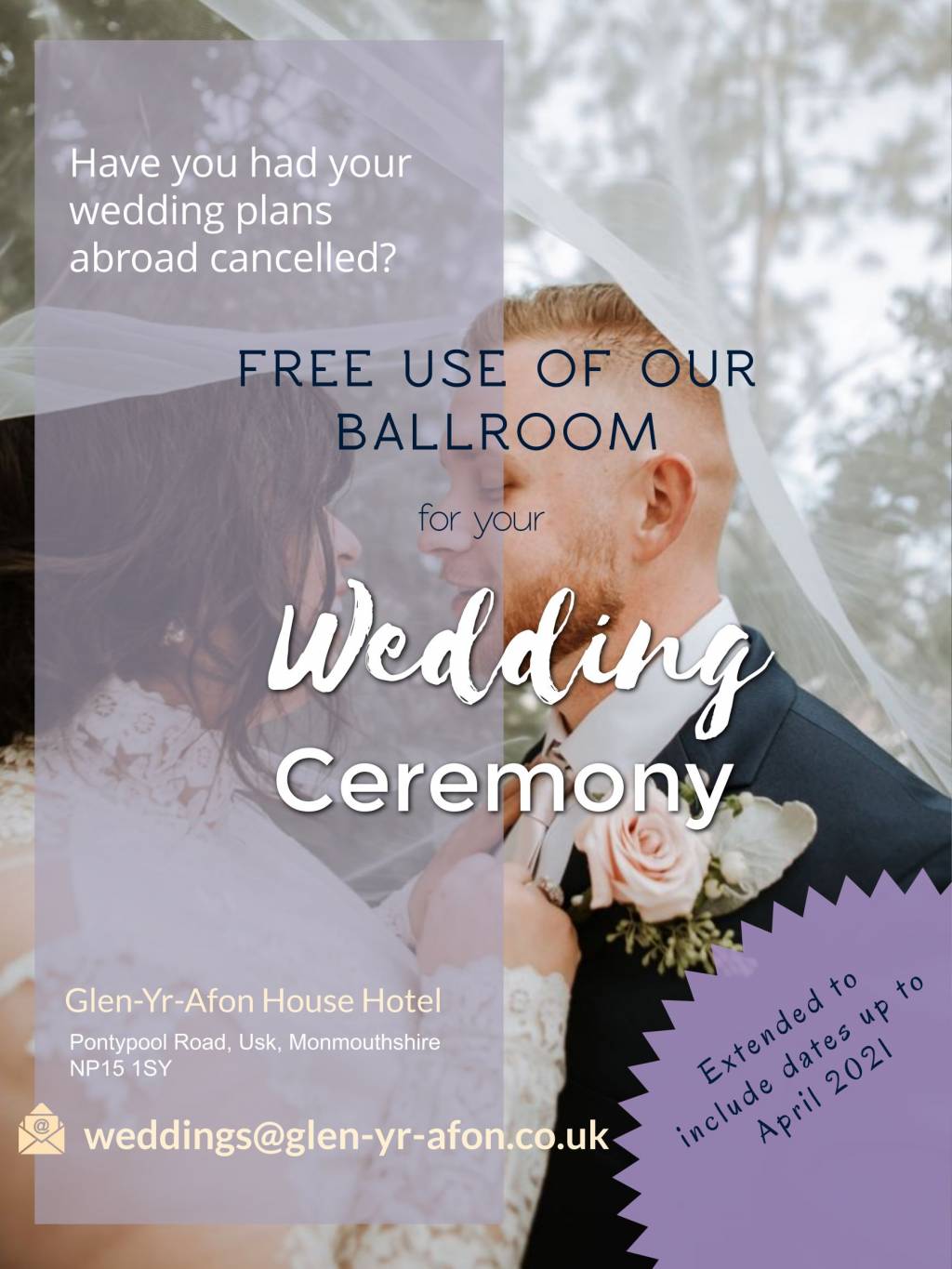 This offer now extended to include available dates up until April 2021. We have already helped several couples re-arrange to get married at home as their plans to travel abroad to marry are sadly no longer possible.
Please email us weddings@glen-yr-afon.co.uk for further details.
We are sorry to hear of the many couples whose special day abroad has been disrupted or cancelled due to Coronavirus. If you know any couples affected by recent developments please let them know that we would be happy to help out by letting them make use of our Ballroom free of charge for their wedding ceremony to go ahead.
We also have discounted options for wedding receptions for those couples affected and our team are committed to help plan all aspects of the day for you with the help of our trusted suppliers.
We have some dates from September to April 2021 that we can help with at this stage.
Don't despair! GIve us a call - we will do our very best to help you.
Hotel rooms in Usk
Please call us directly to guarantee our very best room rates.

We have various accommodation offers available throughout the year. Booking directly with us will guarantee you the very best rate for your stay. Our Reservations Team will be happy to help - 01291 672302

If you are staying as part of a wedding, we offer a reduced room rate for bed and breakfast. Please note that rooms for wedding guests need to booked directly with the Hotel - the preferential rates offered for wedding guests are not available for booking on-line.