Blog

Charity Donations

Charity Cheques Presented

The Glen-Yr-Afon House Hotel held a presentation ceremony recently to donate funds raised at the Usk Show in September to local worthwhile charities.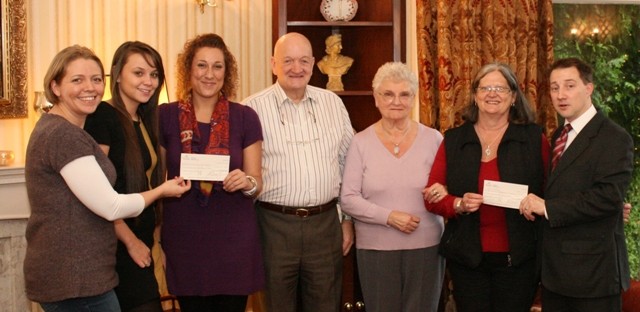 A beautiful wooden dolls house kindly crafted and donated by Mr and Mrs Drew of Cwmbran was raffled at the Show by staff from both the Glen-Yr-Afon and its sister Hotel, The Three Salmons raising a total of £420.

This years charities of choice were The Jane Hathaway Leukaemia Fund and Ethan's Wish to Walk who each received a cheque for £210 .

The Jane Hathaway Fund was set up by Tom and Georgina Hathaway after tragically, their daughter Jane, passed away at the age of 10 after losing a two-year battle against leukaemia in 1985. Now, her loving parents are devoted to raising money in her name by helping the LATCH charity that provides care and support to victims of the disease and their relatives. Their motive for raising money for the charity is simple - to help other families going through the agony of seeing their child suffering. Their money has helped fund research, buy new equipment and increase levels of care to give other families more time with their loved ones.

Ethan Jolosa is a 7 year old boy who was born with Cerebral Palsy (CP). He has a type of CP called Spastic Diplegia which affects his legs, making them tight and having to walk on his toes. Ethan's family and friends are fundraising for him to have a pioneering operation which will hopefully allow Ethan to have flat feet and give him a chance to learn to walk. www.ethanswish2walk.co.uk

Alex Brown who made the presentation on behalf of the Glen-yr-Afon and its sister Hotel, the Three Salmons said 'we are keen to ensure that we support local charities whenever possible and are delighted to support both of these very worthy causes'.
Posted on Mon 3rd Dec 2012 at 13:27