Coronavirus and your wedding in Wales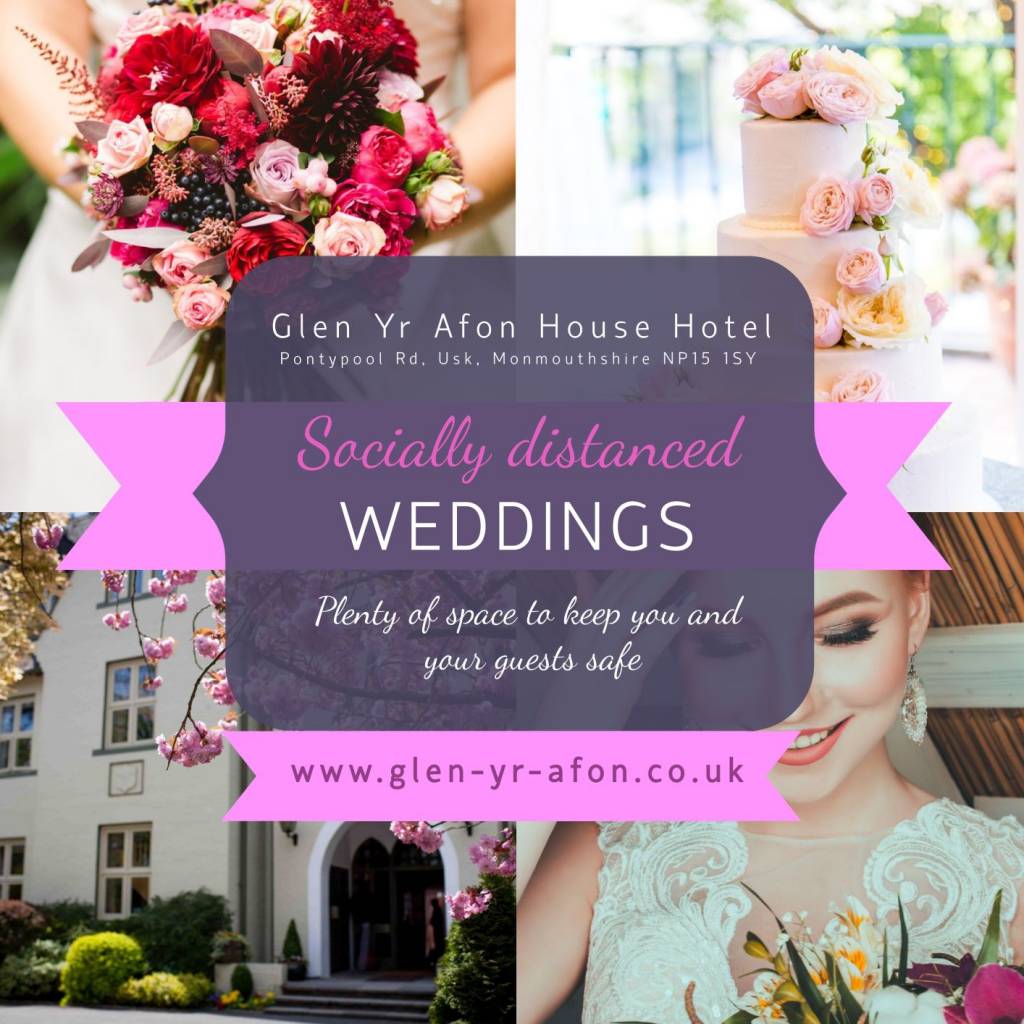 So there may be lots of questions! Hopefully this will help: (published on 18th September 2020)
The marriage/civil partnership restrictions in relation to the pandemic are constantly changing and there are several points to consider that have arisen very recently:

1) Local lockdowns: So far the local lockdowns have not impacted ceremonies themselves although they have had an impact on wedding receptions. Guidance provided confirms that couples and their invited guests can travel out of or in to a county in lock down for a marriage or civil partnership ceremony however they are not allowed to remain there for a reception afterwards.

2) The maximum number of guests for a ceremony is still an individual calculation based on the size of the licensed room and a venue's ability to ensure that the guests are able to follow Public Health Wales guidelines safely throughout the venue, however it is still a maximum of 30 guests for any reception which must take place on the same day as the ceremony although it can be a different location. Wedding ceremonies are not affected by the general restriction on gatherings of above six people. To ensure that the maximum number that can attend is observed attendance must be by invitation only.

3) Face coverings are now mandatory in Wales, and it does apply to ceremonies with all parties expected to wear a face covering. The couple can remove their face coverings during the ceremony to say their vows (and the Registrar will ask them to do this) as can the Registrar in order to call their vows, for a kiss and for 'first dance', however guests must wear them and stay 2m away from the couple at all times.

4) Are all potential wedding or civil partnership ceremony venues now open? - Yes, all premises that are licensed to conduct a solemnisation of marriage or the formation of civil partnerships can now open for wedding and civil partnership ceremonies

5) Are there limits to the number of people who can attend ceremonies? - The number who will be able to attend a ceremony indoors will be limited by the capacity of the venue where it is being held, once physical distancing measures have been taken into account. It is not affected by the general restriction on gatherings of above six people.

6) What are the rules on holding receptions? A small wedding reception for up to 30 people can take place outdoors or, where the wedding takes place on or after 22 August, indoors. Where the reception takes place indoors, it will need to take place in regulated premises (such as pubs, restaurants, hotels or community centres) and there are limits on the type of activity that can take place - for example loud music should not be played, and any food provided should be served at the table rather than at a buffet.

Social Distanced Weddings in South Wales
Can I still get married in Wales?
So - here we are in the midst of the COVID-19 pandemic and althought there are some small signs of a return to 'normal', it would be sensible to acknowledge that weddings may well not return to what we have been used to for some time to come.
So here at the Glen Yr Afon we are taking measures to continue to plan for weddings, working with restrictions that are in place. We are already an established wedding venue for small wedings in South Wales but current developments have meant that our fabulous Library, licensed for a group of 30 in total, is pretty much out of use due to insufficient space to properly adhere to distancing rules.
From 22nd August in Wales, wedding receptions were permitted to take place indoors with a maximum of 30 people in attendance (including the happy couple). We immediately looked at ways of ensuring our planned weddings for September onwards could resume and on 3rd September held our first wedding here since March 2020!
We planned out both the wedding ceremony and the wedding reception that followed making sure all safety considerations were taken into account. And the result? A fabulous socially distanced wedding ceremony and wedding reception for Mr & Mrs Smith in our beautiful ballroom!
We sat guests in their family 'bubbles' distancing at least 2m from other not within their extended family bubble. We labelled the chairs so that the same guest made use of the same seat throughout the day.
There was a change to the handling of rings at the Registrar's request which meant that only the Bride and Groom handled each ring during this part of the wedding ceremony.
The drinks reception that followed saw slight changes to our usual service, but drinks presented on serving tables in the grounds limited the contact with serving staff and trays.
The wedding breakfast lay-up followed some liaison with the bride and groom to ensure family bubbles only were sat together. These tables were then appropriately distanced from other guest tables.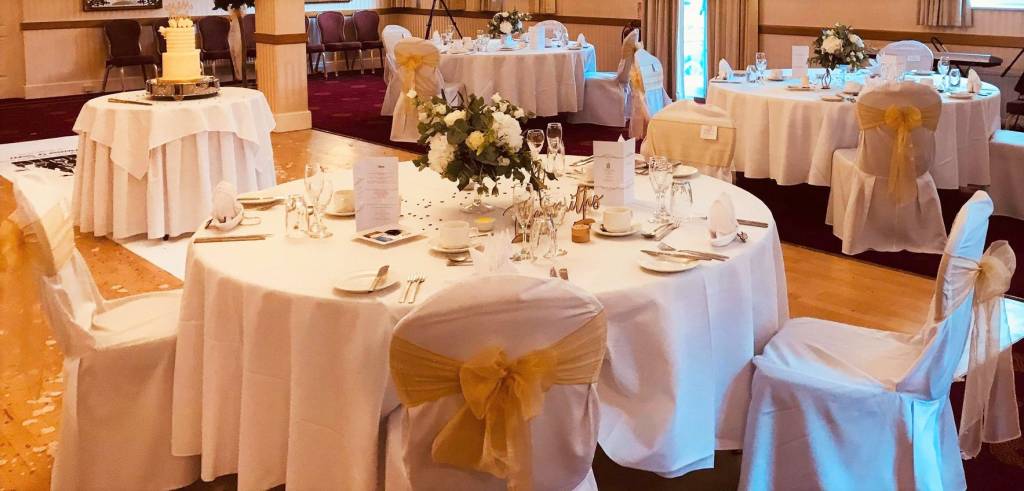 So - here we have it! You can still get married (at time of writing this post) - you can still celebrate with family and friends - give us a call if you are interested in finding out more! 01291 672302
With effect from Monday 14th September 2020 the following restrictions are to be effected in Wales to reduce the number of people gathering together in Wales.
The rules are:
No more than six people to gather together inside. All six must belong to the same exclusive extended household group.
Extended household groups can still be made from up to four households joining together, but only six people can meet at any one time.
Children under 11 will not be included in our rule of six.
Indoor gatherings of more than six people will therefore be against the law in Wales.

Weddings and funerals can continue to proceed indoors with up to the 30 people (with the appropriate social distancing / household 'bubbles' being adhered to.)