On Saturday 15th and Sunday 16th September this year Abergavenny will be hosting its annual Food Festival. This event always proves to be super popular and is a great opportunity for a day out with the kids where you can sit back and relax with some tasty food and boozy beverages. If you're planning on attending this event we have some brilliant accommodation rates currently available for Saturday 15th September specifically for the festival, just give us a call on 01291 672302 to receieve the best rate.

This event prides itself on being inclusive and welcoming, offering a variety of different people and businesses a chance to show their produce and skills. Home to talented chefs, farmers, food businesses, journalists and food producers, guests will be able to have a delicious and interactive day exploring and learning about food glorious food.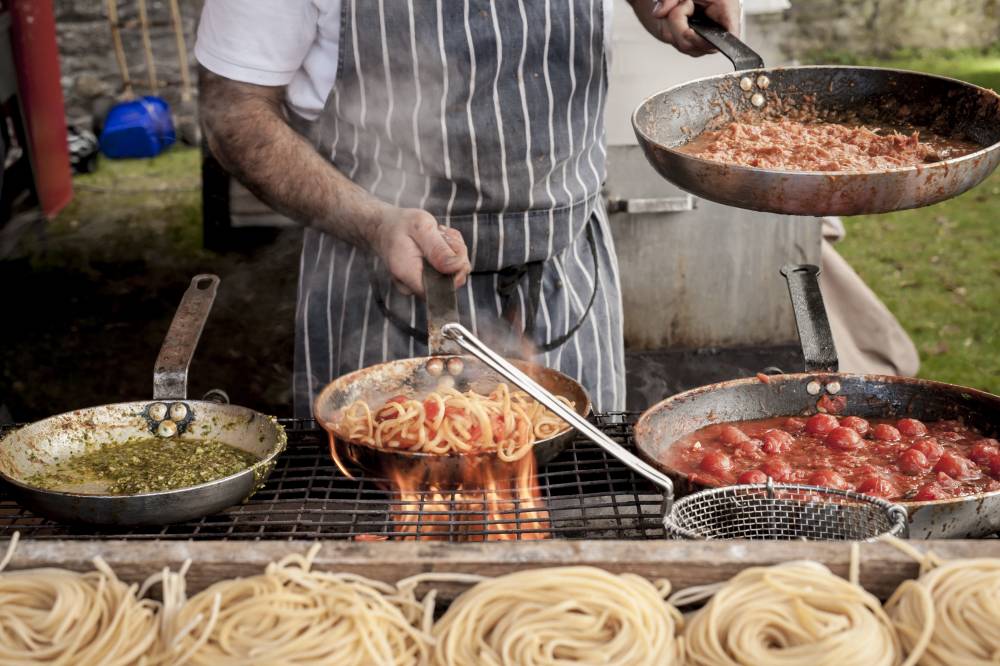 Image above: Abergavenny Food Festival 2017, vendor making pasta. © Artur Tixiliski.
The Food Festival has been known to attract some famous faces too, such as Jamie Oliver, Hugh Fearnley-Whittingstall, Monica Galetti and Valentine Warner! Who knows, you could run into one of them...
Abergavenny is a quaint little medieval market town steeped in history, local culture and surrounded by the beautiful Welsh countryside. With castles, Medieval Mansions, Roman settlements and even the Monmouthshire and Brecon Canal, there is so much to take in even without the festival. With such tempting reasons to visit it almost seems rude not to go!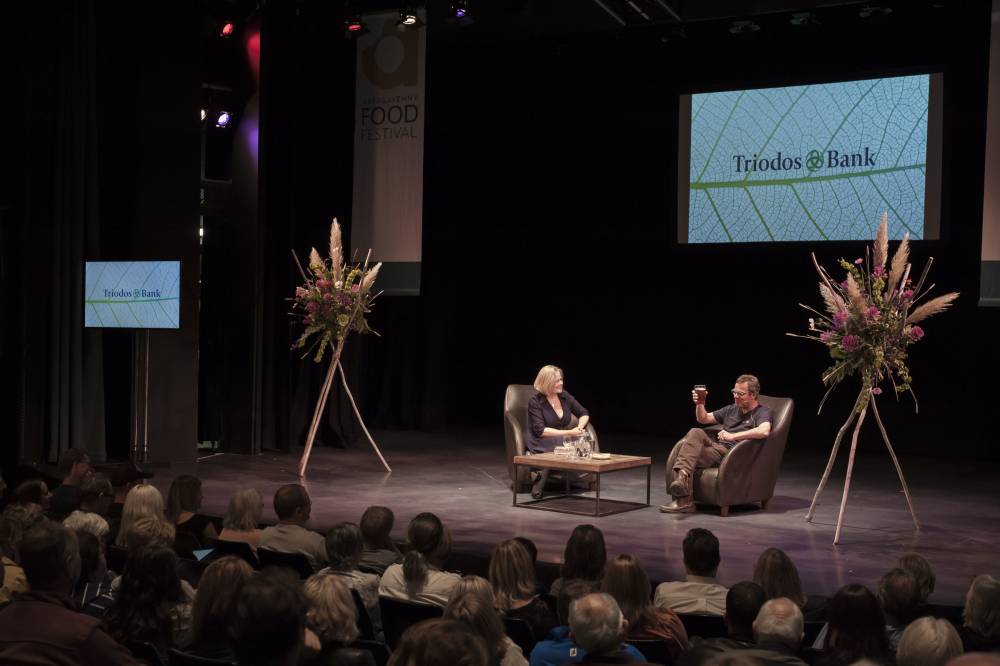 Image above: Abergavenny Food Festival 2017, Hugh Fearnley-Whittingstall in conversation. © Artur Tixiliski.
Whether you are a home cook looking for inspiration, a beginner looking to learn and take up baking, or even if you just fancy a day out with something tasty to eat, there is something for everyone at the Food Festival. Even the kiddies will have a chance to get involved, with interactive activities, masterclasses, cooking demonstrations and hands-on cookery lessons, you'll be a pro in no time!
This festival has been around for quite a while too, it began its life in 1999 and was all thanks to two local farmers who came up with the idea to try and restore the publics' confidence in UK produce. After the BSE (bovine spongiform encephalopathy) crisis, members of the public were wary of many products, particularly meat, and this had big negative impacts for our British farmers.
If that wasn't enough for our farmers they were hit again with the outbreak of foot and mouth in 2001. This latest development just spurred them on to showcase the wonderful food that was on offer locally and thankfully the Food Festival in the small Welsh town of Abergavenny was gaining traction and beginning to bloom.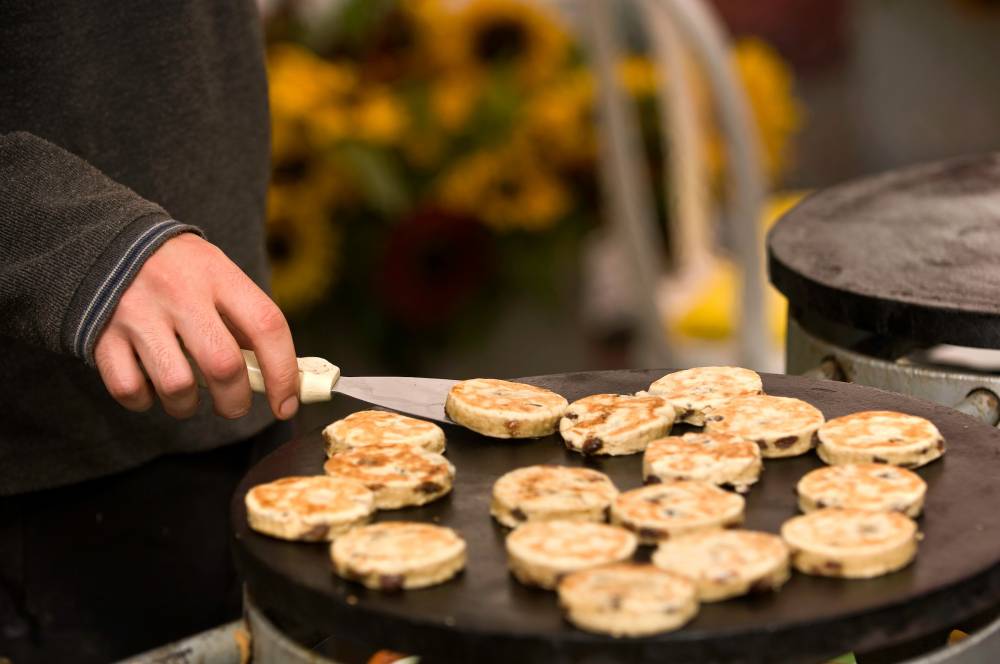 Image above: Abergavenny Food Festival 2017, vendor making Welsh Cakes. © Crown copyright 2018 (Visit Wales).
From these moments in history the success of the festival has just gone on and on and on and o- well we could keep going but we think you all get the picture. This festival has been a success from the get go, now more than ever. For anyone who is travelling a distance to attend the festival, why not come over and stay with us here in Usk. You could explore our picturesque town, take a stroll along the river in the evening and then head off to Abergavenny the next morning to enjoy some culinary delights. Our hotel is located only a short distance away so those of you who enjoy your sleep (like we do!) not to worry the Glen-Yr-Afon have you covered as we offer a range of short breaks for you to choose from.
We hope you enjoy the festival as much as we do and we look forward to meeting anyone who decides to visit us!
Opening times for the festival:
Saturday 15th 9.00am – 6.00pm and will continue 6.00pm – 11.00pm for the night market.
Sunday 16th 9.30am – 5.00pm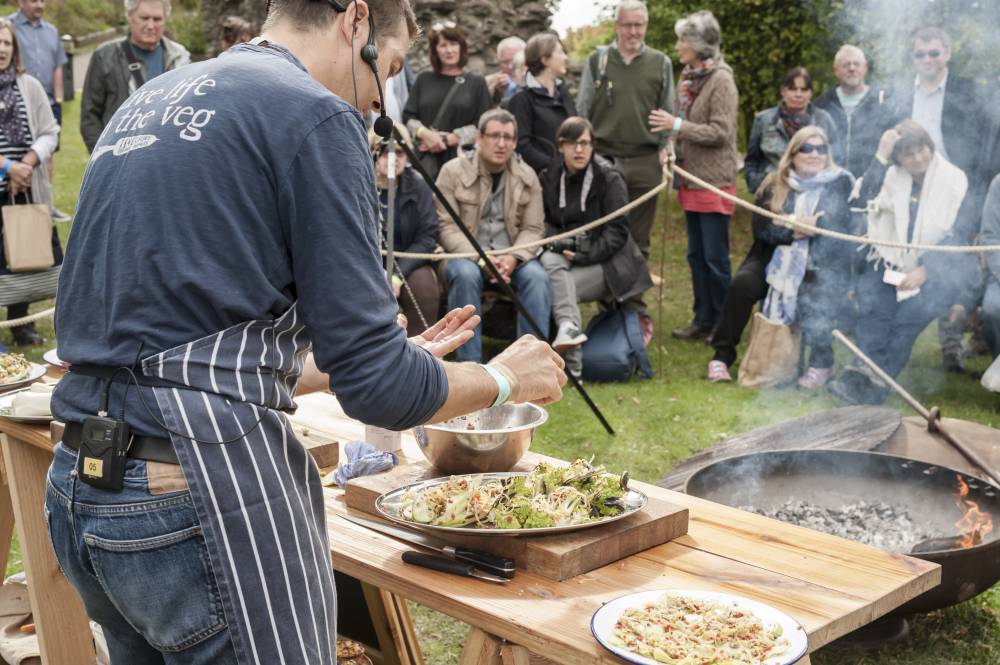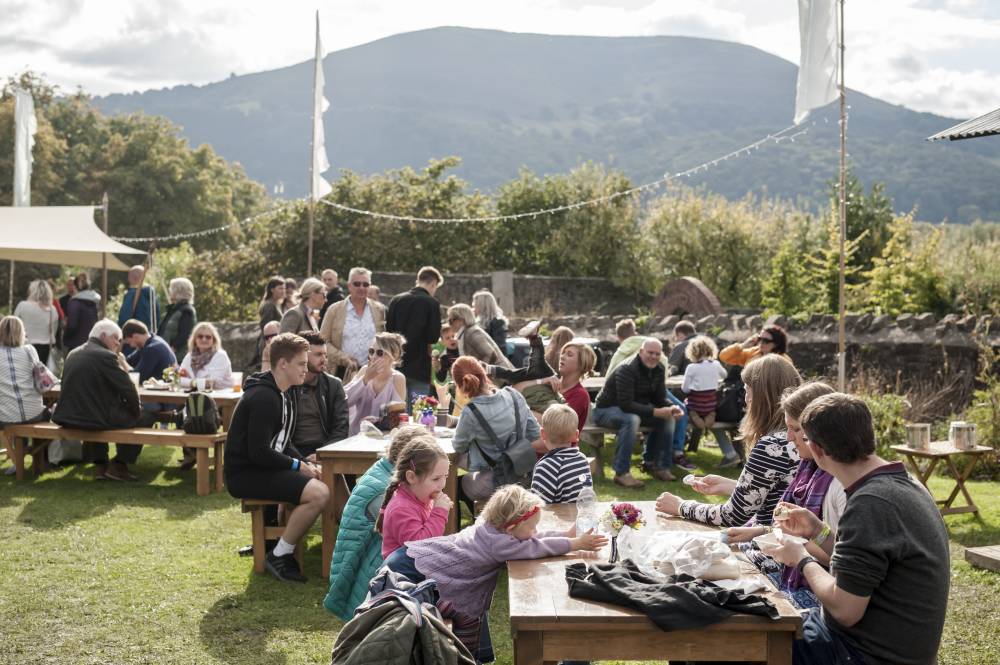 Images: Abergavenny Food Festival 2017. Vendor preparing food (above left) and families enjoying the festival (above right).
© Abergavenny food Festival.