Outside wedding ceremonies
We had great fun on a sunny day in May, experimenting with some fabulous new ideas and options for couples wanting to hold their wedding ceremony in our beautiful grounds
So, the day arrived. Whilst outdoor wedding ceremonies have been in the planning here for some months, on a lovely day in May 2019, we woke up to the most glorious sunshine which meant we were able to go ahead with our photoshoot for wedding ceremonies in our lovely grounds. We have been asked for a long time about the possibility of being able to use the grounds for wedding ceremonies and now, in conjunction with our local Registrar and amazing suppliers we were about to make all of our ideas come to life!
We started by looking at seating options for smaller weddings as we are able to cater for guest numbers from 2 to 150! The grounds were looking super, and we decided that the elegant willow tree, dressed with some white paper lanterns was the best focal point for the seating.


Our florist, Love Lily in Abergavenny got to work with this amazing floral arch which worked perfectly with each of the set-ups. Lining the aisle in similar shades of flowers added the finishing touches together with crisp white sashes on white chiavari chairs. We are now looking at 'carpet' options to emphasise the aisle.
We then changed to a different style of chiavari chair and (our very talented chaircover supplier) dressed those lining the aisle with the prettiest sashes we've ever seen! How lovely do they look and they work perfectly to line the aisle. This set up was for 80 guests.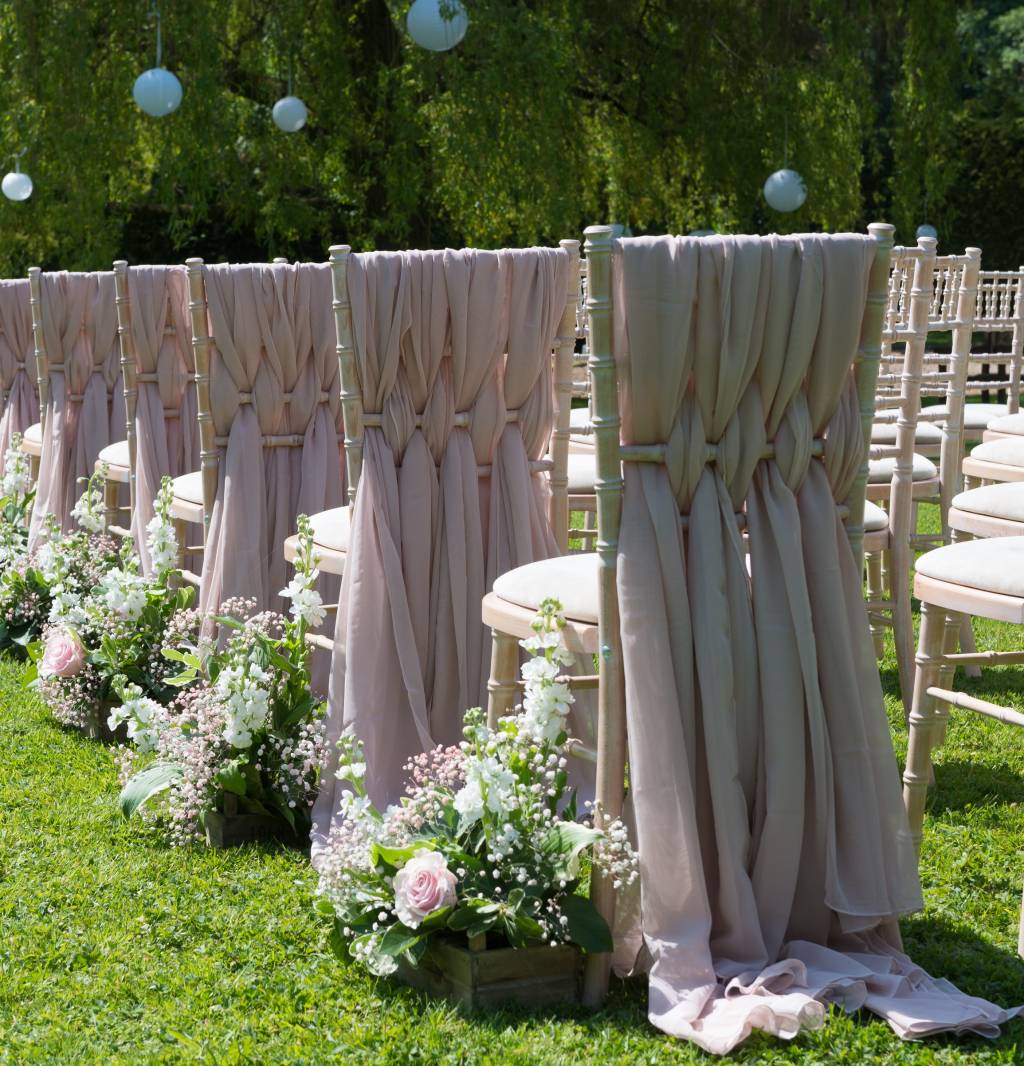 Then we really got creative and startted to look at all sorts of 'different' set up for wedding ceremonies that would not only be aesthetically pleasing but practical in terms of every wedding guest having a good view of the ceremony.
I think one of our favourite was the spiral design below which allows the bride to walk in front of every single guest as she enters the ceremony to meet her groom at the floral arch in the centre. This set-up is again shown below for 80 guests but can work for larger guest numbers by making the circle wider.
A slightly different take on this design is the circular set-up which gives each guest a perfect view of the happy couple as they undertake their vows.
After a very productive (and hot!) day, we were all absolutely delighted with the finished results which were perfectly captured by Andrew Hazard who has worked with the hotel for many years as a wedding photographer.
We are keen to develop many other options for getting married outside and will be holding our next Wedding Showcase event to assist couples with making choices for their wedding venue in South Wales.
Obviously outdoor weddings are weather permitting, but we have three other rooms inside the hotel that are licensed for wedding civil ceremonies should the weather be unkind on the day.