After the initial excitement of your engagement has had time to settle down you are probably thinking about planning your wedding (the fun part!). Many couples these days choose to have a theme to their wedding, these themes can be extremely varied and can range from something as simple as a colour theme, to recreating your favourite movie (just imagine a Harry Potter wedding…).
So why not theme your wedding after the season your wedding date falls under, Autumn is a beautiful season full of gorgeous warm tones and brisk sunny days. Of course you also have the added advantage of Halloween and Bonfire night being encompassed by Autumn so there is always plenty of items that could be used for wedding décor (don't worry we'll give you some examples later on).
Autumn is all about the lovely warm tones of the changing leaves so this is an important element to incorporate into your wedding day if you've decided to use this season as a wedding theme. Why not choose burnt orange chair sashes and bows to decorate your wedding chairs. This is the perfect way to bring in those lovely colours of the season into your big day.
If you're planning a wedding based on a season then it's probably safe to say you enjoy nature and the outdoors. If this is true then why not use foliage as wedding décor, this can be used to run along tables or could even be hung up from the ceiling of the venue (if they allow this of course!) and makes the room look lovely!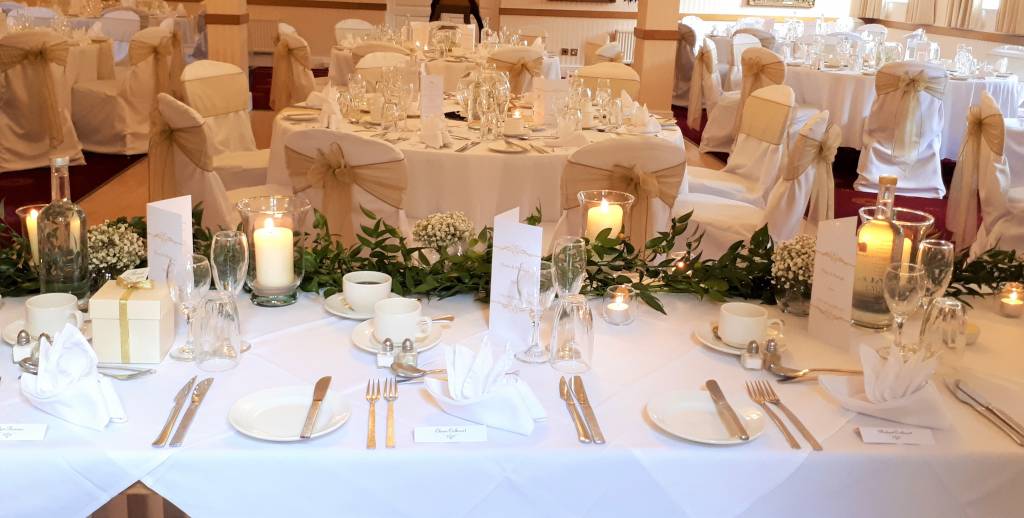 Let's talk table centers, there are so many options here and you're really only limited by your own imagination! However for the sake of simplicity (as we could go on and on forever) lets go for the most popular table centre option, fresh flowers. Now, although this is a very traditional option to decorate your wedding tables there are endless possibilities for colours and the overall look you want to achieve. For an Autumn themed wedding we would recommend opting for warm tones and include some yellows. Why not add Sunflowers into the mix to brighten the arrangements? You could even use pumpkins instead of vases, just like this gorgeous table centre below!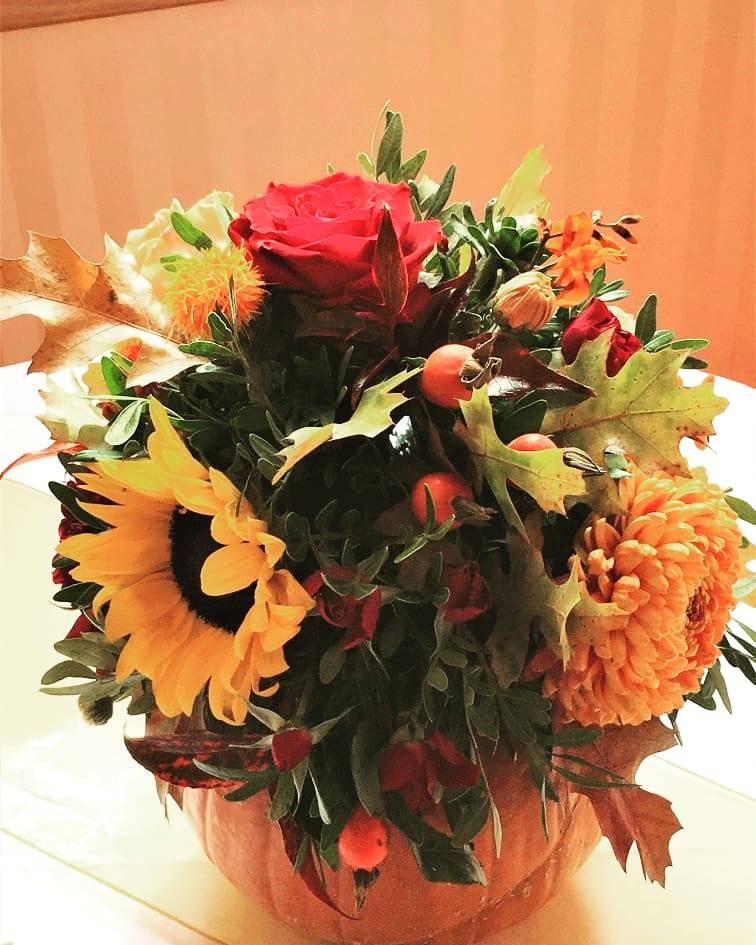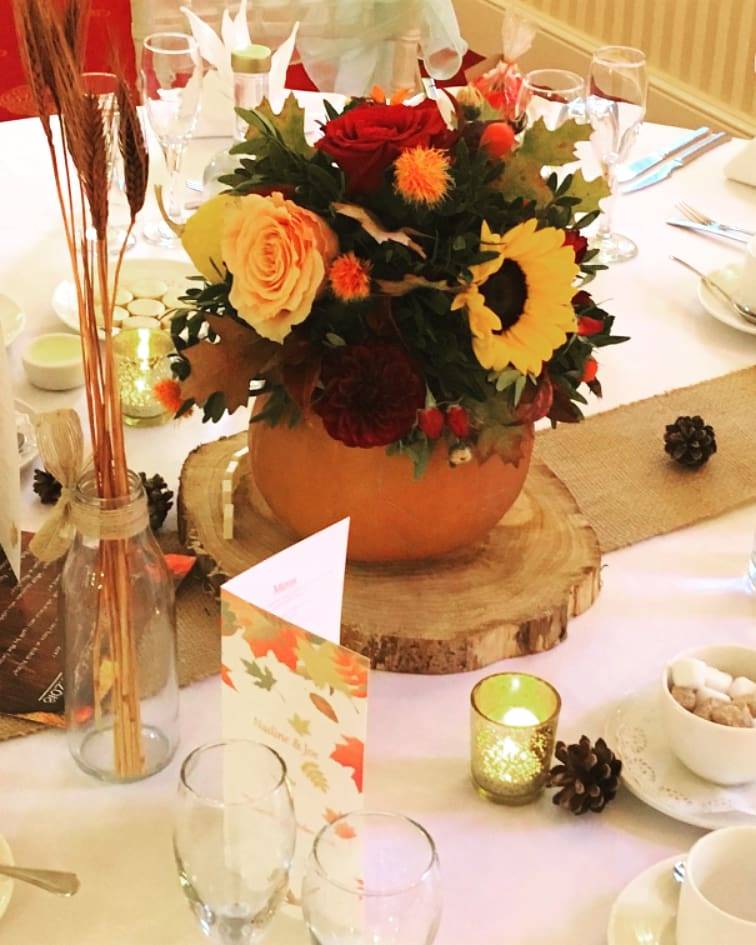 To make your day truly Autumnal why not design your menu cards and place names around the theme. You could add some lovely orange and red leaves to the design like the menu cards we created for a recent wedding.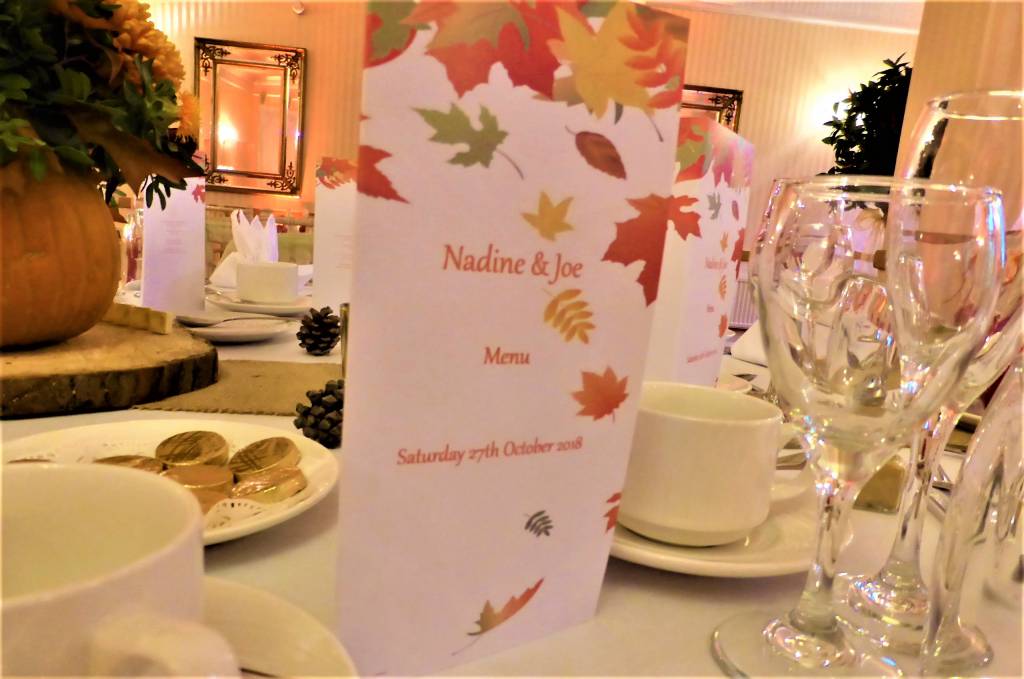 When it comes to wedding favours there are plenty of choices, but sticking with our theme why not choose some yummy toffee apples for all your guests to enjoy. These favours are sure to be a hit and bring back nostalgic childhood memories!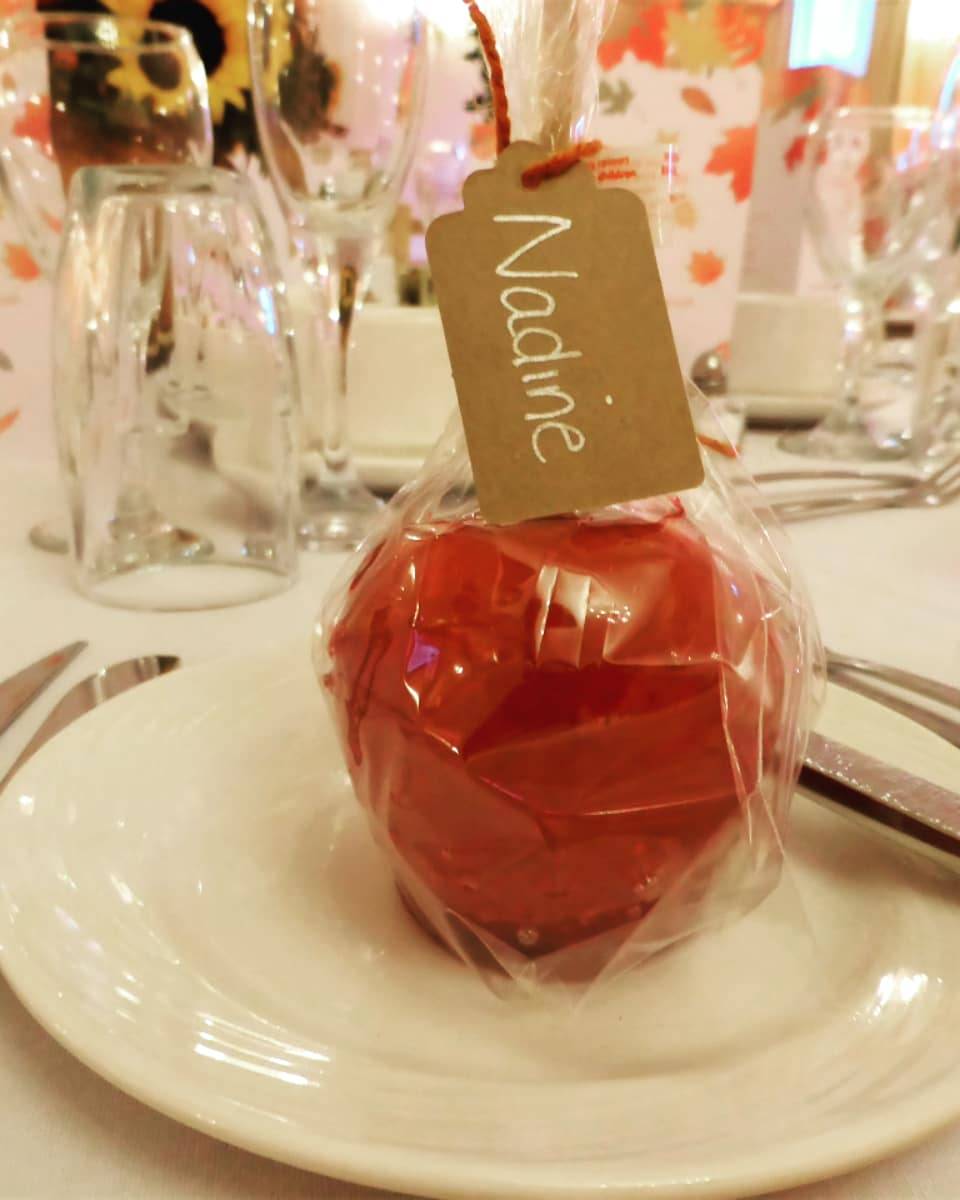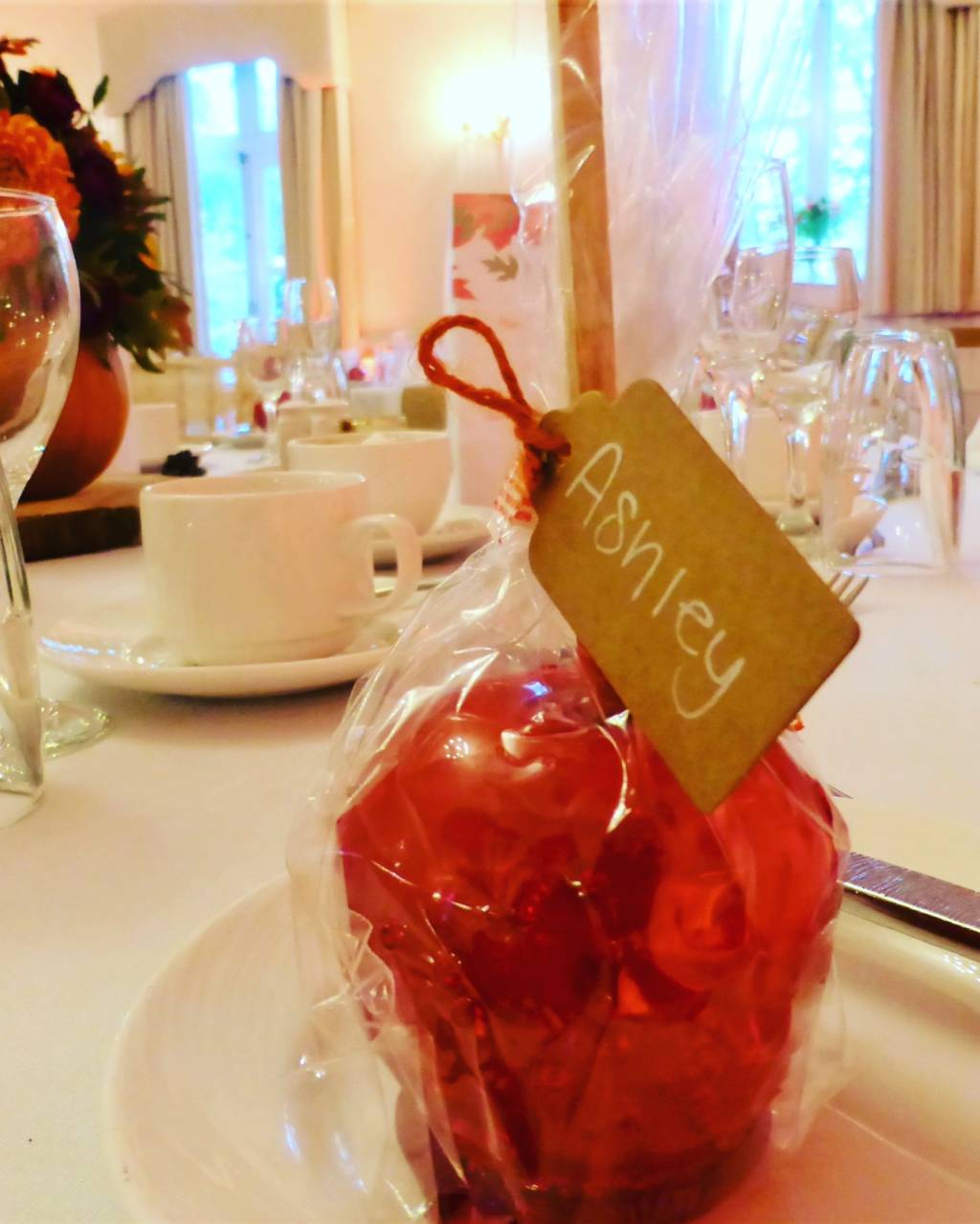 As mentioned before Autumn is a fantastic time to pick up wedding décor due to Halloween and Bonfire night falling within the season. With this in mind you can easily find some mini pumpkins which look gorgeous on wedding tables and scattered around the venue used as decoration. Pair these with your table centers and some leaves and you can have your venue looking perfect! Add some warm coloured fairy lights here and there to really give a magical feel.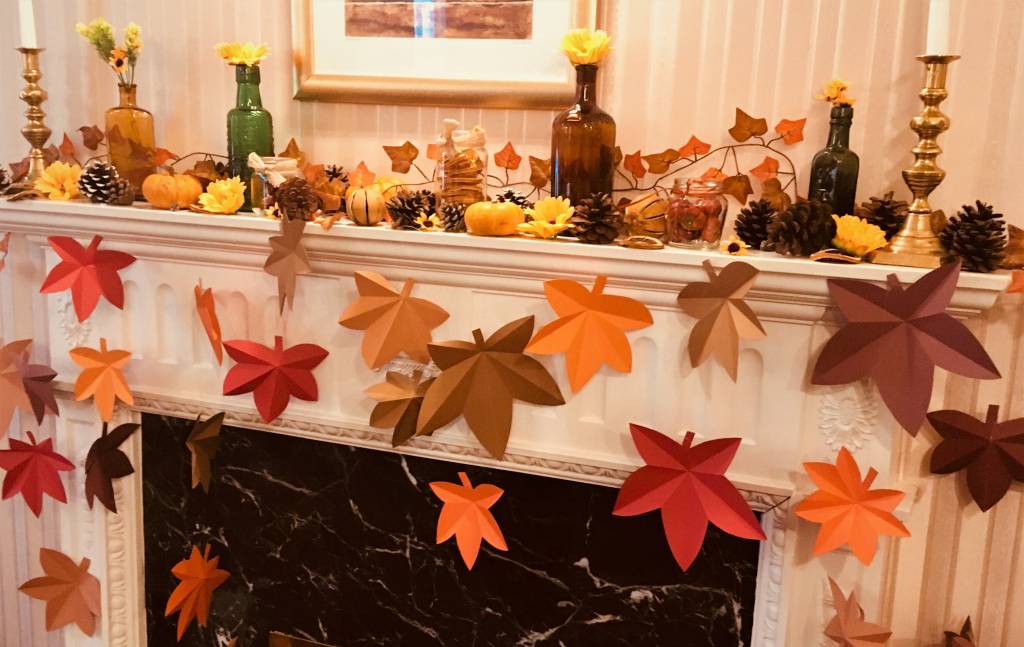 We have given you an array of ideas to perfectly plan your magical Autumn wedding, we hope you've found some ideas and taken inspiration from them! If you decide to use any of these ideas we would love to see your pictures, you can either tag us in your photos or email them to us. If you're in the stages of planning your wedding and are yet to choose a venue why not take a look at the wedding packages we have to offer. We also have a range of discounted late availability wedding packages to choose from for those of you getting married in a short period of time!