Wedding evening celebrations
Its the little finishing touches that make all the difference
After your wedding breakfast, guests will generally retire to the bar area or use the grounds to mingle while the Ballroom is being prepared for your eveing reception.
If you require a disco at your wedding evening reception we are delighted to offer the service of a DJ to entertain your guests. You can be assured that all of the presenters carry a diverse and comprehensive selection of mainstream music.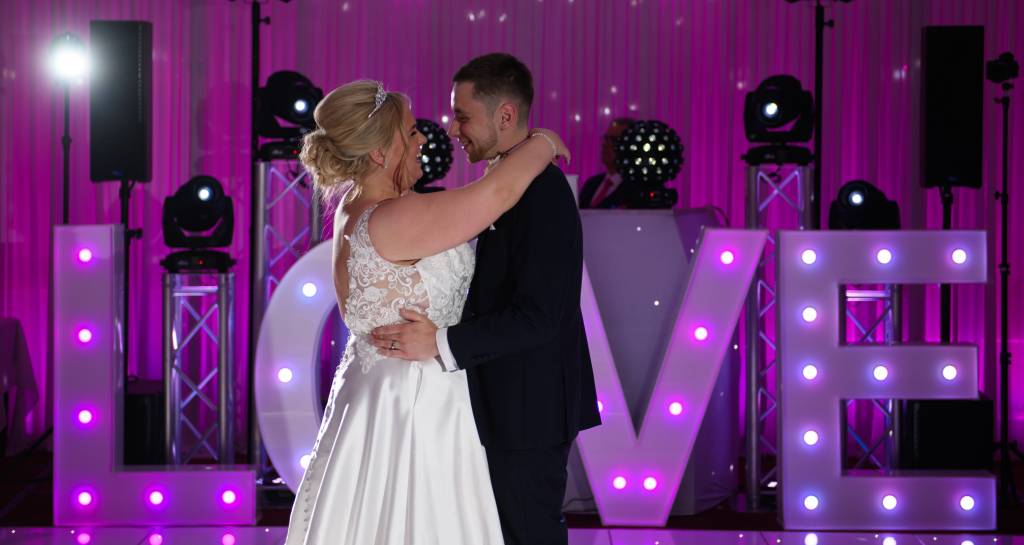 Please note that the wedding disco will commence at 7.30pm unless exceptional circumstances apply. Our Wedding Coordinator will be happy to discuss timings to ensure that your wedding celebrations run at an appropriate pace to allow you and your guests to enjoy a truly memorable day. We generally offer your evening refreshments at 9.30pm.

Glen -Yr- Afon Wedding DJ's
The Glen -Yr- Afon Wedding DJ's offer the very best quality in a Wedding DJ. They provide unforgettable wedding entertainment for your special day. From the time the booking is made until the end of your evening celebration they guarantee a stress free quality service that is second to none.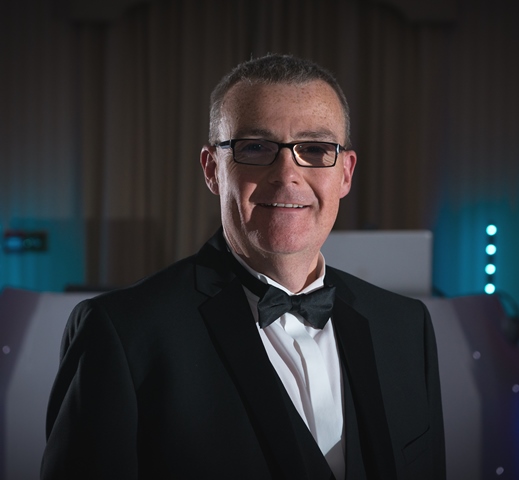 Introducing Darren
Darren Ganderton is a professional wedding DJ with many years experience and has provided high quality DJ entertainment at hundreds of weddings. He is able to create the right mood and atmosphere that will ensure your guests have a fantastic time and dance the night away!
Darren is an entertaining Wedding DJ and, combined with a stylish modern look, makes for the perfect, memorable night of music and dancing suitable for all ages and we are delighted to work with him and his partners to provide that perfect end to your perfect wedding day!
Prior to your big day, you will be able to discuss music preferences with him.


What's included?
• Full time professional DJ with many years experience
• Smartly dressed, punctual, friendly and approachable
• Music preferences and playlists always welcome
• Extensive music collection of over 50,000 tracks
• State of the art lightshow and the highest quality sound systems
• They listen to your requirements and always fulfill your wishes

Ballroom Hire
Please note that a room hire charge may apply for packages where no Wedding Breakfast is included i.e. evening celebration and buffet or where wedding breakfast numbers do not meet the minimum package requirements on prime dates ie. during the Christmas period.

Wedding Venue uplighting Services
For an additional cost, we can also provide twinkling ceiling drapes, LOVE letters, LED dancefloor, uplit backdrop, elegant uplighting and Magic Mirror photobooth which can help to create the perfect atmosphere and mood for your special day. Using the latest LED technology colours can be blended together to create unique shades to match your colour scheme! Please note that we only permit LED dancefloors to be supplied and fitted by our approved contractor.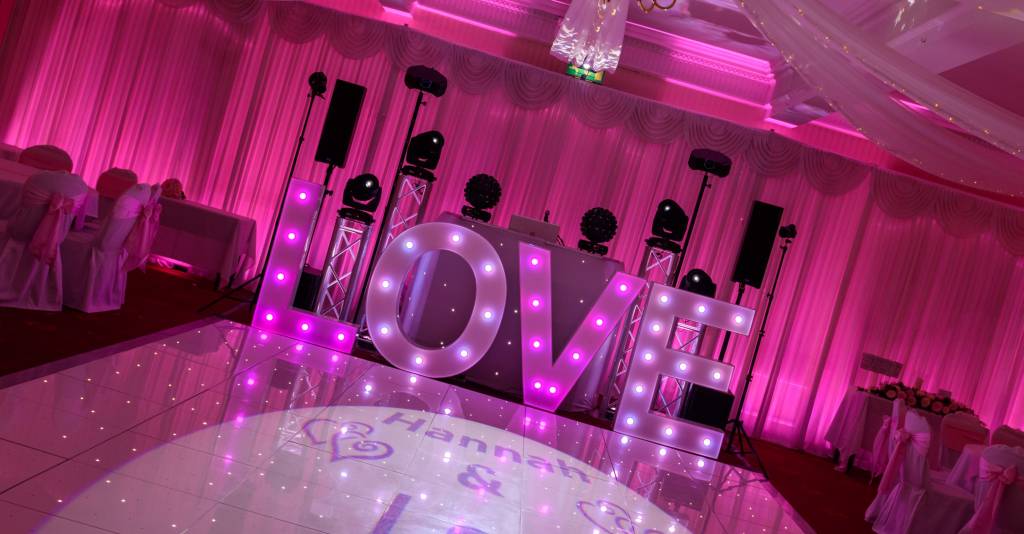 Public Liability Insurance
Please note that where should you choose to arrange your own choice of entertainment for your celebrations, we will require a copy of their public liability insurance in advance of the day.
Wedding Chaircovers
Our supplier has specially made a supply of covers to fit our chairs to ensure a truly professional finish.
We have established a relationship with a local supplier who will be happy to provide a variety of room dressings and wedding chaircovers for your big day. Our wedding packages include chaircovers but even if you choose not to have a package, our Wedding Co-ordinator who will be happy to arrange them on your behalf.




We have a variety of colours available for the sashes for your chaircovers to match or compliment your chosen colour theme. Table runners matching your colour theme can be included free of charge with any chaircovers booking made through the Hotel. Please ask for details and colour samples.
Should you decide to use your own supplier, we ask that they be advised that we will require the covers to be removed immediately after your evening celebrations in order that our night staff can prepare the room during the small hours for the following morning's events.
Wedding Table Plan
We will help you arrange a suitable table plan for your wedding reception
Whilst we can offer a wide variety of room layouts in our Ballroom, we would ask that you seek our advice on the best arrangement to suit the numbers in your party for your wedding reception. We are happy to provide you with a bespoke seating plan that will allow your guests to be seated comfortably and take into account any high-chairs, wheelchairs or other requirements you may have.
For numbers up to 110 with a traditional rectangular top table, we can generally use 10 round tables each occupying 10-11 guests. Where guest numbers exceed 110, we will arrange a seating plan that includes some rectangular tables at the entrance to the Ballroom to accommodate your number of guests in comfort.



We encourage all of our couples to involve us in this process to ensure the maximum comfort and most efficient use of the space as is possible. Our Ballroom can offer a wide variety of formats that are both dependent on the number to be seated as well as any other specific requirements that my also need to be accommodated e.g. musicians, displays etc.
Here are some helpful seating plan hints that will ensure all of our arrangements for your wedding day can be followed to the letter.
1. Please ask our wedding co-ordinator for a bespoke seating plan that will allow your full number of guests to be seated comfortably in the ballroom;
2. Care should be taken to include any high chairs, wheelchairs or carrycots in the seating arrangements as they do occupy the same space as a chair on each table;
3. When listing the guests on each table please use a Title as well as their initial and surname e.g. Mrs A. Bride. This will ensure that favours and any other gifts specifically for ladies or gentlemen can be easily allocated with out the complications of Christian names that can be either, e.g. Leslie, Sam etc.
4. Place cards should also be presented this way, put together and boxed for each individual table.
5. In order that your place cards and guests are positioned exactly where you wish on each table we have a proven method to help solve this problem. The person with best view of the bride and groom on each table is then allocated No.1. We then continue around the table in a clockwise direction finishing with No.,10. Please list your guests, and put your place cards in this sequence before bringing them to us.
6. Please remember that your seating plan forms the blueprint for your Wedding Breakfast and all details on it must be 100% accurate. Any special diets such as vegetarians, coeliacs, gluten free etc., should be indicated on the plan together with any special requirements for children's meals, high chairs and wheelchairs.
Alcoholic Miniatures
We are pleased to offer all of our weddings the opportunity to provide their guests with a little extra wedding spirit during the wedding breakfast and treat them to a further taste of Wales at the same time. Please ask for current costs.
Welsh Gin Miniatures
Merlyn Miniatures
Penderyn Whisky Miniatures
Please note that should you wish to provide your own miniatures as favours, a corkage charge (per 5cl bottle) will be charged.