Pet Policy
You are welcome to bring your dog along to stay but please note our policy in advance of booking your stay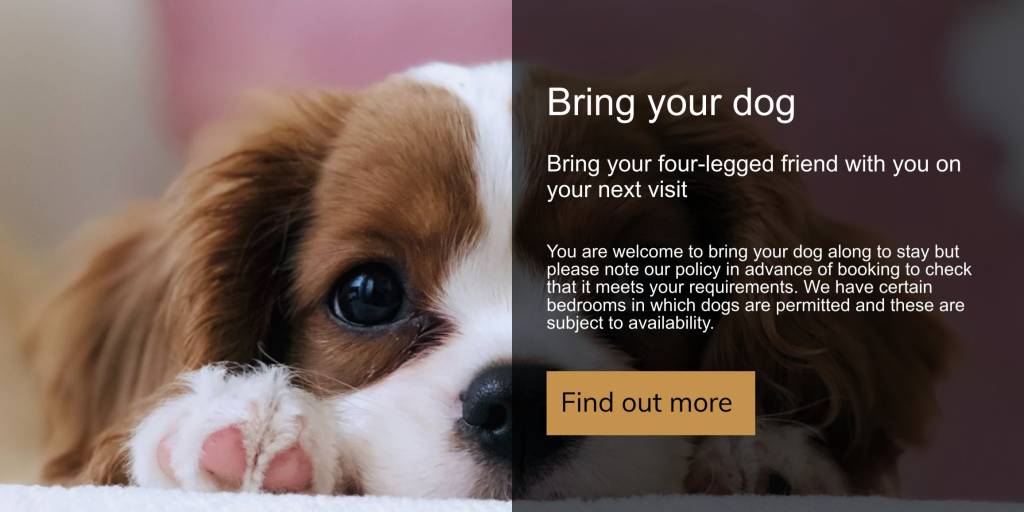 As our guest you are welcome to bring your dog into the grounds and the building of the hotel as long as it is fully house-trained. For the comfort of other guests, we ask that you keep your dog on a lead and under control at all times. Dogs must not be left unattended and are not permitted on beds or furniture at any time.
We have certain bedrooms in which dogs are permitted and these are subject to availability. In order to comply with Health and Safety legislation your pet is not permitted in any restaurant, lounge or bar area (except assistance dogs).
We welcome responsible dog owners - if a dog were to display aggressive behaviour its owner would be required to remove it from the hotel grounds immediately.
Any fouling in bedrooms, public areas and grounds must be cleaned up immediately and the area sanitised. Dog owners will be responsible for the cost of cleaning, repair or replacement of any items stained or damaged by their dog.
Dogs that are deemed to be a nuisance or danger to other hotel guests must be removed from the premises immediately. The hotel reserves the right to make this decision at any time. Should the hotel have to compensate other guests for any disturbance caused by your dog this will be charged to your account.
There is a charge for pets – please ask upon booking.