These are some of the frequently asked questions to help you with planning your wedding day at the Glen Yr Afon House Hotel.
During the wedding planning process, we will advise the Bride and Groom on timings for the day. Whilst our team will ensure that everything runs to plan on the big day, it is useful for the Best Man to be aware of the agreed wedding timings to assist with undertaking his duties.
What are the Best Man's duties?
Upon arrival at the hotel from the church or prior to the wedding ceremony here at the hotel (whichever applies), the Best Man makes himself known to the staff on duty and updates them of when the bride and groom are to arrive. A phone call en route is helpful.

Liaison with the photographer, gathering the various guests required for group and family photographs; this will ensure that no great delays in timing are caused.

A receiving line will be set up (if required) including the bride and groom's parents (as it is applicable) and chief bridesmaid if there is one.

The Best Man will then announce that the bridal party are ready to receive their guests and assist in guiding them past the line up (receiving line).

During the course of the wedding reception it is usual to select a few suitable cards to be read out at the end of the Best Man's speech.

After coffee is served the Best Man will announce the cutting of the wedding cake and invite guests forward to take photographs.

The cake is then taken to be cut up and each guest will receive a piece (as applicable) together with a glass of Champagne / sparkling wine . No speeches are begun at this point until the food service is completed.

Once all food and drink is served, we will invite the Best Man to begin the speeches. They traditionally follow the order of: The Brides Father ~ The Groom ~ Finally the Best Man with a few cards.

At the end of the speeches the Best Man will then invite guests to retire to the bar and lounge so that the room can be prepared for the evening celebrations.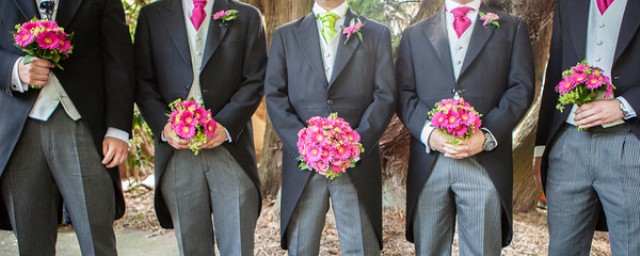 Can we provisionally hold a date for our wedding?
We would be delighted to hold a date provisionally for you for 14 days.

What deposit is payable when we are ready to confirm?
To process your booking we require a £500.00 non refundable deposit. You will be required to sign our terms and conditions prior to final confirmation of your booking being sent. We then ask for £1000 interim payment 12 months prior to the big day, another £1000 six months prior to the wedding day with the final balance being due two weeks before your wedding day. We also offer a monthly payment plan for those couples wishing to spread the cost of their wedding day. Please ask for details.

How far in advance can we book?
We take booking up to five years in advance so enquire early particularly if you are interested in summer weekend dates.

Can we bring my own wines and champagnes?
Yes - corkage is payable at the rates detailed in our Wedding Brochure. Please also refer to our Terms and Conditions.

Can we have confetti at our wedding?
Yes of course. Confetti is permitted in the Hotel grounds. We do however encourage bio-degradable.

Can we hold bedrooms for our guests?
Yes. At the time your booking is confirmed, we are happy to hold bedrooms in the Hotel for your guests until twelve weeks prior to your wedding.

Can we have Chinese Lanterns ?
Sorry Chinese Lanterns are not permitted within the Hotel grounds.

Can we have fireworks at our wedding?
Yes you can but, for health and safety reasons, this has to be arranged through the Hotel with our approved supplier. Regrettably we cannot allow you to arrange / bring your own.

Can we choose our menu?
Yes. You choose any three starters, a main course (and a vegetarian option), and two desserts from any of the choices listed in our Wedding Brochure. Your guests then get to choose from these on the day (no pre-order required!). Pease note that our Emerald wedding package offers a simple menu structures of one starter, one main course and one dessert option.

Are fresh flowers included in the wedding package?
Yes. All flowers offered for any of our wedding packages are fresh and ordered to match your colour theme. Flowers are not included in our Emerald wedding package although they can be arranged at an additional cost.

Is your venue licensed to carry out civil wedding ceremonies?
Yes, we have two rooms licensed for marriage ceremonies. The library is licensed for up to 30 guests (including the happy couple) and the Ballroom is licensed for up to 150 guests.
Will ours be the only wedding at your venue on our wedding day?
We host only one wedding celebration per day so you can be assured that you are the only happy couple here on your special day! Whilst we only have one wedding celebration here on any particular day, the Restaurant and Library areas may be used for private dinner parties unless you request Exclusive Use (supplement will be charged). From 2019, our Platinum wedding package includes exclusive use of the hotel (subject to availability). Please note that all of the guest bedrooms have to be taken as part of the exclusive-use option.
Your Question not listed? Please e-mail your question to weddings@glen-yr-afon.co.uk and we will be happy to reply.