Finding your wedding venue
These are some questions we often get asked by couples looking for their wedding venue
Can we provisionally hold a date for our wedding?
We would be delighted to hold a date provisionally for you for 14 days.

What deposit is payable when we are ready to confirm?
To process your booking we require a £500 non refundable admin fee (deposit). You will be required to sign our terms and conditions prior to final confirmation of your booking being sent. We then ask for £1000 interim payment 12 months prior to the big day, another £1000 six months prior to the wedding day with the final balance being due two weeks before your wedding day. We also offer a monthly payment plan for those couples wishing to spread the cost of their wedding day. Please ask for details.

How far in advance can we book?
We take booking up to five years in advance so enquire early particularly if you are interested in summer weekend dates.

Can we bring my own wines and champagnes?
Yes - corkage is payable at the rates detailed in our Wedding Brochure. Please also refer to our Terms and Conditions.

Can we have confetti at our wedding?
Yes of course. Confetti is permitted in the Hotel grounds. We do however encourage bio-degradable.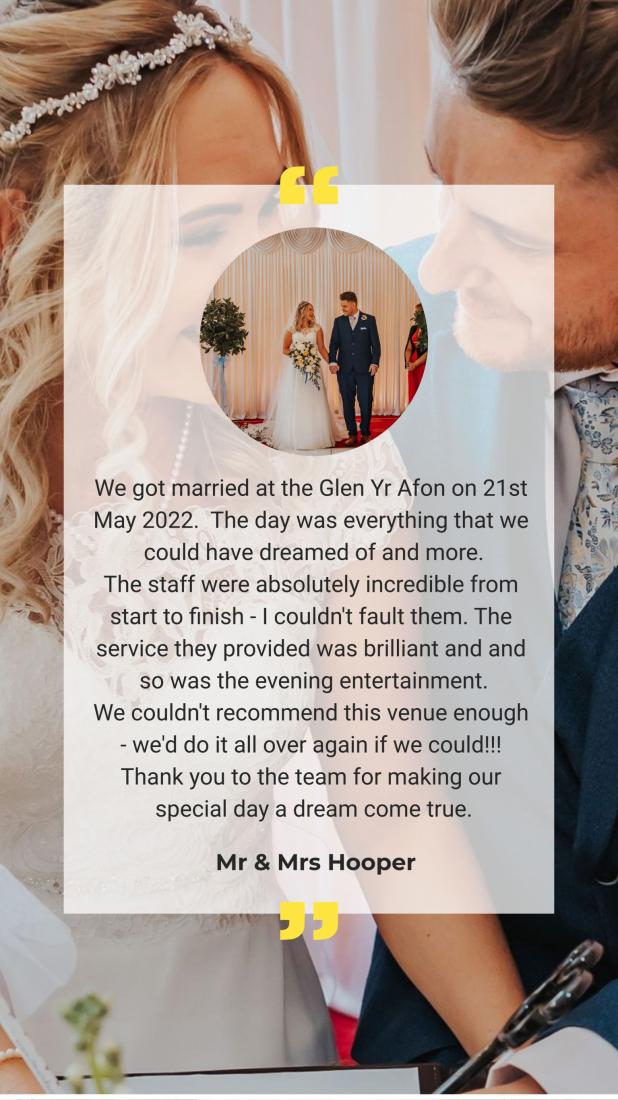 Can we hold bedrooms for our guests?
Yes. At the time your booking is confirmed, we are happy to hold bedrooms in the Hotel for your guests until twelve weeks prior to your wedding.

Can we have Chinese Lanterns ?
Sorry Chinese Lanterns are not permitted within the Hotel grounds.

Can we have fireworks at our wedding?
Yes you can but, for health and safety reasons, this has to be arranged through the Hotel with our approved supplier. Regrettably we cannot allow you to arrange / bring your own.

Can we choose our menu?
Yes. You choose any three starters, a main course (and a vegetarian option), and two desserts from any of the choices listed in our Wedding Brochure. A pre-order (per guest) will then be required at least three weeks prior to the big day.

Are fresh flowers included in the wedding package?
We no longer inlcude fresh flowers in our wedding packages. We can however recommend a local florist to assist with your floral requirements.

Is your venue licensed to carry out civil wedding ceremonies?
Yes, we have four rooms licensed for marriage ceremonies. The library is licensed for up to 30 guests (including the happy couple) and the Ballroom is licensed for up to 150 guests. We also have our Oak Room which is licensed for 40 guests and Courtyard Room which is licensed for 20.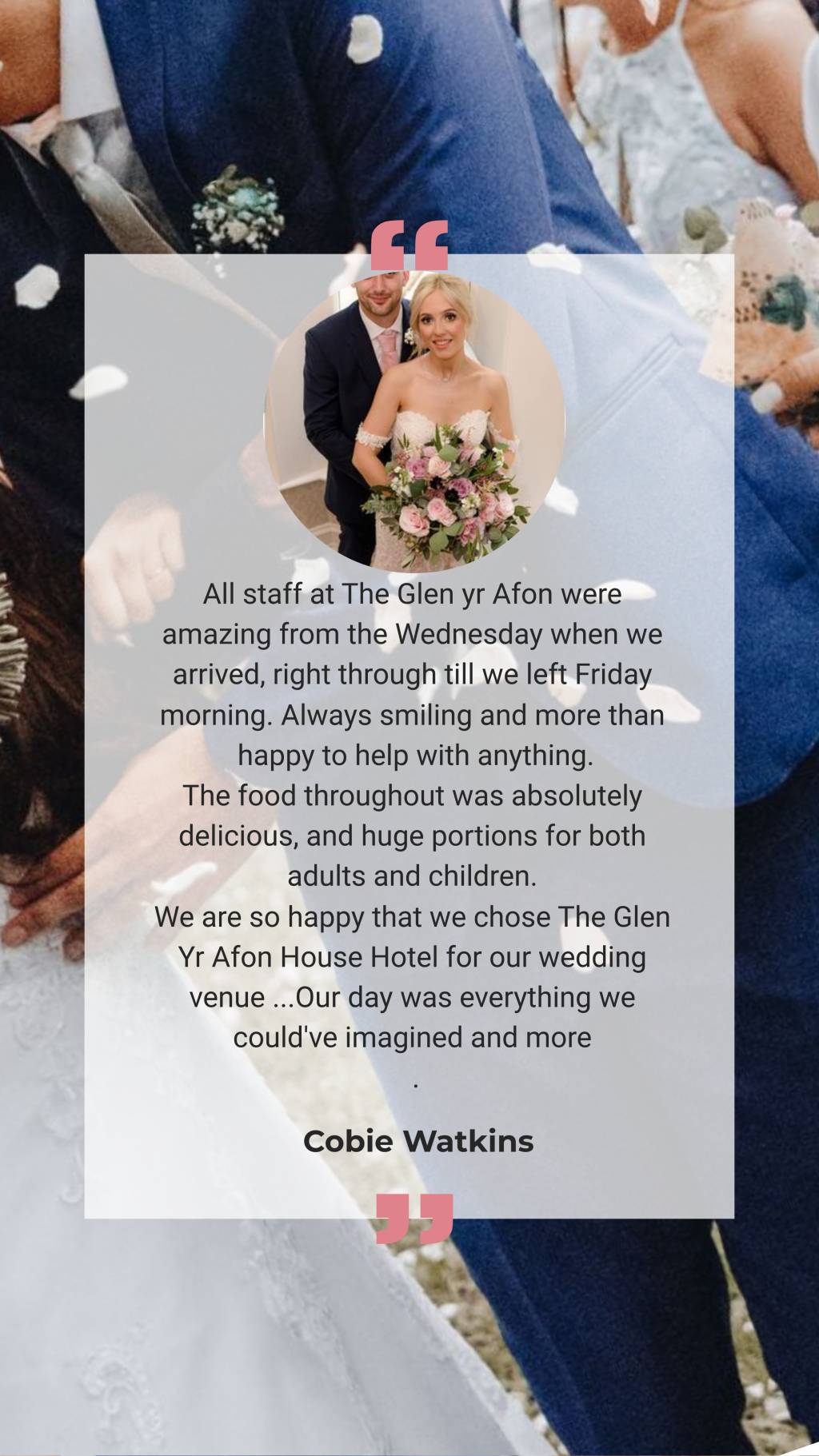 Timing your wedding day
During the wedding planning process, we will advise the Bride and Groom on timings for the day.
At the Glen-Yr-Afon House Hotel we understand that organising a wedding is a new experience for many of our happy couples and of course their families. One of the very most important elements to planning the big day is to ensure that a sensible timeline is drawn up of what is happening and when. In a nutshell it is not just about getting to the church / hotel on time. With this in mind we have put together some guidance as to how the day is timed at Glen-Yr- Afon House Hotel, in order that your most special of days unfolds like a fairytale and is not rushed in any way.

Timings for a Wedding Ceremony followed by a reception at Glen-Yr-Afon House Hotel
Time of Ceremony :e.g. 12 Noon - in Ballroom/Library approx 20/25 minutes duration
Drinks reception and photographs whilst the ballroom is laid up for your wedding breakfast
Receiving Line (if required) at 1.40 p.m.
Seated for wedding breakfast / Bride and Groom enter the room at 2.00 p.m.
Wedding Breakfast Served- duration 2 hours - Speeches and cake-cutting ½ hour
Clear up and preparation of the ballroom for the evening ½ - ¾ hours - Provision of time for set up of disco or band tune up
Evening Reception start time 7.30 p.m.
Evening Buffet / Hog Roast served at 9.30 p.m.
Evening closes at 12.00 midnight

As you imagine, timings are very important throughout the day and will ensure that your wedding experience at the Glen-Yr-Afon House Hotel runs like clockwork. Our Wedding Co-ordinator will confirm in writing the scheduling of your big day and these timings should be communicated to all of the relevant parties such as photographers, musicians etc. Remember our team of chefs prepare your wedding breakfast from the finest ingredients and cook it to be at its peak at the agreed time.

Whilst our team will ensure that everything runs to plan on the big day, it is useful for the Best Man to be aware of the agreed wedding timings to assist with undertaking his duties.
What are the Best Man's duties?
Upon arrival at the hotel from the church or prior to the wedding ceremony here at the hotel (whichever applies), the Best Man makes himself known to the staff on duty and updates them of when the bride and groom are to arrive. A phone call en route is helpful.

Liaison with the photographer, gathering the various guests required for group and family photographs; this will ensure that no great delays in timing are caused.

A receiving line will be set up (if required) including the bride and groom's parents (as it is applicable) and chief bridesmaid if there is one.

The Best Man will then announce that the bridal party are ready to receive their guests and assist in guiding them past the line up (receiving line).

During the course of the wedding reception it is usual to select a few suitable cards to be read out at the end of the Best Man's speech.

After coffee is served the Best Man will announce the cutting of the wedding cake and invite guests forward to take photographs.

The cake is then taken to be cut up and each guest will receive a piece (as applicable) together with a glass of Champagne / sparkling wine . No speeches are begun at this point until the food service is completed.

Once all food and drink is served, we will invite the Best Man to begin the speeches. They traditionally follow the order of: The Brides Father ~ The Groom ~ Finally the Best Man with a few cards.

At the end of the speeches the Best Man will then invite guests to retire to the bar and lounge so that the room can be prepared for the evening celebrations.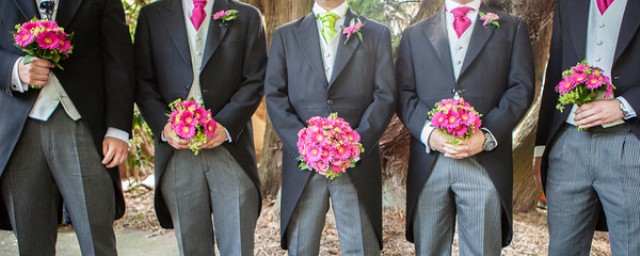 Will ours be the only wedding at your venue on our wedding day?
We host only one wedding celebration per day so you can be assured that you are the only happy couple here on your special day! Whilst we only have one wedding celebration here on any particular day, the Restaurant and Library areas may be used for private dinner parties unless you request Exclusive Use.
Your Question not listed? Please e-mail your question to weddings@glen-yr-afon.co.uk and we will be happy to reply.
Planning your wedding day
We will help you from confirming your booking to the day itself
Whether you are marrying in church or at your reception venue, there are lots of things to think about in planning the wedding reception (or wedding breakfast) as it is often known. We are often asked why it is called a wedding breakfast - this is because it is the first meal you have as a married couple (like breakfast is the first meal of the day).
Here at the Glen-Yr-Afon our wedding packages take care of all of the detail needed to plan the wedding day. Our Wedding Coordinator will sit with you an chat you through the following aspects of the big day. Generally we like to meet with you six months prior to the big day to start to chat through your decisions on the aspects below. We will then write up your details and confirm any outstanding matters to be finalised at our next meeting (approximately six weeks prior to the wedding).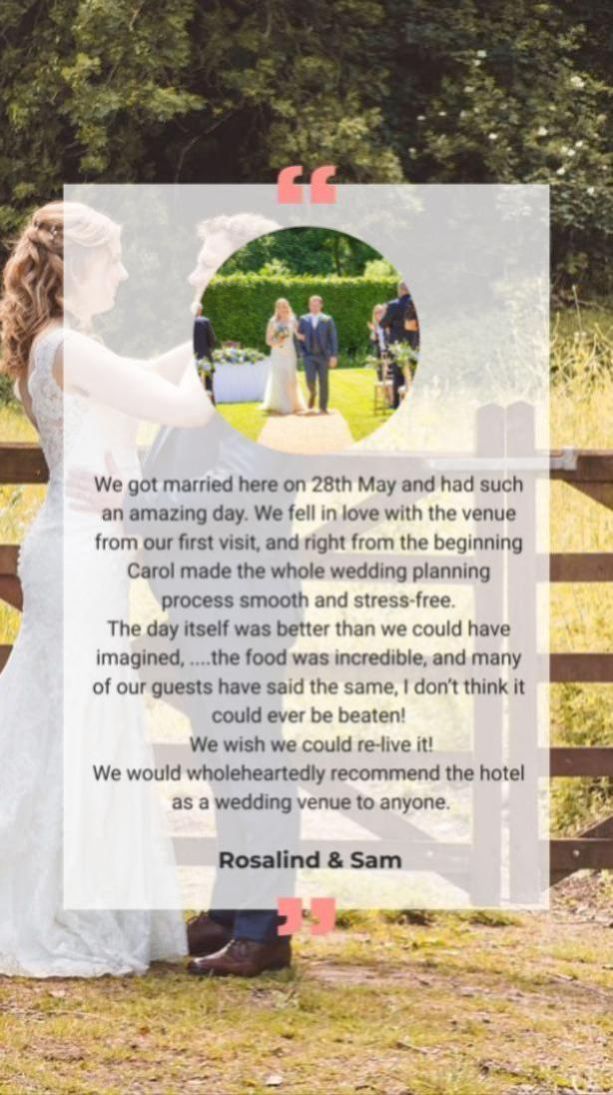 Once you have finalised your decisions on these key points, we will plan every last detail of the day so that you can just relax and wait for your dream wedding day to unfold.
1. Flowers - We recommend you arrange a meeting with your florist about six months prior to the big day to discuss your requirements. We can help you make contact with local florists if required.

2. Table plan - once your guest numbers have been finalised, we will provide you with a suggested seating plan for your chosen wedding breakfast room. You will then provide us with a list of guests at each table, making sure you identify any guests with mobility, dietary or other needs. You will need to include a pre-order of the chosen menu for each individual guest on your table plan.

3. Wedding Breakfast Menu - you will need to select you food choices for the wedding breakfast. You will need to provide a pre-order for your starter and dessert options (per guest) at least three weeks prior to your big day. We are happy to provide a choice of main-course if required as long as you can provide a pre-order for this course as well in advance of the day.

4. Evening Refreshments - we will ask you to confirm your choice of evening refreshments. This can be in the form of a finger buffet or hog roast. The number of buffet items included will depend upon the guest package chosen.

5. Receiving Line - to help us plan a schedule for the day, we will ask you if you want to do a receiving line. For those wanting to include a receiving line, this would take place after the drinks reception, as guests are going into the wedding reception room. Some couples like the formality of the receiving line and use it as an opportunity to make sure they speak with their guests and thank them for coming. If you do want to have a receiving line, we will ask if its just the happy couple or if you want parents either side included. We can then allocate a suitable amount of time in your wedding schedule for this to happen. Others prefer not to have one. Either option is fine - its your day!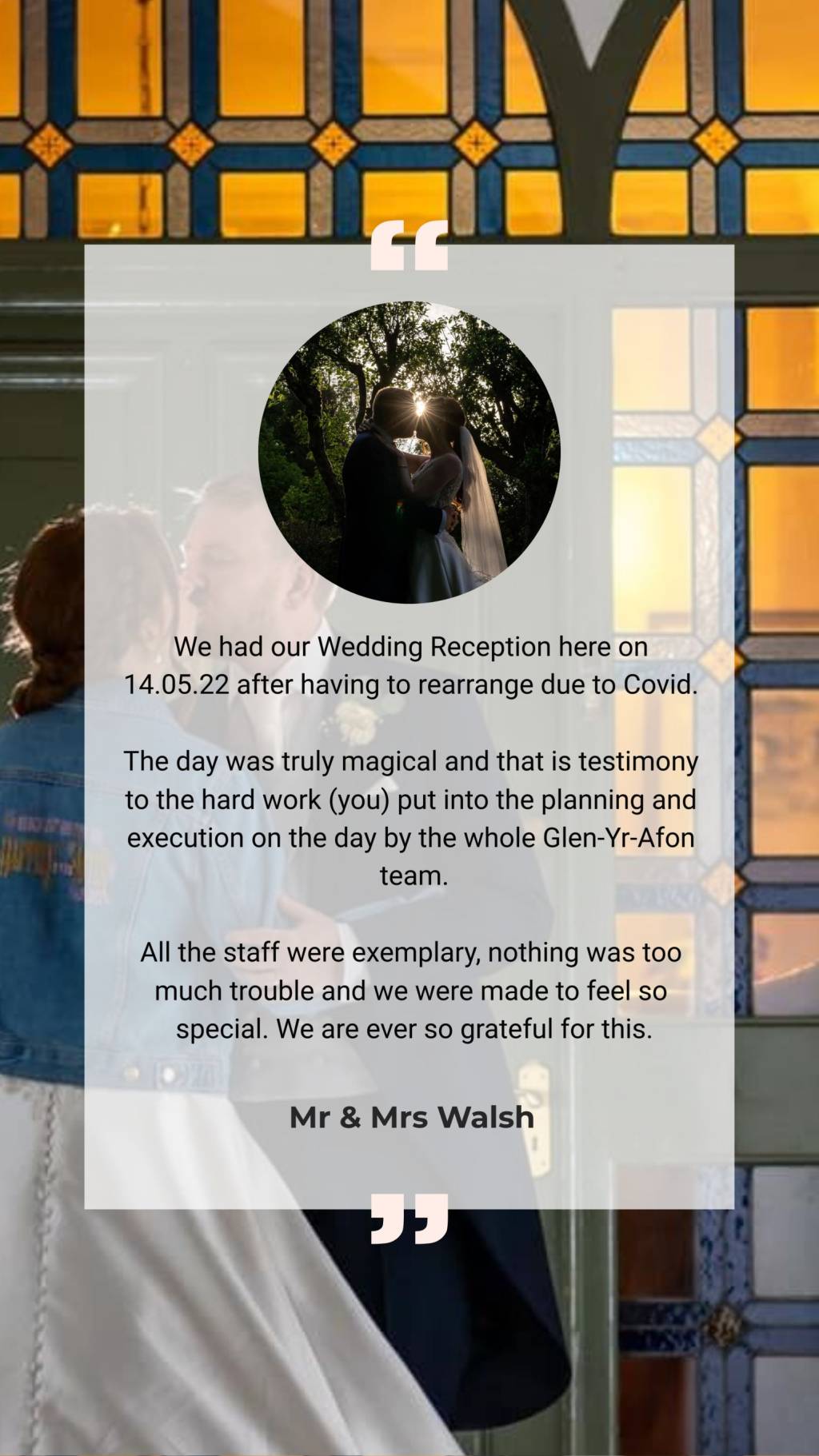 6. Wedding Drinks - we will ask your preferences of drinks for the day. If you are having a wedding package, you will be asked to select a choice of drink to be offered as guests arrive from church or after the ceremony here. The selection can be found in our Wedding Brochure. With the wedding breakfast, we offer red, white and rose house wines. These are waiter served to your guests requirements so you don't have to make any selections on this aspect.

Our packages cater for two glasses of wine per guest with the wedding breakfast. The house wines we offer can be found in our wedding brochure. For the toast, you will need to select your preference for a sparkling wine or Champagne.

7. Colour theme - we pay a lot of attention to detail when planning your wedding day and colour themes play an important part. At the planning stage, we will ask you to provide a swatch of your chosen colour so that we can make sure every aspect we arrange on your behalf is colour-theme i.e on printed menus, table-plan etc.

8. Wedding Cake - we will ask your preferences on when you would like the wedding cake to be offered to guests. You would cut the wedding cake as part of the weding breakfast but you can choose to have it offered to the guests with the tea and coffee course or platter it with the evening refreshments. We have a cake stand and knife that you can use at no additional cost.

9. Chaircovers - if you have chosen to have chaircovers, we will use your colour swatch to match the sash. Within our wedding packages, we would order the amount of covers for the daytime guests only. If you require covers for the additional evening guests we can arrange at an additional cost for you.

10. Evening entertainment - we will need to know your choice of entertainment for your wedding party. Our packages include the services of our resident DJ. If you deceide to arrange a band we will need to know their details and see a copy of their valid Public Liability Insurance in advance of the day. Generally the evening party will commmence at 7.30pm.