Christmas is a time to catch up with family and friends or get together socially with work colleagues. If you're already starting to think about Christmas 2019 then we are all set and ready to help you plan that get-together. Our comfortable surroundings, hearty festive menus and welcoming team create the perfect setting for a quiet, relaxing meal or take part in one of our Christmas Party Nights.
Our festive Christmas evening dining (Mistletoe Menu) provides a plentiful festive meal with all the trimmings in the run-up to Christmas and is most suited to those dining in the evening. Should you require lunchtime Christmas dining, our Holly Menu would be more suitable. Christmas evening dinner can be served in our Library, Dining Room and Restaurant or in the spacious Ballroom if you are arranging a larger Christmas gathering or attending one of our Christmas party events. We are closed on Christmas Day and Boxing Day to allow our team to spend quality time with family after a very busy few weeks leading up to Christmas.
Festive Afternoon Tea an alternative option but this is only offered on set days ion the lead up to Christmas. Both our Festive Tea and Family Lunch include plenty of seasonal entertainment to keep you occupied while you enjoy our sumptuous array of lovingly prepared dishes or sweet delights. We have another full Christmas Calendar for 2019 and hope to see you at one (or more) of our carefully selected dining experiences or evenings of Christmas Party entertainment.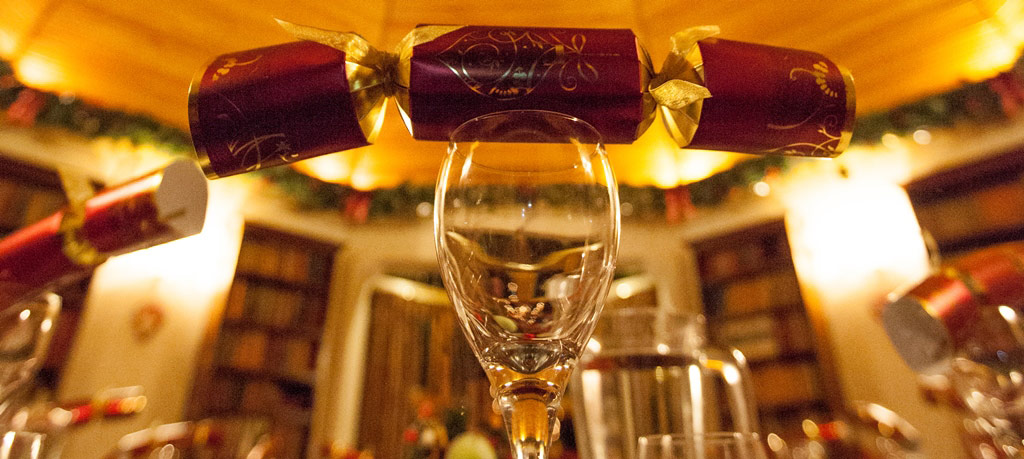 Dining in Clarkes Restaurant - Mistletoe Menu
2 courses - £33.00 - choose from starter and main, or main and dessert (plus tea/coffee)
4 courses - £38.00 - starter, main, dessert, mince pie (plus tea/coffee)
For dining, we are offering our Mistletoe Christmas Menu from Friday 22nd November until Monday 23rd December 2019. This is offered in our Clarkes restaurant for smaller parties or in our Library for private parties up to 20 guests. We close Clarkes Restaurant on Christmas Day and Boxing Day.
£48.00 per person

If you are arranging a Christmas Party or get-together for your family, friends of work colleagues, we have our popular 80s Christmas Party Nights where you can take yourselves back to the 80s, dig deep in your wardrobes for your 80s fashion and dance the night away to our retro disco! A festive five-course dinner is included with these events. These are being held on:

Friday 29th November 2019
Friday 6th December 2019
Friday 13th December 2019
Saturday 14th December 2019
Thursday 19th December 2019
Christmas Party Tribute Nights
This year we have three superb acts for our Christmas Party Tribute Nights. We welcome the return of Dirty Dancing and Grease and have two new acts this year that come highly recommended. Each show takes you back to the era of the artist allowing you to sing along to their popular tunes that we all know and love. A festive three course dinner (plus tea/coffee and mice pies) is included with these events. Our Tribute nights will be held on:
Thursday 28th November 2019 (Michael Buble) - £42.50 per person
Friday 20th December 2019 (Dirty Dancing and Grease: Rock 'n Romance) £48.00 per person
Saturday 21st December 2019 (Abba Tribute) - £48.00 per person


Faulty Towers Christmas Dining
£51.00 per person
For a side-splitting dining experience, why not join us for our Christmas themed Faulty Towers Dining Experience? You and your friends will be diners and while your meal is being served - anything can happen! A tribute to the BBC sit-com, these events are always a sell-out so don't delay in getting your group together. Please note that due to the type of event, we are asked by the actors to provide a simple 70s style menu to keep in theme. Parties for less than 10 may need to share with other parties. Our Faulty Towers Dining Experiences will be held on:
Friday 22nd November 2019
Tuesday 17th December 2019


Only Fools, The (Cushty) Dining Experience
£51.00 per person
Following the success of our Faulty Towers events we are pleased to invite you to their newest show – ONLY FOOLS THE (CUSHTY) DINING EXPERIENCE on Monday 9th December 2019. The show is brought to you by the people behind the worldwide smash hit, Faulty Towers The Dining Experience.

A t'riffic night out with some cushty pub grub, this is a night you won't forget – and you'd be a plonker to miss it! Please note that due the format of the event any parties booking for less than 10 guests will be seated with other parties.


Murder Mystery Dinner - 'A Christmas Sleighing'
£45.00 per person
New for our Christmas Programme on Thursday 12th December 2019 we invite you to participate in our Murder Mystery Dinner. Are you prepared for a night of dining and mystery? It may be the festive season but it's not just turkey on the menu this Christmas - is murder in the air? The only question is... are you able to solve the case and find this festive killer?.... Please note that due the format of the event any parties booking for less than 10 guests will be seated with other parties.