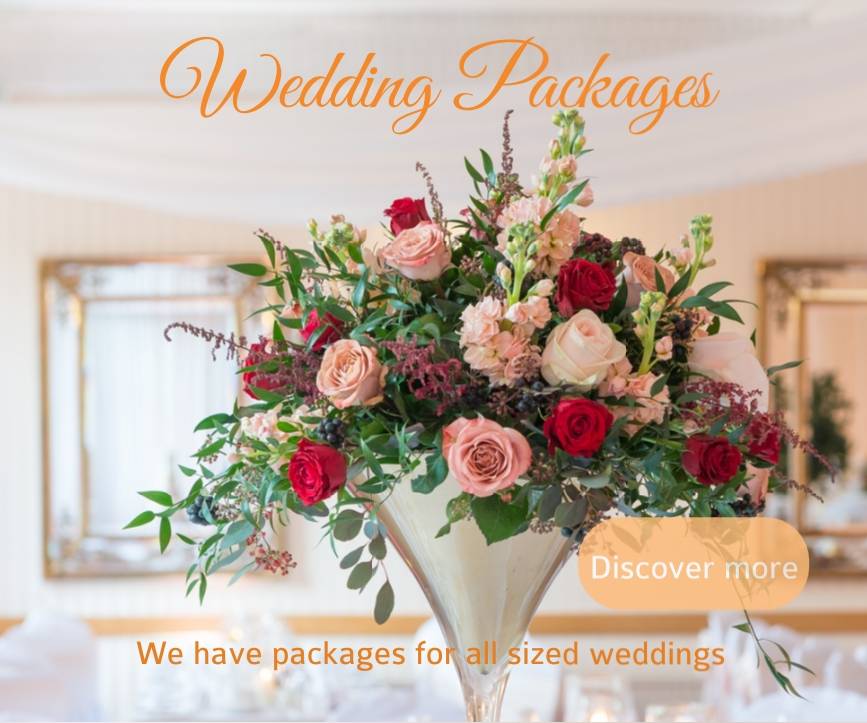 We offer a large selection of drinks for your wedding day. Whilst we suggest popular choices, you are welcome to select form our extensive wine list (additional cost may apply).
Our wedding packages include a drink on arrival (for church weddings), or post ceremony for couples getting married at the Hotel. Also included are two glasses of wine with the meal whcih are waiter-served to your guests' requirements. A glass of sparkling wine with speeches is also included. Should you wish to upgrade to Champagne, or select alternative wines from our wine list, please ask for details.
Our Platinum wedding package includes Champagne for post-ceremony or arrival drinks and Champagne for the toast. All other wedding packages include sparkling wine for the toast.
Canapes are a welcome addition to your arrival or post-ceremony drinks reception. We offer a 4 item or 6 item choice which you select in advance of your big day. Canapes are included in our Platinum wedding package and can be added to our other wedding packages at an additional cost.

Our wedding breakfasts are plentiful and prepared with locally sourced produce as much as possible. Most of our wedding packages include a choice of three starters and two desserts, on the day, at the table, which is quite unique at wedding venues. You don't have to go to the trouble of getting a pre-order - guests make their choice at the table. Cheese and biscuits are also included in most of our wedding packages.

The Emerald wedding package is perfect for couples not wanting to give their guests a choice - you would select one starter, one main course and a dessert option in advance of the day. Please note that this package doesn't include cheese and biscuits with the wedding breakfast.
Evening refreshment options come as a finger buffet or hog roast. We offer a vast selection of finger buffet items that you would select in advnace of the day. Our wedding packages include a 10 item buffet choice (or 8 items with the Emerald package). Should you prefer a hog roast, a vegetarian alternative is also offered. Should you require something different, our Wedding Coordinator would be happy to discuss and advise on suitable alternatives for your individual taste.

Children under the age of 8 years can either have a smaller portion of the main menu or select from the Children's Menu. This will need to be ordered in advance of the day.