Sunday Lunch
Offering two, three or five courses - depending on your appetite
Our traditional Sunday Lunch is served in the pleasant and relaxing surroundings of our Clarkes Restaurant. A Sunday roast is a popular dining experience and we therefore recommend you book in advance to avoid disappointment.

We invite you to take time to yourselves, enjoying a pre-lunch drink in one of our bar areas with time to chat with family and friends. Offering a choice of two, three or five courses, our menu offers a great selection of roast meats as well as fish dishes and vegetarian options. An example of the Sunday Lunch menu is listed below although this changes at Head Chef's discretion although local roast beef is always available.

Guests are offered a choice of starters, main courses and sweets on the day followed by a second sweet if you can possibly manage it - not for the faint hearted!
We have a variety of venue rooms available in which to host a Sunday Lunch party together with Clarkes restaurant in which parties of any size can be accommodated.
Please ring main reception on 01291 672302 to check availability early in order to avoid disappointment.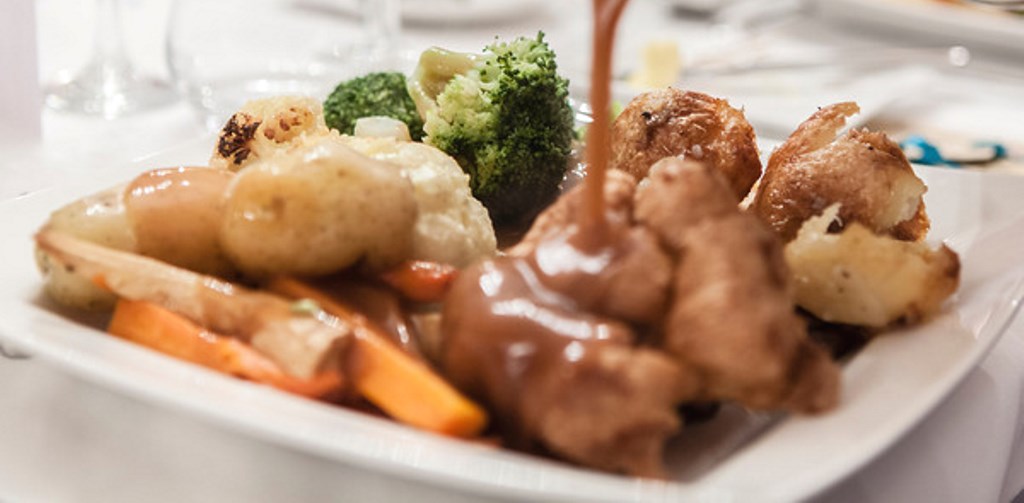 We offer just one sitting of Sunday Lunch so you can be assured that there is no pressure for you to hurry your lunch to vacate the table for other guests. You are invited to arrive from 12.30pm for a pre lunch drink (if required) before taking a seat at your table for approximately 1pm.
Please let us know if you are celebrating a birthday or special occasion when you book - we can help in marking the celebration with some personal touches. We can also assist arranging flowers, Champagne or chocolates if required.
You can also purchase a gift voucher to give that special treat to someone celebrating a special event.


Sample Sunday Lunch menu - 2018
Home made sweet and sour tomato soup with mini spring onion wontons
Smoked salmon, warm potato and mangetout salad
Ham hock and leek terrine with Piccallili and Cumberland sauce
Poached pear in elderflower with candied kumquats
Portabella mushroom topped with goats cheese and red onion, wrapped in pancetta and served with red pepper sauce

Roast local Welsh topside of beef and Yorkshire pudding
Roast pork with apple sauce and stuffing
Roast chicken with sausage and bacon roll and stuffing
Baked salmon with a herb crust and crab cream
Wild mushroom and asparagus strudel with cream cheese and chive sauce
Served with
Carrots with herb butter
Red cabbage with apple and onion
Broccoli
New and roast potatoes
Fresh fruit salad
Vanilla creme brulee
Lemon meringue pie with strawberry syrup
Double chocolate and black cherry trifle
Treacle tart with orange anglaise

A selection of cheese and biscuits (with 5 course option)
Freshly brewed coffee/tea and mints (with 5 course option)

2 courses - £23.00 inc. VAT / Private Room £24.00 inc. VAT
3 courses - £27.00 inc. VAT / Private Room £28.00 inc. VAT
5 courses (inc. tea/coffee) - £31.00 inc. VAT / Private Room £33.00 inc. VAT

This menu is only available Sunday lunchtime: 12.30 arrival for 1pm sitting

Prior booking recommended to avoid disappointment
Our Sunday Lunch menu is one of our most popular choices and bookings are taken well in advance of the day. Whether you are organising a special celebration or treating a loved one to lunch away from the kitchen on a Sunday, we are sure that you will enjoy a relaxing lunchtime with us.
Sunday Lunch is a very popular dining experience and to assist with our booking process, it is now our policy to ask our customers to provide debit/credit card details at the time of booking (or confirmation of membership for our Dining Club members). In the event of a party not arriving and not having given prior notice of cancellation, full payment will be taken for the relevant party size. Thank you for your understanding of this policy.