We understand that every wedding reception is different and our Wedding Coordinator will work with you to ensure that, wherever possible, your needs needs are met.
Because of the exclusivity offered for wedding receptions, we have minimum numbers that apply on certain dates. Please ask for details.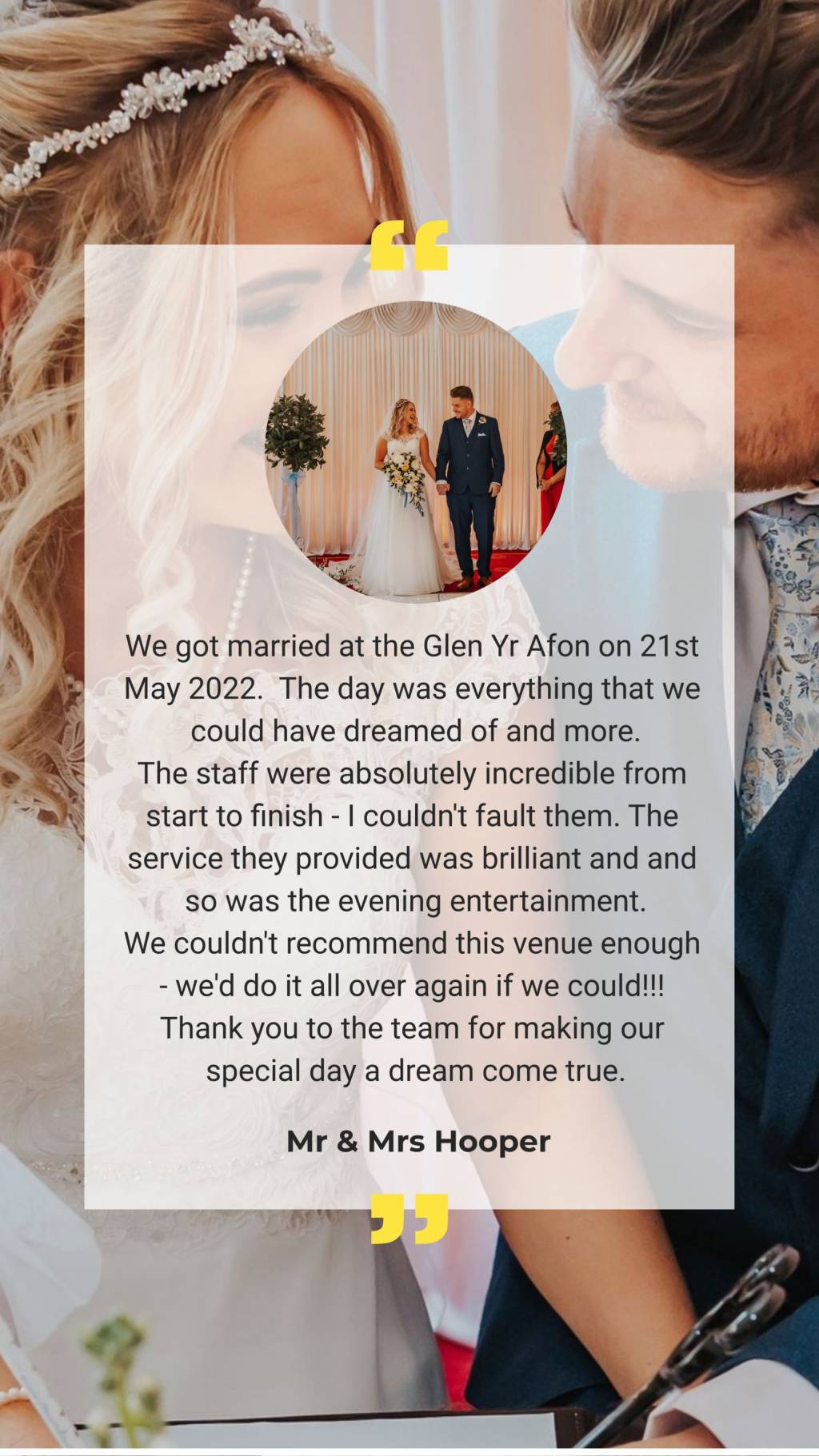 We have won many awards for our planning of weddings, including being awarded Best Wedding Venue in Wales for multiple years. We use our knowledge and expertise in this area to help you plan your wedding celebrations to perfection acknowledging the personal touches you may wish to include.
A wedding reception is a celebration held after your civil ceremony or church wedding has taken place. A wedding reception is also commonly referred to as a Wedding Breakfast as this is the first meal taken by the happy couple after they become married (like breakfast is your first meal of the day). This generally takes the form of a formal wedding breakfast and follows a drinks reception.
After your civil ceremony here at the hotel or as you arrive from church, we will be ready to greet you in the grounds (weather permitting) with your chosen celebratory drinks. Guests can also be offered a selection of tasty canapes at this point while you have your photographs taken.
Here at the Glen-Yr-Afon we offer a large selection of menu options for your wedding reception - giving you a choice of three starters and two desserts (in addition to your choice of main course). A pre-order (per guest) will be required at least three weeks prior to your big day. We also offer an extensive choice for vegetarian and vegan guests and work with you to ensure that the needs of those wedding guests with special dietary requirements are catered for.
We will assist you in selecting a wedding breakfast and guide your best man of his duties during the wedding reception. We will also have a senior member of our team designated to be at your side throughout the day, ensuring you can relax and take in every minute.
We guarantee that your wedding celebration will be the only one here on any particular day. We also offer one day or two day exclusive use of the Hotel which will ensure that the Hotel is reserved exclusively for your celebration - please ask our Wedding Coordinator for details and costs.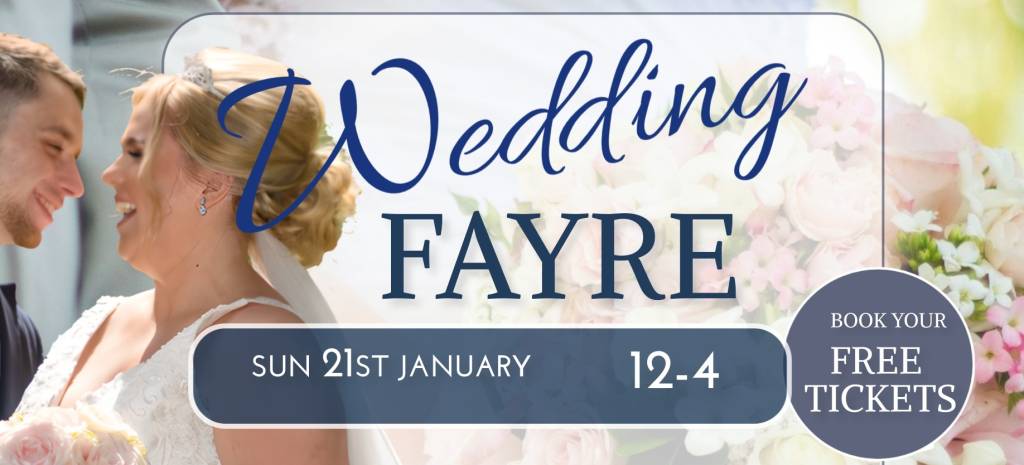 The Ballroom
Newly refurbished in a neutral pallette, our Ballroom will seat a maximum of 160 for a wedding breakfast. We offer a selection of table lay-outs from the traditional round guest tables (each seating a maximum of 10 guests) to long banquetting tables. Our Wedding Coordinator will work with you to help arrange a suitable plan for your guest numbers.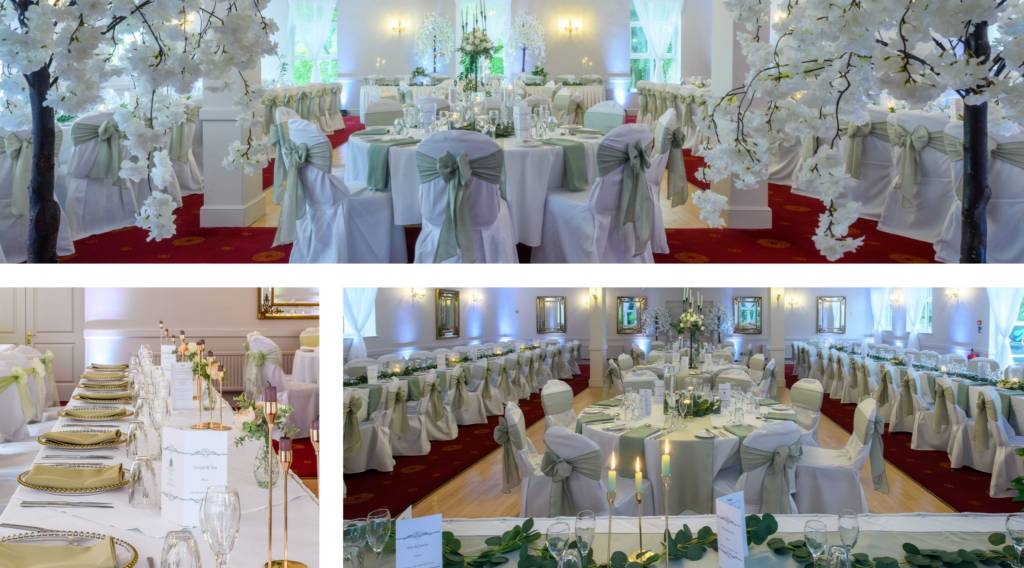 The Oak Room
An alternative room suitable for wedding receptions up to 35, the Oak Room can be set as one large rectangular table (seating a maximum of 28) or with a small top table and two straight tables (seating up to 35 guests). This beautifully panelled room creates an intimate atmosphere for you to celebrate your special day with your family and friends.
Banquet style
(One Table) Seats up to 28
With Top Table
(ThreeTables) Seats up to 35
The Courtyard Room
The Courtyard Room is a popular choice for wedding receptions and celebrations. Overlooking the courtyard this room gives you an intimate private area, seating a maximum of 20 in the set-up shown in the photograph.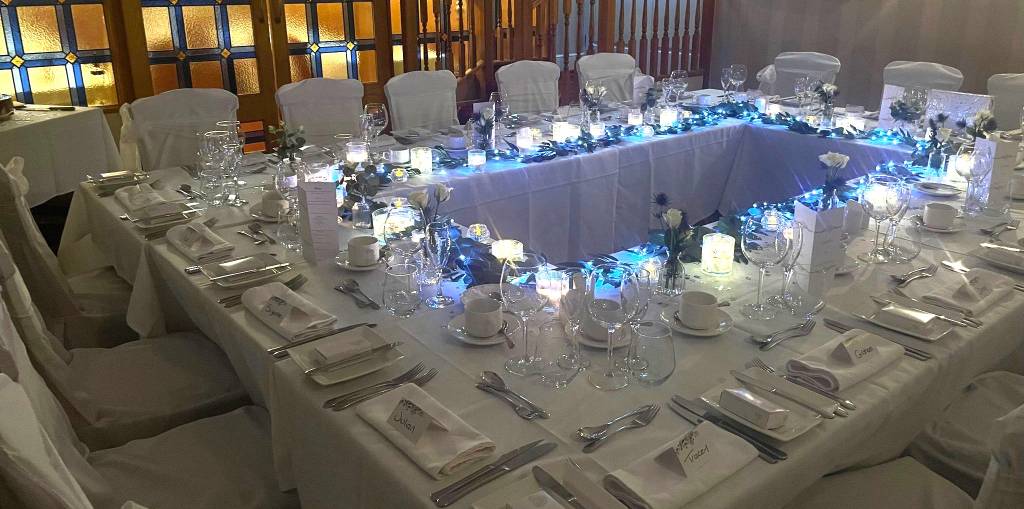 The Library and Lounge
We are pleased to offer a selection of rooms suitable for a small wedding reception. Our Library is suitable for for dining up to 20 guests. An intimate room with its unusual conical shaped ceiling and beautiful mahogany table that can be oval or circular, this room is ideal for the smaller celebration. It is licensed for up to 30 guests (including the happy couple) attending a ceremony and comfortably seats up to 20 guests for a wedding reception.
The Lounge is an intimate private area where we can set a round table up to 10 guests for a wedding reception. We have options for wedding receptions from 2 -160 guests.