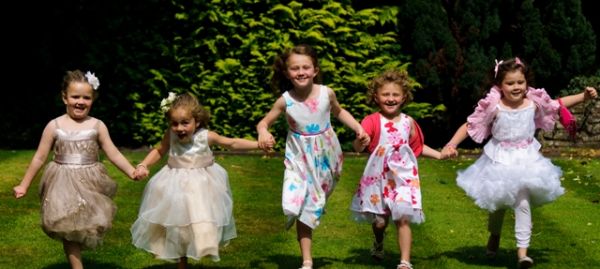 Whether the happy couple already has children, or you're planning to invite friends with young families, choosing a family-friendly venue is really important to many couples. Here at the Glen Yr Afon, we welcome children and offer a menu for your younger guests (under 8 years). You can select a smaller portion of your chosen wedding breakfast menu for them or an option from the childrens menu below. We also have two family rooms and a cottage in the grounds which occupy 4 guests for those families wishing to stay overnight.
Homemade soup of the day
Garlic bread
Prawn cocktail
Fruit juice
Fruit platter
Potato skins topped with cream cheese and bacon, served with a barbeque dip

Breaded chicken strips
Sausage and mash with onion gravy
Fish fingers in breadcrumbs
Mild chicken curry and rice
Ham, egg and chips
Cheesy chicken and sweetcorn pasta bake
All served with chips or jacket potato or mashed potatoes and peas or baked beans

Fresh fruit salad
Ice cream sundae (strawberry, vanilla or chocolate ice cream topped with raspberry and chocolate sauce, chocolate buttons and jelly beans)
Chocolate or blueberry muffin
Mini strawberry tarts and baby toffee meringues
Chocolate brownie with vanilla ice cream caramel sauce and strawberries
Banana custard (sliced banana, chocolate, honeycomb pieces and custard cream)
If you select one of our wedding packages, two children equate to one adult place.