Festive Menu - Lunch & Dinner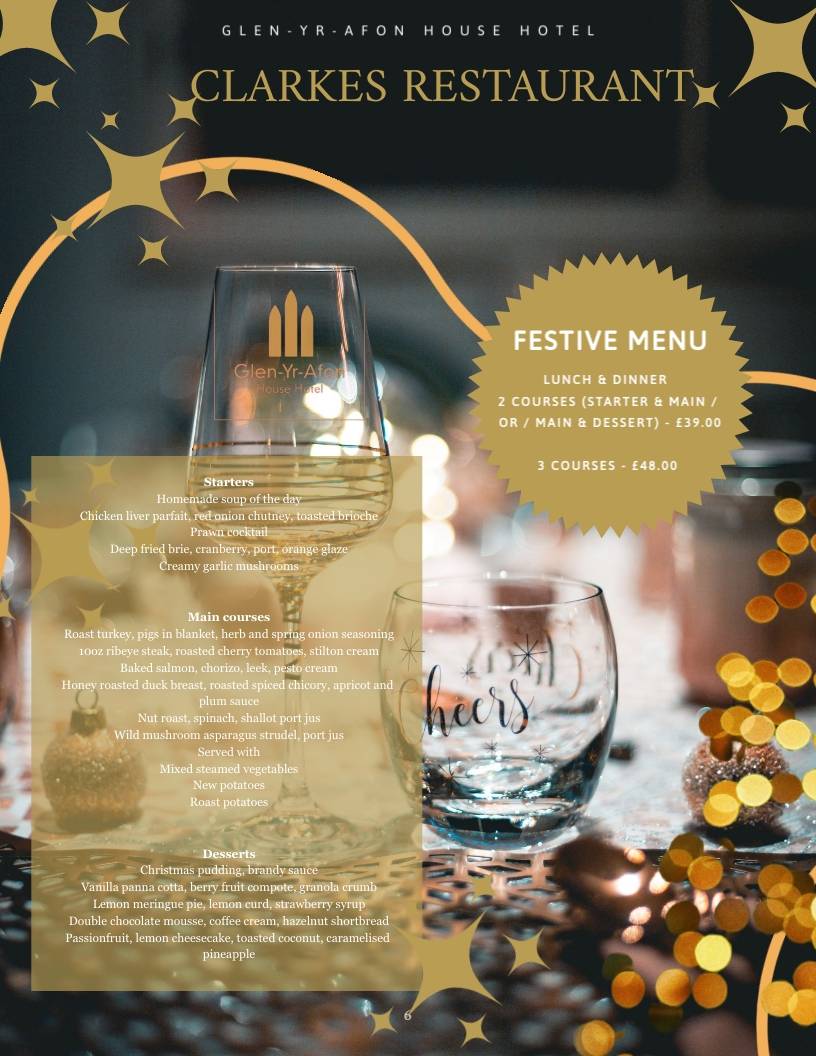 Starters
Homemade soup of the day
Chicken liver parfait, red onion chutney, toasted brioche
Prawn cocktail
Deep fried brie, cranberry, port, orange glaze
Creamy garlic mushrooms
Main courses
Roast turkey, pigs in blanket, herb and spring onion seasoning
10oz ribeye steak, roasted cherry tomatoes, stilton cream
Baked salmon, chorizo, leek, pesto cream
Honey roasted duck breast, roasted spiced chicory, apricot and plum sauce
Nut roast, spinach, shallot port jus
Wild mushroom asparagus strudel, port jus
Served with
Mixed steamed vegetables , New potatoes, Roast potatoes

Desserts
Christmas pudding, brandy sauce
Vanilla panna cotta, berry fruit compote, granola crumb
Lemon meringue pie, lemon curd, strawberry syrup
Double chocolate mousse, coffee cream, hazelnut shortbread
Passionfruit, lemon cheesecake, toasted coconut, caramelised pineapple

2 courses (starter & main / or / main & dessert) - £39.00
3 courses - £48.00

Where possible we insist on local produce . All of our dishes are home-made and cooked to order, from fresh ingredients.

Due to demand we are only able to accept bookings for six guests (or more) for lunchtimes during the festive season.
Download Festive Menu (pdf)
Glen-Yr-Afon House Hotel and Clarkes Restaurant makes every attempt to identify ingredients that may cause allergic reactions for those with food allergies. Every effort is made to instruct our food production staff on the severity of food allergies. However, there is always a risk of contamination. There is also a possibility that manufacturers of the commercial foods we use could change the formulation at any time, without notice. Customers concerned with food allergies need to be aware of this risk.


Celebrate the season with your closest friends and family with our festive dining this year - you provide the company and we will provide a delicious seasonal menu for your evening Christmas dining. You can be sure of fine food, great wine and a large dose of festive cheer this Christmas with our Festive Menu - served in one of our festively decorated dining rooms.
Leave it to us to provide attentive service and warm hospitality while you unwind away from the hectic Christmas rush. Our seasonal menu combines the rich flavours of Christmas in dishes to suit all tastes, all freshly prepared from locally-sourced ingredients and served to you in a relaxed atmosphere.
If you would like to make the most of your stay, we offer special accommodation rates for our Christmas guests wanting to stay overnight. Please ask for details.