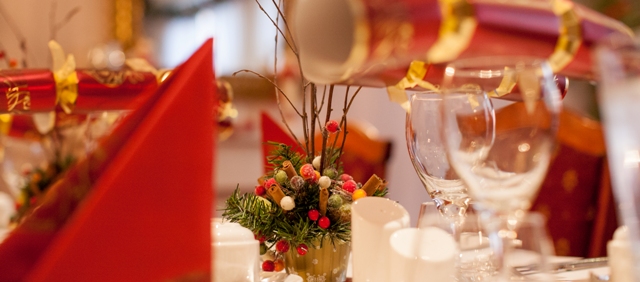 Whether you are joining with colleagues, family or friends for a festive lunchtime treat, at the Glen-Yr-Afon House Hotel you will find tasty cuisine, outstanding wine, a fantastic festive atmosphere and the warmest of welcomes. Our professional chefs team will cater for your every requirement and make your Christmas get together more memorable. With excellent service and great food it is the perfect occasion to get together.
We don't open for lunch on Christmas Day or Boxing Day - this is when our hard-working team take time to spend with their families.

Let us provide you with our festive hospitality for your family and friends where we offer a choice of dishes with all the trimmings!

Our Holly Menu is also available in the Library for a maximum of 20 persons or our Ballroom for parties of 40 or more.
This menu is offered: Lunchtimes - 12 noon - 1.30pm (excluding Sundays)

We provide a helpful support to party organisers - our Christmas Coordinator will help provide advice regarding special dietary requirements, table plans etc.
For those attending our Christmas lunchtime dining, transportation is advised to be arranged for no later than 5pm.
Holly Menu .... coming soon
D – contains dairy, G – contains gluten, SF – contains shellfish, N – contains nuts, V – suitable for vegetarians
Glen-Yr-Afon House Hotel and Clarkes Restaurant makes every attempt to identify ingredients that may cause allergic reactions for those with food allergies. Every effort is made to instruct our food production staff on the severity of food allergies. However, there is always a risk of contamination. There is also a possibility that manufacturers of the commercial foods we use could change the formulation at any time, without notice. Customers concerned with food allergies need to be aware of this risk.