From the early stages of planning through to the Gala Evening itself our experienced management team and attention to detail, will ensure Head Boy and Head Girl will be able to organise a truly memorable night to celebrate this momentous occasion.

As your guests arrive and walk up our fine red carpet they will realise that they are in for something very special.

The menu cards, one for each guest, will include all names of the pupils attending and will provide a lasting reminder of the friendships that you have made.

Your four course dinner will include a choice of starters and desserts, and our courteous and polite staff will have pleasure in silver serving the main course choice to your guests efficiently and piping hot. Special diets such as vegetarians, gluten free and coeliacs can easily be accommodated with a little prior notice.

To toast what is sure to be a very successful future for you all we are pleased to include a glass of wine with our compliments for those guests enjoying a formal dinner.

For musical entertainment we can provide both live bands and discos together with the services of a local award winning photographer who specialises in capturing the atmosphere at these exciting events. There is also the option to include our Magic Mirror Photobooth for a fun reminder of your prom night!
For what can only be described as an 'A' grade evening, look no further than Monmouthshire's favourite country house hotel.

Resident DJ (optional) - £385.00 (speak to our Events Team for details)

Menu Option One (Sit Down Menu)
Homemade sweet and sour tomato soup with chilli croutons
Creamy garlic mushrooms with a cheese topping
~
Chicken supreme stuffed with leeks and bacon, drizzled with a
port gravy
Served with
Carrots in herb butter
Broccoli
Peas with roasted shallots and spinach
Roasted new potatoes
~
Profiteroles filled with white chocolate cream, covered in chocolate and caramel sauce
Berry fruit cheesecake
~
Freshly brewed tea/coffee and mints
£56.75 per person (inc. 1 glass House wine / soft drink – age restriction applies) .
We can also arrange a Magic Mirror for you if required - additional cost applies - please ask for details.
Menu Option Two (Finger Buffet Menu)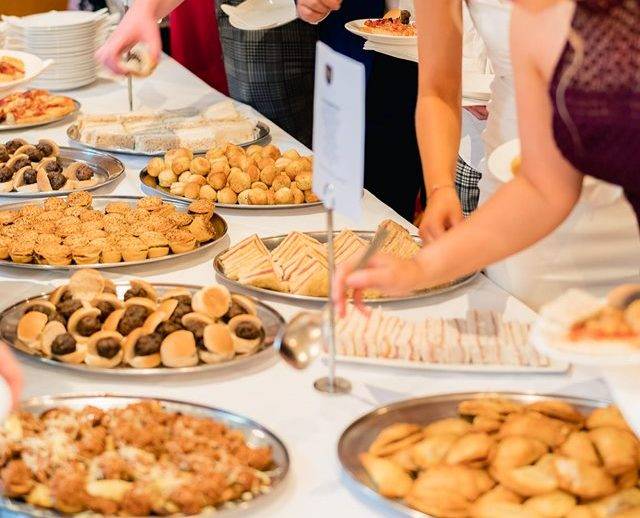 Savoury filled sandwiches
Meat feast pizza / vegetarian pizza
Potato wedges stuffed with chilli
Mini steak and onion pies
Mini beef burgers
Garlic dough balls
Southern fried chicken fillets
Sausage rolls
Chicken kebabs
Mini chicken and bacon pies
Crisps
£34.95 per person.
Menu Option Three (Hog Roast Menu)
Hog roast served with bread rolls, stuffing, apple sauce and side salads
~
Mini white chocolate and vanilla doughnuts
£33.50 per person.
School Proms and Ball - requirements
All school prom / leavers balls will be conducted on the basis of these requirements

CONFIRMATION
A non-refundable deposit of £500.00 is required to confirm your booking along with a signed copy of the Prom Terms and Conditions.

PAYMENT
Your final account will be sent to you 2 weeks before the date of the function, requesting full payment no later than 7 days before the function. Late payments may incur an additional charge.

FINAL NUMBERS FOR THE EVENT
Final numbers must be confirmed with the Hotel at least 7 days prior to the event date. We regret that any shortfall in numbers less than 7 days prior to your event will result in full payment being charged. Refunds will not be given for guests that do not attend.

PHOTOGRAPHS
We reserve the right to use any photographs we take of your function or your guests in our publicity material or on our website.
FOOD
Buffet/ hog roast/ sit down meal must be ordered for the total number of guests attending the event (including teachers and students). No outside catering is permitted at the hotel.

SPECIAL REQUIREMENTS
It is the client's responsibility to inform the Hotel prior to the event of any special dietary requirements or food allergies of any of the function guests. Any wheelchair accessibility requirements must also be notified to the Hotel in advance of the function.

DAMAGE
The client is responsible to the Hotel for any damages caused by the client or their guests or agents. A bond of £250.00 will be required on booking and will be returned in full after the event subject to there being no damage to fixtures and fittings during the event.

ENTERTAINMENT
We require a copy of valid public liability insurance for any sub-contractor i.e. entertainment arranged by yourselves. Failure to provide a copy in advance of your function may result in access being denied.

SCHOOL TEACHERS / STAFF
The lead name of a member of staff attending is required as a contact on the evening for the Hotel. A guaranteed staff presence during the whole evening is required by the Hotel - we would expect the number of staff to represent 10% of the number of students i.e. for every 100 students we require 10 members of staff to be present.

WITHOUT THIS GUARANTEE THE HOTEL WILL BE UNABLE TO HOST THE EVENT.
FUNCTION TIMES
For up to and including Year 11 the function times are between 7pm and 11.30pm and should make arrangements to vacate the premises by 12 midnight. For Year 12 and above the function times are between 7pm and 12 midnight and should make arrangements to vacate the premises by 12.30am.

BAR FACILITIES
A non-alcoholic bar is made available to Year 11 students between 7pm and 11pm. The bar facility for Year 12 and above students closes at 11.30pm. A full bar is made available to members of staff.