Deciding on where to retire to, following a funeral is always a difficult decision to make. We aim to meet individual requirements with a selection of venue rooms to choose from - the Library and Clarkes Dining Room for smaller gatherings and the Ballroom catering for larger gatherings with ample space for visitors to move around freely among family and friends.
We will provide floral table arrangements in the venue room you choose, for which no extra charge is made. The reception areas leading into the ballroom provide adequate space and facilities for friends and acquaintances to gather while they wait for family members following a funeral service.

The hotel car park accommodates 100 vehicles from where easy access to the main building is available via the front steps and a ramp.

Our current funeral tea menu can be found below however should you wish to discuss alternatives please contact us.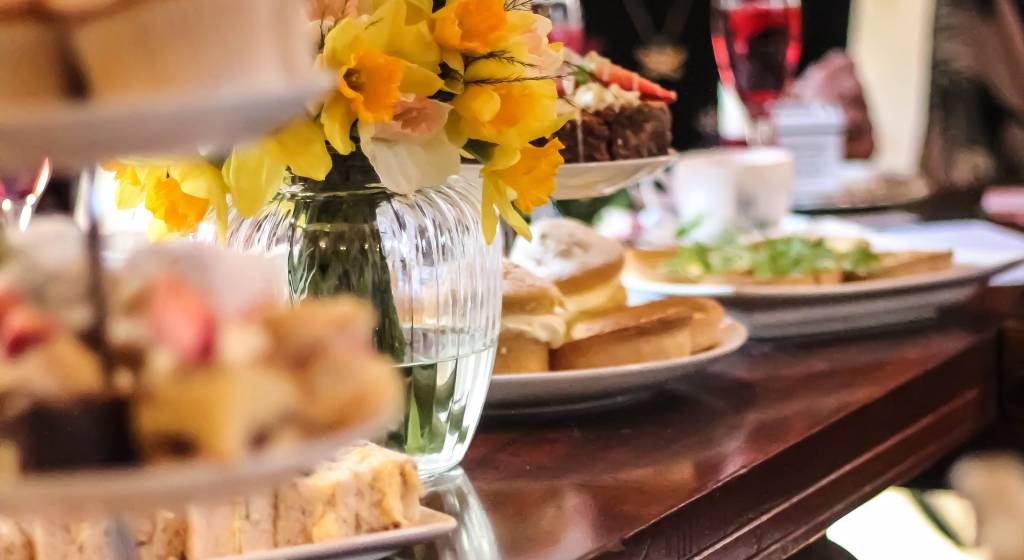 Funeral Tea Menu 2020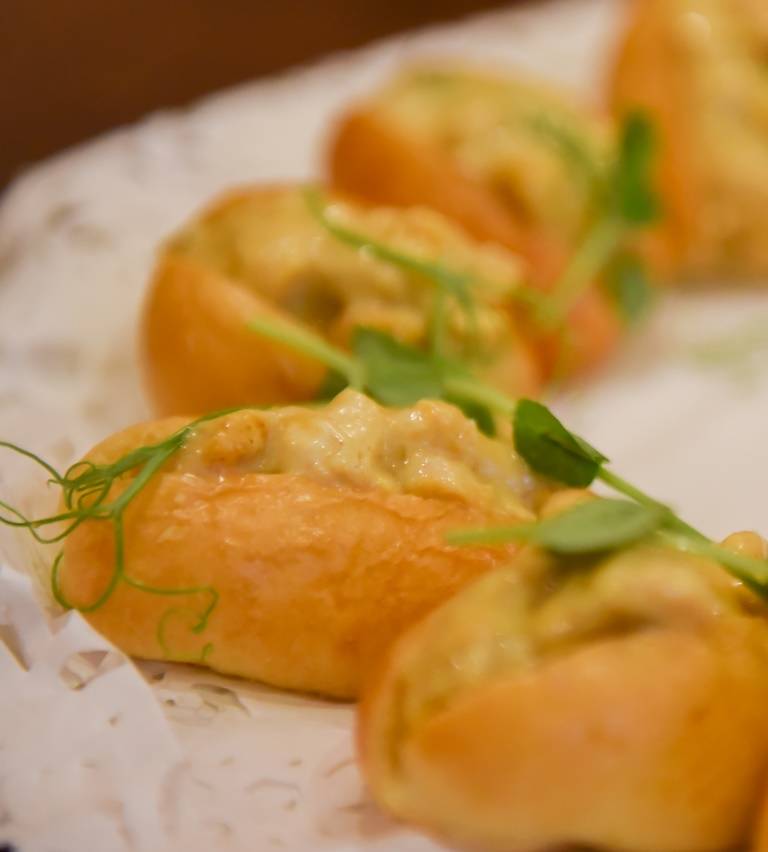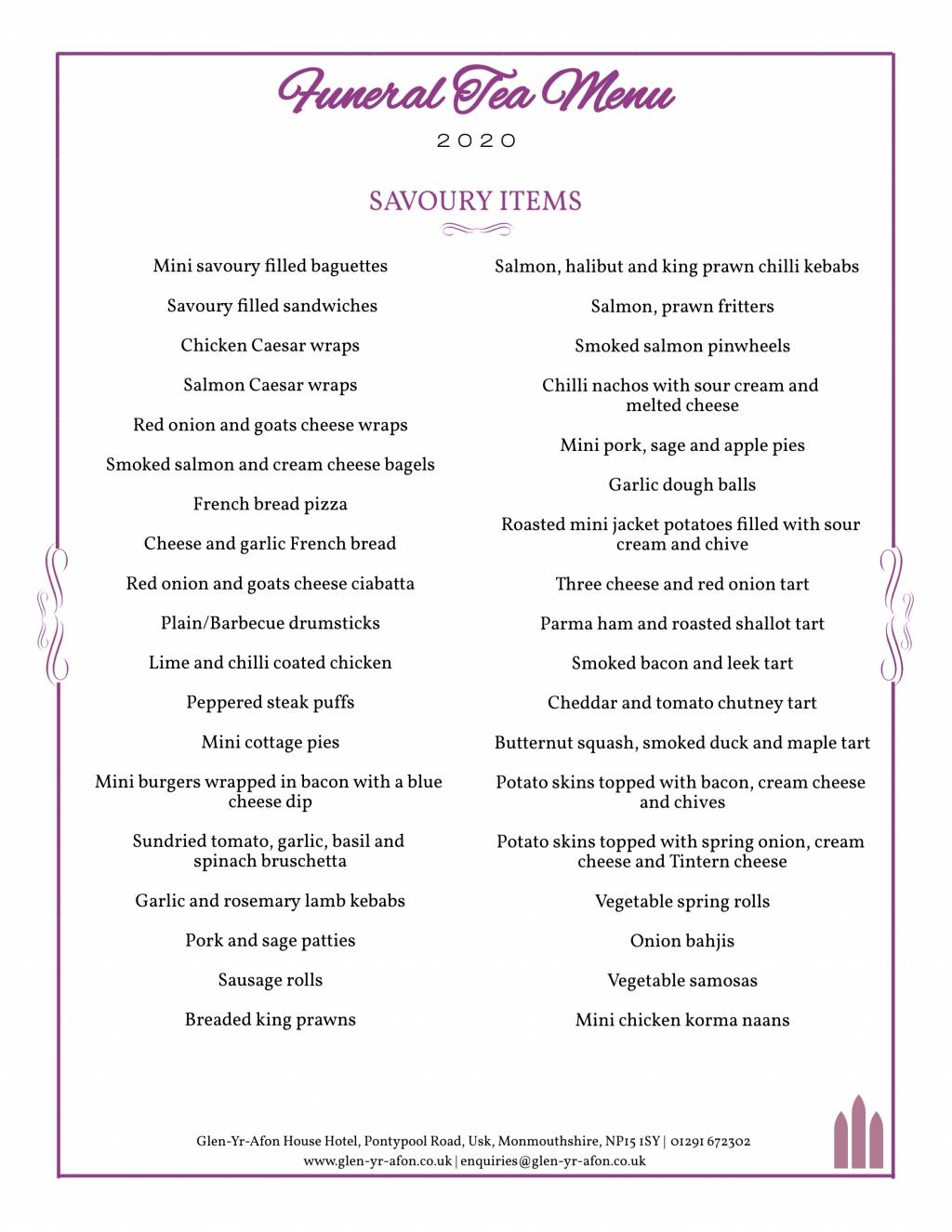 Our menu contains no GM foods - We strive to use only local produce
Children and guests with special dietary requirements can also be catered for - please ask for details.

Should you wish to discuss your requirements in person, please do not hesitate to contact us when an appointment can be arranged at a convenient time to you and your family.
Usk Natural Burial Ground
Located close to Meadow Natural Burial Ground, Usk Castle Chase's tranquillity is typical of the surrounding Monmouthshire countryside. Unhurried, tranquil and private, it offers something gentler. A place of escape, away from it all.

Set in 14 acres of Monmouthshire countryside and surrounded on three sides by mature woodland, the burial ground is a peaceful and uplifting place for reflection and remembrance. The meadow has far reaching views to the south and south-west over the Usk Valley. The ridge of mature trees along the eastern edge of the meadow is carpeted with bluebells in late spring. We are within easy reach for your post-funeral gathering and offer plentiful parking for larger gatherings.

There for you at such a difficult time
'Thank you to you and all the staff for the excellent buffet you provided yesterday. It was a fitting conclusion and a lovely setting for all Les's family and friends to gather to celebrate his time with us. With my best wishes.'
Gill - (13th September 2018)
'We would like to express our appreciation for the kind and thoughtful manner in which our mother's funeral reception was organised. As well as being conducted in a very professional manner, the attention to detail ensured our wishes were met in the best possible way.'
Carol & Patricia - (22nd January 2018)
'Just a note to thank you and your team for looking after us during our stay for mum's funeral. We had many compliments regarding your excellent food - numbers were very well judged indeed! Please pass on a special thank you to a member of your team who was so attentitive.'
Fiona McCarten & Family - (12th April 2017)
'Thank you so much to you and the staff at the Glen-yr-Afon for the most wonderful tea yesterday. It was a fantastic end to our day, in beautiful surroundings and one that my Mother would have loved.'
Sara Brown

'On behalf of myself and the family I would like to extend my heartfelt thanks to you all for the wonderful job you did in organising the funeral tea on August 30th . Everyone who attended has universally commented about the high standards you and your team set. Your care and compassion made a very difficult day bearable...'
'On behalf of my mum and family extend to you and all your staff our thanks for your help and professionalism. The food was excellent and the venue perfect and make what was a difficult day into one of celebration of my dad's life with all his friends and family.'