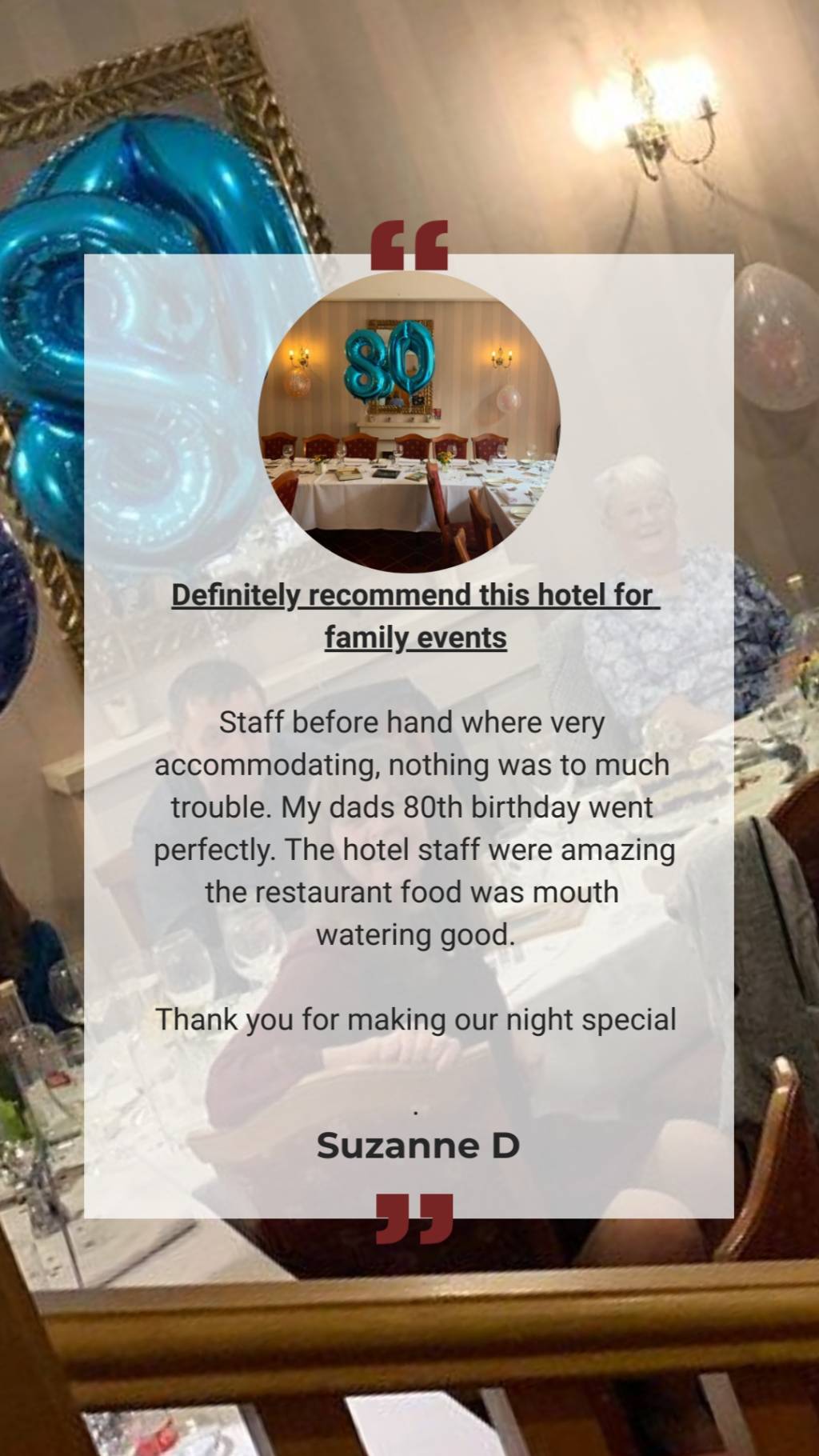 A milestone birthday really is something to celebrate. If you are looking to plan a special birthday celebration, let us offer you the benefit of our years of experience in planning for that perfect event. We are able to help in the planning, preparation and delivery of your celebration with care and attention to the detail.

The Glen-Yr-Afon House Hotel provides the perfect setting with first class service and menu options to enhance your celebration. From the time you start to consider a date for your birthday celebration to the day/evening itself, we are on hand to assist.

Whether its your 21st birthday, your 30th birthday or your 40th birthday and you would like to celebrate with family and friends providing entertainment for their enjoyment, we are available to help. Perhaps it's a 50th, 60th or 70th birthday and you would like to provide a celebration dinner, lunch or even a champagne breakfast for family and friends, then again we are here to help.
For 90th and the amazing 100th birthday celebrations perhaps an afternoon tea would be your choice - whatever the age a celebration is always enjoyed so do not hesitate to call us and we will be pleased to assist with your arrangements.

We have a selection of venue rooms to choose from - the Library and Clarkes Dining Room for smaller parties and the Ballroom for larger parties with the provision of a private bar facility.

Should you wish to make enquiries about the availability of dates and a venue room or discuss your requirements in more detail, please do not hesitate to contact us on 01291 672302 (main reception).

The venue room you choose can be decorated with appropriate colour coordinated floral table centres,(at an additional cost), and will also include the use of the hotel's cake stand and knife, if required, free of charge. Colour coordinated menus and table plans are also provided. Should you wish to further enhance the look of the room, we can consider your requirements in our planning discussions.

We can also assist with your entertainment requirements being able to recommend a variety of bands, roadshow hosts, magicians, string quartets, harpists etc - all of whom we are happy to liaise with, on your behalf.

The Function Menu options and buffet menu options can be viewed together with an example a la Carte menu however should you wish to discuss alternatives please let us know. Head Chef is happy to consider each party's individual requirements and create a 'special' menu when requested.

So, whether it's an Afternoon Tea, a formal dinner, a Sunday Lunch, a Champagne Breakfast or an intimate dinner with family and friends, we can provide a birthday celebration to remember for many years to come.
We always try to make it the best possible day...
'I wanted to say abig thank you to you and all your staff for helping make my mum's birthday celebrations a huge hit. We managed to keep the party a surprise, the staff played a huge part in that one on the day. I have received numerous thank you's for a lovely afternoon particularly from the gluten free ladies. They thoroughly enjoyed their food, it made them feel part of the celebrations. Food and ambience was exceptional.'
(Helen, Surprise Birthday - 29th October 2017)
'I would just like to say thank you for organising my Mother in laws 80th Birthday celebration, everyone had a wonderful evening and my Mother in law really enjoyed herself. The food was very nice and everyone really enjoyed that too. Think it's going to be a good contender for my Father in laws 80th in January.'
(Catherine Harden, 80th Birthday - 7th October 2017)
'Thank you very much for all your help and assistance in arranging last Saturdays event in the library for my mother. A good evening was had by all. Please pass on my thanks to your team who worked on Saturday. I would appreciate it if you could also please pass on our thanks to the person who made my mothers birthday cake. It was great and my mother was very impressed with the decoration. An excellent choice by you. Thanks again for your help.'
(Andrew, Birday Celebration - 18th July 2017)
'We just wanted to drop a quick email to you following the event to thank you for all your hard work in pulling this family birthday celebration together for us. Everything went off perfectly and everyone thoroughly enjoyed the afternoon, which was such a relief to me!... I would also like to send our thanks to the Chef and her team, the food was outstanding and the service was impeccable, so a big thank you to the waiters and waitresses. The quality of the hotel, service and food were all massive talking points at the table and still are now after the event. We will absolutely be visiting again, it was such a treat, huge thanks to everyone involved in making our day so special.'
(Sarah & Rob, Birthday Celebration - 3rd June 2017)
'I would like to thank you for the wonderful lunch you put on for my 80th Birthday Celebration last Sunday. We were all so well looked after and everyone enjoyed it. Many thanks again for your care and attention.'
(Stephanie Barker, 80th Birthday - 12th May 2017)
'Thank you all for a perfect day, the meal was enjoyed by all and the staff were amazing.'
(Jennifer, 60th Birthday - 2nd April 2017)
'Thanks for a wonderful evening at the Glen-Yr-Afon for Mums 80th Birthday. The whole event was perfect and ran like clockwork. The staff were totally awesome and couldn't do enough to help. Thank you.'
(The Warren Family, 80th Birthday)
'Please pass on a very big thank you to your staff who worked on Saturday 22nd April for my surprise birthday party and also at breakfast on sunday. They helped make my celebration very special by being professional with that added 'something' which makes all the difference.'
(Gwenda, Surprise Birthday)
'A great big thank you to you and the staff at the Glen-Yr-Afon who were involved with Elaine Richards 80th Birthday Party last Saturday. Everything was wonderful and a good time was had by all, especially the birthday girl!'
(Sian Noneley & Val Beech, 80th Birthday)